It's a big move. What if the Falcons once again traded up in the first round? It might seem a bit outlandish, given that Atlanta will start the proceedings with just six draft picks, but Trade Thomas Dimitroff and company have never been shy about jumping up to get the player they want. They did it just a year ago with Takkarist McKinley, after all. In the latest SB Nation mock...
The EDGE group is headlined by two dynamic young defenders, but what will the Falcons do about the high-priced veterans that are filling out the depth chart? The Falcoholic's Atlanta Falcons 2017 Roster Review continues to roll, and today's entry is a particularly interesting one: edge defender. If you missed any of the previous articles in the series, you can find them all below...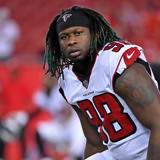 Takkarist McKinley may only be a rookie, but he's had a positive impact on the Falcons defense this season, and also has a pretty strong troll game as well, which we learned after Monday night's 24-21 win over the Buccaneers.The Falcons earned a much-needed road win to keep their playoff hopes alive, and the Bucs continued on their downhill spiral. Tampa Bay has now lost nine of...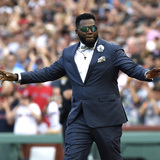 Sports memorabilia is more unorthodox in nature than it used to be.Fans no longer fixate solely on autographed sports trading cards, jerseys, equipment and the like, and instead look to items that are a bit more unique.We recently saw one of Falcons defensive end Takkarist McKinley's dreadlocks go up for sale on eBay, as it fell off at one point during the team's game against the...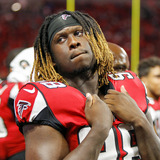 Atlanta Falcons rookie defensive end Takkarist McKinley suffered a hairdo malfunction in a Week 3 showdown with the Detroit Lions at Ford Field, losing a dreadlock during the 30-26 victory. Incredibly, McKinley was later shocked to see that not only was the dreadlock recovered, the individual in possession of it was selling it on eBay. Talk about a hairy situation. McKinley on Monday...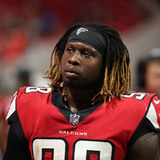 Falcons defensive end Takkarist McKinley lost something on the football field during Sunday's game against the Lions at Ford Field, and if he wants to pony up enough cash, he can buy it back.One of McKinley's dreadlocks must have either fallen out or been pulled out, because it's currently up for sale on eBay. McKinley got word of it, and it seemed to amuse him. The eBay user who...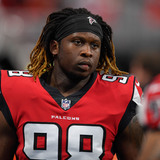 Atlanta Falcons rookie Takk McKinley visited a children's hospital on Tuesday. But before signing autographs for the kids there, he did something unusual. McKinley asked the kids if he could have their autographs. "I just thought it would be cool if I got their autographs," McKinley said, via Kelsey Conway of AtlantaFalcons.com. "They were kind of shocked like 'you're supposed to...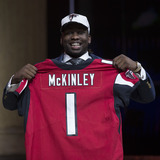 Could a friendly wager be in store for two of the top defensive rookies in the NFL this upcoming season? If we we're to ask Atlanta Falcons first-round pick Takkarist Mckinley this might very well be in the cards.Mckinley responded to this NFL.com Instagram post that showed rookie No. 1 overall pick Myles Garrett working out. The response in and of itself was absolutely glorious...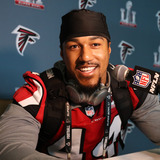 Falcons linebacker Vic Beasley is expecting more attention from blockers this season after leading the NFL with 15.5 sacks last season.It's not like this will be new to Beasley. He was held without a sack in three postseason games, which means he needs to do a better job overcoming the extra blockers he's already seeing."When they bring three, it's pretty rough, but the main thing...
New Falcons pass rusher Takkarist McKinley provided one of the memorable moments of this year's NFL Draft, one that could have cost him some money. It reportedly won't. After being selected No. 26 overall, McKinley went to the podium on the stage with a framed picture of his grandmother. McKinley also gave an extremely passionate speech in which he talked about a promise he made...
MORE STORIES >>
Falcons News

Delivered to your inbox

You'll also receive Yardbarker's daily Top 10, featuring the best sports stories from around the web. Customize your newsletter to get articles on your favorite sports and teams. And the best part? It's free!