Earlier in the offseason, Carnell Lake remarked Antonio Brown looked even better than before. And his offensive coordinator agrees. Speaking with Bob Labriola on Coordinator's Corner, Todd Haley said he's seen Brown take his game to new heights. "I haven't seen anybody who does what he does," Haley told Labriola. "And I think...
The Pittsburgh Steelers are 2-0, but the offense hasn't yet approached its full potential. Take a listen to the latest show which points out that the Steelers are the only ones who can really stop the Steelers. The Pittsburgh Steelers finally are heading into Week 3, and what better way to get prepared for the Bears than spending 30 minutes with Jeff and Lance, co-hosts of the...
Todd Haley has coached in the league for a longtime. And Antonio Brown has caught many, many passes throughout his career. But Brown's spectacular play is still able to surprise and wow Haley, who said three catches Brown made against the Cleveland Browns were the best he's ever seen. "Those...
The Pittsburgh Steelers have all their weapons back in 2017, but can they all remain happy? The Pittsburgh Steelers have a legitimate offense—no one is debating that. But several, including myself, have wondered if there's enough love in the world for Antonio Brown, Le'Veon Bell and Martavis Bryant to all be happy. Sure, the players will talk about how, if they're winning...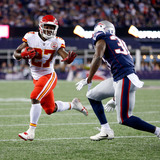 On why the biggest story of Week 1 is a legal battle, the Cowboys' convincing win over the Giants, the Rams' turnaround, Cleveland's narrow loss and more.$.01—As is becoming customary, the biggest news in the NFL doesn't have anything to do with the on-field product. Technically this one does as Ezekiel Elliott is now able to take the field for the Dallas Cowboys, but the bigger...
Over the past three or four seasons, few teams in the NFL have been better offensively than the Pittsburgh Steelers – much of the credit should be given to offensive coordinator Todd Haley.  One might argue that Haley's job is easy because the Steelers are loaded at almost every position on offense with a future Hall-of-Fame quarterback at the helm, which may be true, but he...
Todd Haley, who is entering his fifth year as Steelers offensive coordinator, told the team's website that Pittsburgh's offense is capable of scoring 30 points a game this season. "Thirty points per game is still a goal," Haley said. "I think what we did great last year was we got in the red zone a bunch. We probably scored 6 out of the 10 times we were in there and we...
You would think that with the whole mess that Gregg Williams Went through back during his days with the New Orleans Saints would have been enough to discourage anyone from getting involved in a bounty scandal again.However, if you believe what a local Cincinnati radio man told his audience Pittsburgh Steelers offensive coordinator Todd Haley put one on of his former players now with...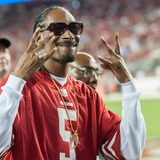 Few fans were more upset on Sunday night watching the Philadelphia Eagles-Arizona Cardinals game than Snoop Dogg. You see, Snoop was in the middle of his fantasy football playoffs and holding a 15-point lead over his opponent entering "Sunday Night Football." His opponent had the Arizona Cardinals defense and special teams, so all Snoop needed was for the Eagles not to completely...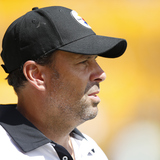 The Miami Dolphins are reportedly considering Pittsburgh Steelers offensive coordinator Todd Haley for their head coaching position in 2016. Miami is currently in a transitional period with interim head coach Dan Campbell, who is filling in for the recently-fired Joe Philbin. Jason La Canfora of CBS Sports reports the Dolphins are currently having internal discussions about a...
MORE STORIES >>
NFL News

Delivered to your inbox

You'll also receive Yardbarker's daily Top 10, featuring the best sports stories from around the web. Customize your newsletter to get articles on your favorite sports and teams. And the best part? It's free!