Found February 08, 2013 on NorthWest Sports Beat:
A roster of Canadians but no Canucks Lists are great. Nothing sparks more debate than someone publishing a list. But when you create of list of hockey talent, well that's just an invite for the most heated argument on Canadian soil. One year away from the 2014 Sochi Olympics and TSN pundit Ray Ferraro has unveiled his list, his dream team, of hopeful Canadians that should wear the maple leaf during the men's hockey tournament. Among them, not one Canuck. Well they're all Canucks, just not Vancouver Canucks. So how is it that the best club north of the 49th does not have a representative in the highest profile event in the Games? Does our beloved franchise need a name change? No, but it just doesn't seem right that none of our lads may wear the prized national sweater. Remember how we all cheered for Trevor Linden in Nagano? With the Olypmics a year away, where are all the Canucks at? (Photo: idsgn.org) So which Canucks do have a shot to make it?For starters, Roberto Luongo has to be on that roster. The wily veteran, already adorned in gold, will be required to provide leadership and stability to a crop of young up and comers with little or no Olympic experience. If he's not the starter in Vancouver, doesn't mean he can't start in Russia. Although one year from now and Luongo may not even be a Canuck. Bobby Lou was held off of Ray's line-up in favour of Cam Ward, Marc-Andre Fluery, and Carey Price? Price I can see making the trip to Russia, but the others are in no way capable of displacing Luongo from the crease. Does anyone remember the Pens-Flyers series last spring where Fluery was roasted time and time again?  And Ward hasn't been seen since the 2007 playoffs. Memo to Ferraro: you live in Vancouver, and for what it's worth, your broadcast station already has an East Coast bias. Now would be a great time to show some northwest love. After Lou though, some 'Nucks may have outside chances of gaining a spot on the team, if they light the world on fire in the next calendar year. Alex Burrows Roberto Luongo needs to be back between the pipes in Russia (Photo: goaliecrease.net) Alex Burrows should garner an invite to evaluation camp. The tenacious forward has proven worthy to provide top line scoring over the course of 4 NHL regular seasons, but on a team like this, his defending ability will be greatly appreciated. Burrows could be one of the typical "glue guys" that could fill a hole on any line and is probably of the best penalty killers available. Taking a look at the early roster, most guys there are there for their scoring ability, but on the big international ice, defending will be rated as a higher premium. Burrows definitely has the skill set that would round out such an explosive group of forwards. Dan Hamhuis The eternal optimist in me feels that at least one Canucks Defenseman could don the red and white: Dan Hamhuis. Is he one of the top eight Canadian D-men around? Probably not, but a year is a long way away and Hammer's game is perfectly suited for the big ice. Not a huge physical presence, though his skating ability gets him in place to tie up opponents in a larger area. Plus he is a brilliant passer and very adept at making an open ice hit, a skill lacking in the North American game. On this type of team, Hamhuis won't be relied to provide much offensive support, but like Burrows, he may be a catalyst in defending and killing penalties. While I know this isn't an All-Star Game and not every NHL club will be represented, Vancouver has players that could fill out vital roles on Team Canada's squad. In a quick, highly emotional tournament like the Olympic Games, medals are generally awarded to the best team, not just a compilation of superstars, so Canucks on the Canadian roster, that's just my wish list. Cheers, The Bartender CLICK HERE CHECK OUT THE CANUCKS BLOG IN OUR CLUBHOUSE SECTION AT NWSB!
Original Story:
http://www.nwsportsbeat.com/canucks/v...
THE BACKYARD
BEST OF MAXIM
RELATED ARTICLES
60 Max is expanding: We're venturing into other sports, in conjunction with our partner sites National Sports Journal (in development) and Low Brow Sports, to bring you the best in news and coverage of the entire sports world, especially now that the NFL season is over... Today, we have a special contributor in the NHL department, Dean Pennington of TBIV.net. Teams are salivating...
While the world waits for a Roberto Luongo trade (along with possibly many other deals) to happen, Luongo's onetime nemesis' time with the Boston Bruins has officially come to a close. Given that Tim Thomas is taking a year off to "reconnect with friends, family and faith", does this trade mean anything at all in fantasy leagues? Continue reading "Pick Six...
Corey Schneider made 22 saves and Mason Raymond had a power-play goal and an assist in the second period to lead Vancouver past the sputtering Minnesota Wild 4-1 on Thursday night, the fourth straight win for the Canucks. Niklas Backstrom gave up two scores in each of the first two periods for the Wild, and Josh Harding was in the net for the final frame. Daniel Sedin, Chris Higgins...
Love 'Em & Hate 'em Boxscore | Recap Definitely wouldn't want to be a Wild fan right now. Their two big off-season acquisitions haven't changed anything in Minnesota. It's the same old bland brand of hockey. The Canucks meanwhile are now off to their best start in eight years, so there's that. Love 'Em 1. Stellar Schneider It's been a long time since Cory Schneider...
Calgary in Vancouver The Canucks are back in action tonight hosting the Calgary Flames. The Flames are coming off of their first two game win streak of the season with wins over the Columbus Blue Jackets and Detroit Red Wings. The Canucks are also coming into tonight's game on a hot streak, having won their last four games in a row. Tonight marks the second of four meetings between...
The Vancouver Canucks are enjoying having two established goaltenders for now. The Calgary Flames certainly don't know what it's like to have that luxury. It's not clear who will start in goal for either team - for vastly different reasons - when they meet Saturday night in Vancouver, with the Canucks seeking a fifth straight victory. Roberto Luongo continues to be...
I watched the full After Hours segment on HNIC and thought Scott Oake did an outstanding job with the questions he directed at Roberto Luongo.  I've never seen Luongo more relaxed and at peace with himself than during this 25 minute or so interview. You can watch it below and Kevin Bieksa also appears after the Luongo segment. Continue reading "Luongo Unplugged"
OTTAWA (AP) -- Cam Ward made 45 saves and Jay Harrison scored 2:19 into overtime to rally the Carolina Hurricanes to a 3-2 victory over the Ottawa Senators on Thursday night. Harrison's winner came off a scramble in front as he banged a loose puck past Senators goalie Craig Anderson. Chad LaRose and Alexander Semin scored in regulation for the Hurricanes, who have won five...
Jay Harrison scored the overtime winner for the Carolina Hurricanes, and was quick to credit Cam Ward for the victory. The Hurricanes' goalie made 45 saves on Thursday night as Carolina escaped Ottawa with a 3-2 victory over the Senators. Ward's heroics, which included 16 saves in a chaotic second period in which Carolina was outshot 17-3, helped set up Harrison's winner...
Cam Ward made 45 saves and Jay Harrison scored 2:19 into overtime to rally the Carolina Hurricanes to a 3-2 victory over the Ottawa Senators on Thursday night. Harrison's winner came off a scramble in front as he banged a loose puck past Senators goalie Craig Anderson. Chad LaRose and Alexander Semin scored in regulation for the Hurricanes, who have won five of their last seven...
Three Stars of the Week 1. Thomas Vanek (Buffalo Sabres) via totalprosports.com Thomas Vanek has been a beast during the last seven days, to be put simply.  Vanek has scored five goals in four games last week and has added four assists.  With nine points in four games, he is averaging more than two a game over the past week.  Also factor in Vanek's +6 rating, and Vanek has...
NHL News

Delivered to your inbox

You'll also receive Yardbarker's daily Top 10, featuring the best sports stories from around the web. Customize your newsletter to get articles on your favorite sports and teams. And the best part? It's free!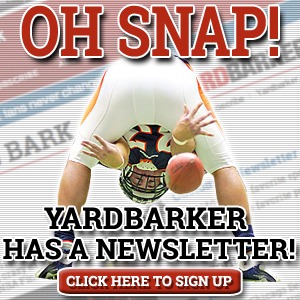 Latest Rumors
Best of Yardbarker

Today's Best Stuff

For Bloggers

Join the Yardbarker Network for more promotion, traffic, and money.

Company Info

Help

What is Yardbarker?

Yardbarker is the largest network of sports blogs and pro athlete blogs on the web. This site is the hub of the Yardbarker Network, where our editors and algorithms curate the best sports content from our network and beyond.