Found September 18, 2012 on Midwest Sports Fans:
Sadly, but not surprisingly, the NHL lockout became official Saturday. It's the third time in Gary Bettman's career as commissioner the NHL has locked out the players, and the second time in the past eight years. MSF's own Peter Stewart summarized the situation very well Sunday. The CBA negotiations are practically at a standstill. I doubt the NHLPA will concede any time soon. NHLPA Executive Director Donald Fehr has a history of standing firm and not giving in, and he's done just that so far. Some players have already signed with other leagues. As much as fans, including myself, would like to watch our favorite players play, my guess is you don't have the money or time to fly overseas to make that happen. So here are four ways to get your hockey fill without the NHL. 1.) Go See Your Local AHL Team I am sure minor league hockey will see a spike in attendance for as long as the NHL lockout goes on. NHL teams have already sent some of their players down to their affiliated AHL teams, so you have a very high chance to see NHL-caliber players for nearly half the price. If you're a hockey fan, why wouldn't you take advantage of that? I'm already making plans to see some Chicago Wolves and Rockford Ice Hogs games this year. Nothing beats the talent and speed of the NHL, but there's now way I am not getting my hockey fix this season. If you don't know the nearest AHL team, take the time to find out and then buy some tickets, bring the family, and enjoy the game. 2.) Go See a College Hockey Game Another really fun alternative to the NHL is going to see some college hockey. Teams aren't as spread out evenly (sorry West Coast) as in the AHL, but if you're within driving distance, it's completely worth it. I've only been to two college hockey games (both Notre Dame games), but I've thoroughly enjoyed the games both times. Most of the college venues are small, but that just adds to the college sports atmosphere, where all you hear is screams and chants from the student section. The rules are a little different from the NHL. I wasn't aware there is no overtime in the regular season, so you could imagine the surprised look on my face when the Notre Dame – Michigan State game ended at a 1-1 tie, but it's still the same, great hockey I love. 3.) Start Your Own 'Backyard' Hockey League Every winter my friends and I play street hockey. We pool pour money together, usually $10-15 each, for new equipment such as goalie gear or a new net. We bring our own stick, and if we want to stay warm we wear some long pants, a cap, and gloves. It's some of the most fun I've had in my life. Not only am I playing the sport I love, but I'm playing it with people I love. Image via here All you really need is 3 v 3, including the goalie. We've found out it works best with 2 forwards, 1 defenseman, and one goalie for each team. But work with what you got. I am still young and have the time and energy to do such things, but I highly recommend that you, at whatever age, find the time to get the "guys" or "gals" together for a few games of hockey. As much fun it is to watch hockey, believe me, it's 10x more fun to play it. 4.) Buy NHL 13 EA's NHL 13 is the perfect antidote for the possible lost 2012-13 NHL season. Video games may not be your forte, but if they are then NHL 13 is perfect for you. I managed to play a little bit of the game the past weekend, and I absolutely loved it. The game is a lot more realistic in the way the players move (EA calls it "True Performance Skating) and position themselves on the ice. The GM mode is spectacular. I didn't get to play around with the GM Connected as much as I would have liked, but I did enjoy what I saw. I do recommend you put it on the hardest difficulty though. Winning the Stanley Cup easily every year, while seemingly fun, gets old after a while. Because of the lockout, Amazon (and other retailers) have lowered the price of NHL 13 from $60 to $50. ***** What other ideas do you have for hockey fans looking to get their fix during the lockout? [Editor's note. I've got one...] Idea #5) Get together with two other writers from MSF and pose curiously around statues of oversized baseballs. The post 4 Fun Ways Hockey Fans Can Survive The NHL Lockout appeared first on Midwest Sports Fans.
Original Story:
http://feedproxy.google.com/~r/Midwes...
THE BACKYARD
BEST OF MAXIM
RELATED ARTICLES
NHL commissioner Gary Bettman listens as he meets with reporters after a meeting with team owners, Thursday, Sept. 13, 2012 in New York. The current collective bargaining agreement between the league and the players expires Saturday at midnight. (AP Photo/Mary Altaffer) NEW YORK (AP) — NHL Commissioner Gary Bettman maintains the league will lock out [...] [[ This is a content...
BABU BHATT AGREES
As the National Hockey League enters yet another work stoppage, a three-year-old boy named Tyson Theriault has a message for commissioner Gary Bettman. It's not a nice one either.... (Courtesy of Puck Daddy)
Die bettman. Die. Just die. Just DIE. — autumn(:(@autumncierraa) September 16, 2012 Like I mentioned in an earlier blog post, Angry NHL Fans is a twitter account that I monitor because whenever something big happens in the NHL there are always going to be fans that are upset with something... Here is a snap shot of the fans that are unhappy with the NHL lockout... ...
Back in 1992, hockey superstar Mario Lemieux gave the NHL a label that has held up nicely for two decades: Garage League.Lemieux made that harsh assessment while complaining about the league's hapless officiating. But Garage League has become a handy catch-all phrase to cover all aspects of NHL failure.Some things have changed over time. Lemieux, for instance, moved from the ice...
Gary Bettman has been the NHL's boss for almost 20 years. He was hired by the NHL to bring the salary cap, and so he did, as he had received the salary cap NBA Basketball: acquisition. Twice the lockout has been a stoppage during his reign, and each time the lockout is done. Now it is the third! He is certainly the NHL's most hated person. For every NHL team's arrival...
For those of you not up to speed regarding the 2012 NHL lockout, let this handy video from the folks over at Next Media Animation be your guide to learning more about it. Also, Gary Bettman with a chainsaw...Gary Bettman with a chainsaw....
Hockey fans have been preparing for the worst since Gary Bettman and the owners decided to lock out the players.  But the moment everyone was fearing the most is here.  The preseason schedule that was slated to start September 23rd, with a game between the Ottawa Senators and Montreal Canadiens ,through September 30th has been canceled and it is not a good sign as day 4 of the...
The NHL is locked out ... again.  This is the third time under Gary Bettman this has happened.  When the owners attempt to make an argument that this lockout is something they need to do to "fix" the NHL as opposed to an effort to maximize profits at any expense that was built into the business plan years in advance of the end of the CBA and start of the current lockout...
The Hockey Program mailbag session continues with another question sent by Captain Spaulding (@midtnweather) via Twitter.  Spaulding asks, "Is there any chance of a lockout being cancelled?".Gary Bettman, Commissioner of the National Hockey League. Yes there is a chance that the NHL lockout can be lifted. Right now, the current Collective Bargaining Agreement is set to expire...
Since this whole initial thing has started catching on in the NFL, maybe we could try it in hockey. We might as well call Gary Bettman GBIII, because on Sunday at 12:00 A.M., the third lockout of his tenure as NHL commissioner began. As with most labor disputes, there is little optimism among fans and players. The most important issue between the two sides while negotiating the...
The lockout has officially reached the point of absurdity. Next Media Animations based out of Taiwan has posted a new video on Youtube offering their take of the NHL lockout. You may have seen similar videos on various late night talk shows as NMA likes to present a "different side to the story" through their animations.I don't know what's more scarier, a chainsaw...
NHL News

Delivered to your inbox

You'll also receive Yardbarker's daily Top 10, featuring the best sports stories from around the web. Customize your newsletter to get articles on your favorite sports and teams. And the best part? It's free!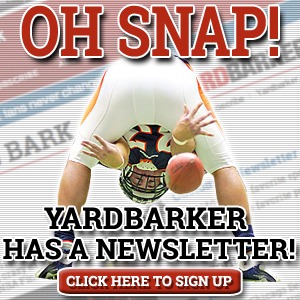 Latest Rumors
Best of Yardbarker

Today's Best Stuff

For Bloggers

Join the Yardbarker Network for more promotion, traffic, and money.

Company Info

Help

What is Yardbarker?

Yardbarker is the largest network of sports blogs and pro athlete blogs on the web. This site is the hub of the Yardbarker Network, where our editors and algorithms curate the best sports content from our network and beyond.