Found January 19, 2013 on Blog So Hard Sports:
Yes! It's finally time to "Rock the Red" once again, and after a long (and stupid) lock out the NHL is back. The Washington Capitals go against South East Division foes the Tampa Bay Lightning tonight and it is sure to be a great game. Tampa Bay is one of the best all around skilled teams in the NHL, not only can they outscore you but they can also win the turnover battle . Containment will be the key for the Capitals to have success in this game. You have to contain guys like Steven Stamkos, Benoit Pouliot and Vincent Lecavalier and stopping these three should really push the Capitals to a win. But one thing the Caps have over the Lighting is complete team speed, which should definitely work in favor of the Capitals. Washington needs to make quick line changes to not only keep players fresh for the whole game but to also keep the Lightning completely off balance. Here are some keys to the game that should help the Capitals to victory tomorrow: 1. Feed Ovechkin!: As it has been shown last year, this team really isn't set up to be a defensive team at all. Adam Oates must dial Ovie's number early and often. You have to let him do his thing instead of leaving one of the NHL's best talents on the bench. I know tha'ts not what team sports is about but when you have one of the premeire talents in your sport, you best utilize him to the fullest. 2. Don't give Stamkos time to do anything: This guys scares me. Stamkos along with Ovechkin and Crosby have developed into the NHL's most marketable guys along with being the most talented. He has a ton of speed and puck skills for days. Stamkos must have an eye kept on him at all times. The best bet on how to defend Steven is be really physical with him, and give him absolutely no room to breath. 3. Keep the puck out of our own end: This has been a problem for the Capitals in years past, as it seemed like the other team had the puck on our end most of the game. We have to make sure that when Tampa Bay dumps the puck into our zone, we must get it out as quick as possible. Don't wait on these guys to plow through our defense and take it for a easy score. 4. Give Holtby an easy night: Capitals need to take over the game early, don't let them stick around to the end. Tampa Bay is a dangerous 3rd period team and just needs one little opening to do a lot of damage. Keep the Lighting's big three away from Holtby for the majority of the game and I think we should be fine. 5. If it aint broke dont fix it: If the Caps have success early, lets not do the "hey lets change it up om them" thing that they always seem to do. The team knows it's in for a dog fight and the Lightning are going to try to be as physical and as dangerous as the Capitals. Washington must play their game and keep it simple. If they try to do to much it could be hard for the Capitals to salvage any kind a momentum in the game. The fans have been waiting for this for a long time, and now that is finally here, I expect great things from this team and nothing more than that. The Capitals have shown this town how to win again, and now is the time to show us how to win a championship. The road to the cup starts tonight. #ROCKTHERED Related posts: 5 Keys for a Home Playoff Victory for the Washington Redskins Capitals Season Will Start 1/19 On The Road At Tampa Bay Lightning Washington Capitals Half Season Preview: Bold Predictions, Bold Results. Dream Big!
Original Story:
http://blogsohardsports.com/capitals/...
THE BACKYARD
BEST OF MAXIM
RELATED ARTICLES
The Washington Capitals have recalled defenseman Tom Poti from Hershey of the AHL, bringing back someone who hasn't played in an NHL game in two years because of injuries. Poti was added to Washington's roster Friday, a day before the team plays at the Tampa Bay Lightning to open the lockout-delayed season. The 6-foot-3, 190-pound Poti has not appeared in the NHL since...
General manager George McPhee believes the Washington Capitals have enough talent on the ice to contend for a Stanley Cup. His biggest concern heading into Saturday night's opener against the Tampa Bay Lightning is that his team will have had only six practices and a scrimmage to learn new coach Adam Oates' system. With a lineup that includes two-time Hart Trophy winner...
Washington Capitals Season Preview Record Last Year: 42-32-8 Goal Differential: -8 Team 5v5 Fenwick: 49.71% (16th in NHL) 5v5 Sh%: 8.6% 5v5 Sv%:  .920 PP SF/60: 47.5 (18th in NHL) PK SA/60: 49.4 (14th in NHL) The Washington Capitals fall from grace last season was fascinating to watch. Many projected this team to win the Southeast Division for the fifth...
Welcome to NHL coaching, Adam Oates. He had six days to implement a new system with his Washington Capitals. He envisions a hybrid between Bruce Boudreau's go-go style and Dale Hunter's defensive-minded theme.The result in Game 1 was resounding 6-3 loss at Tampa Bay.Let's look at what went wrong: The Capitals played terrible team defense. Miscommunication and poor positioning...
The NHL lockout didn't seem to slow down the Lightning Saturday night. Martin St. Louis and Eric Brewer scored two goals each to help the Bolts get past the Washington Capitals 6-3 on opening night.  Three of the Lightning's six goals came via the power play, two of those three were Martin St. Louis' goals. The power play units were an area Tampa Bay focused to improve on...
via The Washington Capitals
I now look at the Southeast Division #1. Washington Capitals- The Capitals are always a team that are impressive during the regular season and once the playoffs come they never seem to get over the hump. They found themselves exiting the playoffs in a 7th game to the New York Rangers. There was a few coaching [...]
"To all Caps fans – local and long-distance – thank you for your ongoing support and your support of our players, we truly appreciate it. You are terrific fans, and we have worked extremely hard for many years to grow that relationship, and we have been rewarded with fantastic support. It is now incumbent upon us to be a first-class partner not only with our players but also...
General manager George McPhee believes the Washington Capitals have enough talent on the ice to contend for a Stanley Cup. His biggest concern heading into Saturday night's opener against the Tampa Bay Lightning is that his team will have had only six practices and a scrimmage to learn new coach Adam Oates' system. With a lineup that includes two-time Hart Trophy winner...
Photo by Brian Blanco Don't panic.  The Washington Capitals lost their opening game of the 2013 season on Saturday night, conceding three power play goals en route to a 6-3 loss to the Tampa Bay Lightning.  With a new coach, a new system, and a lockout hanging over their heads, the Caps were terrible in their own zone and suffered the consequences of such sloppy play.  Joel...
from Stephen Whyno of Capitals Watch at the Washington Times, "There's lots of new rules on what we have to do with ice quality," Washington Capitals owner Ted Leonsis said. "We're totally committed to having the best ice that we can possibly have." Verizon Center's ice has been a subject of ridicule, and arena staff has gone to lengths to maintain some...
Capitals News

Delivered to your inbox

You'll also receive Yardbarker's daily Top 10, featuring the best sports stories from around the web. Customize your newsletter to get articles on your favorite sports and teams. And the best part? It's free!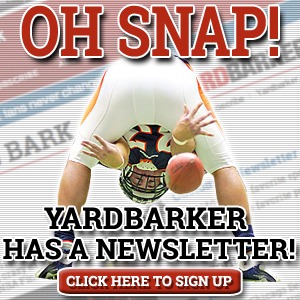 Latest Rumors
Best of Yardbarker

Today's Best Stuff

For Bloggers

Join the Yardbarker Network for more promotion, traffic, and money.

Company Info

Help

What is Yardbarker?

Yardbarker is the largest network of sports blogs and pro athlete blogs on the web. This site is the hub of the Yardbarker Network, where our editors and algorithms curate the best sports content from our network and beyond.