Found June 29, 2012 on The Mark Graham Sports Blog:
The Pittsburgh Penguins and their star captain Sidney Crosby have agreed to a new monster, 12 year $104 million contract. It keeps Crosby in a Penguins sweater for years to come, but is it worth it? The Penguins are investing a lot of money and time into a player that at any moment can suffer another blow to the head and end his career. Crosby is a great player when he is healthy, but those years, I fear, may be gone. It would cripple the team if Crosby doesn't play games on end if he gets hurt again because they have invested all this money in a very fragile player. Pittsburgh may have locked up their star player, but in the process may have hurt their chances at getting some depth and this roster and everyone knows that one player does not make a team. Another red flag is Evgeni Malkin. The reigning Art Ross and Hart Trophy winner will now want a massive $100+ million contract of his own. And he is completely deserving of one. More so than Sidney Crosby in fact. Malkin, for the most part, is a durable and reliable player. After missing half of last season, he only missed seven games this year and won the Art Ross and the Hart Trophies, while Crosby labored through another season with lingering effects from his concussion. The Penguins just don't have the money to afford two $100 million contracts and with the NHL's CBA ending this fall (Yes, another lockout is looming) and its going to squeeze the cap and I'm finding it hard to believe that both Malkin and Crosby could play on the same team with bloated contracts. It wouldn't surprise me in the least if Malkin gets traded before his contract is up. How often do 10+ year contracts work out well? Not very. It all started with Alexei Yashin and his 10 year, $87.5 million deal with the New York Islanders in 2001. Yashin's numbers declined and he never reached over 80 points in a season. You expect your big signing to put up some big numbers, but Yashin just couldn't do it. Yashin didn't even complete the entire length of the contract and spent up five seasons with the Islanders before he hightailed it to Russia. Yashin's Islanders teammate Rick DiPietro topped Yashin's contract with his own 15 year, $67.5 million deal with the Islanders in 2006. Ever since he signed that contract, DiPietro has pretty much been nonexsistant on Long Island. In the past four seasons, DiPietro has gotten only 14 wins. 14 WINS?! A lot of money to invest in what is now looking like a backup netminder. The list could go on and on. Mike Richards (not even in Philly any more), Roberto Luongo (can't win in the postseason and is a streaky player), Alexander Ovechkin (numbers keep going down every year), and so on. Pittsburgh may have put their eggs all in one basket with Crosby and its way too early to see if it'll work out, but I just don't see it ending very well for the Pens.
Original Story:
http://tmgsportsblog.yardbarker.com/b...
THE BACKYARD
BEST OF MAXIM
RELATED ARTICLES
Sid the Kid is sticking around. The Pittsburgh Penguins and superstar center Sidney Crosby have agreed to a 12-year contract extension Thursday that leaves little doubt Crosby has overcome the concussion-like symptoms that sidelined him for most of the last two seasons. The deal keeps the 24-year-old Crosby in Pittsburgh through 2025 and gives the team some room to play in the...
The Penguins are set to show their position on the persistent Sidney Crosby durability questions and do their talking with plenty of zeroes. TSN's Darren Dreger reported Thursday that Crosby and Penguins will announce a long-term extension with an average annual value of more than $9 million and a total value over $100 million. Crosby is not having any concussion-related...
                Sidney Crosby's 24 years old. He's about to add $100 million to his bank account. The Penguins captain is expected to sign a contract extension that would keep the superstar in Pittsburgh for what is reportedly the next 12 years, all for a cool $100 million dollars. Crosby will be entering the last year of a 5 year $43.5 million dollar contract signed...
So Sidney Crosby is going to get Ilya Kovalchuk money? That only seems fair, despite Crosby's scary concussion history.The Pittsburgh Penguins are prepared to lock in Crosby with a $104.2 million extension over 12 years, with an annual salary cap hit of $9 million. So reports the folks at TSN. That deal comes on the heels of center Jordan Staal rejecting a 10-year, $60 million...
The Penguins officially announced Crosby's new deal: #Pens and Sidney Crosby agree to terms on 12-year, $104.4 million contract extension bit.ly/Lj00Tf — Pittsburgh Penguins (@pghpenguins) June 28, 2012     At first glance you wonder if that is allowed, but according to a few people in the know, it is more or less an agreement in principle so it is fine...
So Sidney Crosby is going to get Ilya Kovalchuk money? That only seems fair, despite Sid the Kid's scary concussion history.The Pittsburgh Penguins are prepared to lock in Crosby with a $104.2 million extension over 12 years, with an annual salary cap hit of $9 million. That deal, reported by TSN, came on the heels of Jordan Staal rejecting a 10-year, $60 million deal to stay...
The musings are a day late today, but that's only because all of the big news happened yesterday. Don't blame us, blame everyone else for not making all this stuff happen before Thursday. I swear, everyone else is to blame, not us! So Sidney Crosby gets $104.4 million over 12 years. From a hockey standpoint, that is a very risky contract. Crosby has had significant concussion...
via Darren Dreger tweet, Expect the Penguins to announce Sidney Crosby's contract extension on Sunday. Over $100 million dollars with an AAV of close to $9 mil per.
The Los Angeles Kings and Pittsburgh Penguins just got a little better for the next ten plus years. It was announced today that, the Kings have agreed to terms that will keep Conn Smythe winner, Jonathan Quick, in Los Angeles through the 2022-2023 season, and the Penguins have locked up former Olympic gold medalist, Sidney Crosby, through the 2024-2025 season.It is rumored that the...
The ESPYS are coming up on July 11th and the city of Pittsburgh doesn't have many nominated this year.  But a couple of Penguins were nominated in two different categories.  Evgeni Malkin was nominated for Best NHL Player.  His competition is Steven Stamkos, Henrik Lundqvist, Jonathan Quick and Claude Giroux (barf). Sidney Crosby was also nominated for Best Comeback Athlete...
Free agency is looming in the NHL.  Big name players are already signing some big contracts and the real madness does not begin for a couple years.  Yesterday we saw Sidney Crosby sign a 12 year $104.4 contract with Pittsburgh and Jonathan Quick sign a 10 year $58 million contract with Los Angeles.  Potential free agent Dennis Wideman signed a five year $26.25 million contract...
from Eric Duhatschek of the Globe and Mail, As Holland says, the Red Wings can't sell climate, anonymity, or a state-of-the-art facility to players. Their pitch revolves strictly around the hockey-playing experience. With Nicklas Lidstrom now retired, the Red Wings have the need, the will and the cash (roughly $20-million in available salary-cap space) to land one or both of Parise...
NHL News

Delivered to your inbox

You'll also receive Yardbarker's daily Top 10, featuring the best sports stories from around the web. Customize your newsletter to get articles on your favorite sports and teams. And the best part? It's free!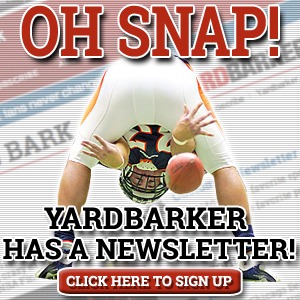 Latest Rumors
Best of Yardbarker

Today's Best Stuff

For Bloggers

Join the Yardbarker Network for more promotion, traffic, and money.

Company Info

Help

What is Yardbarker?

Yardbarker is the largest network of sports blogs and pro athlete blogs on the web. This site is the hub of the Yardbarker Network, where our editors and algorithms curate the best sports content from our network and beyond.