Found July 27, 2012 on Shutdown Line:
As a hockey stat guru, it warms my heart to hear that front offices around the league are keeping an open mind into hockey analytics, which is  why I was excited to hear that the Hurricanes were using certain "advanced" analytics to back-up their decision to sign Alex Semin to a one-year contract worth $7 mil. This fact was revealed by Canes PR guy Mike Sundheim on Twitter and later confirmed by GM Jim Rutherford in a press conference. It's always good to do you homework before you make a big signing and it's good to see that the Canes did some fact-checking before signing Semin to this deal. Blogs like mine and many others across the Internet will always do a thorough background check on a player before deciding if he is a good fit for the team they root for by using shot-based metrics such as Corsi and Scoring Chances along with looking at a player's scoring rates. If you listen to the press conference from Rutherford, you will learn that he performed about as thorough of a background check with Semin as you could imagine but the type of analytics they used is a little different from the ones that you may be familiar with on this blog and other places across the Internet. I looked back at Sundheim's tweets to see if he mentioned anything about the type of stats the front office was using and he mentioned quite a few. First of all, it appears that the Canes were using percentiles to gauge a player's value rather than just simple rankings. A percentile shows the percentage of a sample lower than the point (or in this case the player) of interest. They were also apparently looking at how often a player scored in "high pressure situations" and against "top forwards on the opposing team."  Plus/minus for these situations were also looked at. These stats were used as a way to combat the opinions of Semin not being "clutch" in the post-season or when the game was on the line. Per Sundheim, "high pressure situations" are when the game is tied in the second and third periods or when the game is close during those frames. Overtime is also included in this, obviously. The top 2-3 forwards on each of the opposing team are selected by whoever comes up with these statistics. It is also not clarified whether or not the team is looking at the amount of goals/points a player scored or the amount that he is on-ice for but either way, Semin ranked very high in all of these categories and that obviously factored into their decision to sign him. There are some issues that arise with these stats and the biggest of which being that the "high pressure situations" could eliminate a good chunk of the game and cause them to look at some small sample sizes. A lot of hockey statisticians prefer to look at data when the score is close or tied, so that is understandable but I'm not sure that I agree with elminating the entire first period from the sample. We're in sort of a "dead-puck" era with a lot of close games, which makes every goal huge. Throwing out a few goals because they were scored in the first period seems a bit strange, in my opinion. The fact that they are only looking at data when a certain player was used against "top 2-3" forwards on the opposing team also limits the scope because there are a lot of times when a star forward is matched up against a checking line, the latter of which probably doesn't have one of the "top forwards" on it depending on the scorer's definition. Therein lies another potential issue; How does the scorer decide who the "top 2-3 forwards" are? Seems a little too subjective if the team in question is playing a team with not much star talent. I understand the rationale behind this stat because it is probably another way of looking at "quality of competition" like I do often, but I also think that it could lead to an issue with sample size. One final thing I would like to know about these stats is if they look at the amount of shots or scoring chances a player produces in these situations. I'm probably beating a dead horse with this by now, but it's tough to use goals and points as a predictive stat because of how much luck is involved with them. Semin, in particular, had a very unlucky season with a poor shooting percentage and could have created more goals in these "high pressure situations" if he shot closer to his career average. Shots obviously don't catch your attention as much as goals do, but they are also very important to look at because shots are what a player has the most control over. Seeing if a player can drive possession at a high rate usually means that they are likely to score more in the future than a player who isn't. I may have my issues with these stats and how valid they are but in the end, we can both agree on that Semin for one-year at $7 mil. is a terrific signing for Carolina. Semin not only can perform in these "high pressure situations," he can drive possession at even strength, when the score is tied, and when the game is close and that is going to really help Carolina next season. Plus, he also has scored at a high rate at even strength for most of his career. It may not be the way that I, or many others, are used to doing things, but it is nice to see a team take an analytical approach to rate players and use it to factor into their front office decisions.
Original Story:
http://www.shutdownline.com/hurricane...
THE BACKYARD
BEST OF MAXIM
RELATED ARTICLES
The Carolina Hurricanes signed Alexander Semin to a one year deal worth $7 million, causing many people to wonder whether or not it was a good signing by the 'Canes. Semin sat around for much longer than expected on the free agency market, and could not secure a better offer from any other team, and he actually considered accepting a two year offer from a Russian hockey team...
The Carolina Hurricanes wanted to add one top-shelf forward this offseason. They got two. By trading for Jordan Staal and signing Alexander Semin, the Hurricanes have sent a clear message: They're in it to win - now. General manager Jim Rutherford said Friday it's hard to judge a hockey team during the summer but ''we are a much stronger team going into the season...
RALEIGH, N.C. (AP) -- The Carolina Hurricanes wanted to add one top-shelf forward this offseason. They got two. By trading for Jordan Staal and signing Alexander Semin, the Hurricanes have sent a clear message: They're in it to win -- now. "It's easy for me to say we stack up fine, but you really don't know until you play the games," general manager Jim...
Mercurial winger Alexander Semin has signed a one-year, $7 million deal with the Carolina Hurricanes for next season.  This is an odd choice considering Semin's scoring success against the Hurricanes.  Without multiple hat tricks against Cam Ward this season, Semin may not even reach 20 goals.  Then again, Semin's an odd guy and he still managed to get a raise over what...
 Alex Semin is the newest member of the Carolina HurricanesIt took three weeks, four days, and a few hours, but Alex Semin is officially no longer a Washington Capital.  However, we'll still be seeing the Russian enigma quite a bit next season.  Semin signed a one-year, $7 million contract with the Carolina Hurricanes earlier today, marking the first season he'll play...
When the Hurricanes traded their first round pick to Pittsburgh for Jordan Staal, I was a little worried that they left a lot of talent on the board but they were lucky in the second round when forward Phil Di Giuseppe fell to them. Di Giuseppe (or PdG for short) was projected to be a late-first round pick by some scouts but he fell to the Hurricanes in the second round of his year...
RALEIGH, NC – Jim Rutherford, President and General Manager of the National Hockey League's Carolina Hurricanes, today announced that the team has agreed to terms with left wing Alexander Semin on a one-year contract. The deal will pay Semin $7 million for the 2012-13 season. "We have done a lot of research about Alexander, and discussions about his fit with our team have...
The Carolina Hurricanes made big news on Thursday afternoon by signing free-agent Alexander Semin to a one-year, $7 million contract. The news, as seen on NHL.com, boosts a Carolina offense that finished 16th in the NHL in total scoring during the 2011-12 season.  The announcement ends Semin's seven-year stint with the Washington Capitals where he accumulated 197 goals and...
Jordan Staal could have a new linemate and the Pittsburgh Penguins have one fewer option at wing. The Carolina Hurricanes have signed Alex Semin. It's a one-year, $7 million deal according to Darren Dreger. Are the Hurricanes now the top team in the Southeast?
After a month of waiting and negotiating, Jim Rutherford made his first big splash in free agency by signing Alexander Semin to a one-year deal worth $7 mil. I had been pushing the idea of signing the winger for the entire off-season, so you can probably imagine that I am happy with this signing. The Hurricanes were in need of a top-six winger for almost a year and they found a potential...
Hurricanes News

Delivered to your inbox

You'll also receive Yardbarker's daily Top 10, featuring the best sports stories from around the web. Customize your newsletter to get articles on your favorite sports and teams. And the best part? It's free!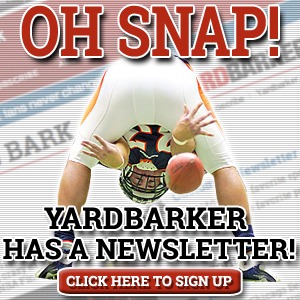 Latest Rumors
Best of Yardbarker

Today's Best Stuff

For Bloggers

Join the Yardbarker Network for more promotion, traffic, and money.

Company Info

Help

What is Yardbarker?

Yardbarker is the largest network of sports blogs and pro athlete blogs on the web. This site is the hub of the Yardbarker Network, where our editors and algorithms curate the best sports content from our network and beyond.