Found March 30, 2013 on The Prospect Park:
PLAYERS:
Griffin Reinhart
,
Brady Skjei
,
Scott Mayfield
,
Ryan Strome
,
Jesse Graham
,
Scott Kosmachuk
,
Jake Bischoff
,
Brenden Kichton
,
Samuel Noreau
,
Robbie Russo
,
Steven Fogarty
,
Michael St.Croix
TEAMS:
New York Islanders
,
Minnesota Golden Gophers
,
Yale Bulldogs
,
Denver Pioneers
,
Notre Dame Fighting Irish
St. Croix and Reinhart (Edmonton Oil Kings) Don't blink because if you do then you might miss seeing the end of the season for a New York Ranger or New York Islander prospect. On Friday 4 Islander and 1 Ranger prospect saw their season come to an end while 2 prospects (1 from each franchise) moved on to the next round. Not going to breakdown anyone's season here as there will be plenty of time to do that during the off-season. In Edmonton, the Edmonton Oil Kings defeated the Kootenay Ice 4-1 to win their WHL Eastern Conference playoff series 4-1 and move on to face the Medicine Hat Tigers in the 2nd round. Griffin Reinhart (NYI 2012 1st) had the primary assist on Edmonton's 3rd goal late in the 3rd period that pretty much sealed the game as well as the series. It was a workmanlike effort from the Oil Kings as they took care of business and eliminated the Ice with the very first opportunity. The Oil Kings took their cue from their captain Reinhart and played their game under control and didn't give the Ice any chances to find momentum. Michael St. Croix (NYR 2011 4th) was scoreless as he and his linemates were just not in sync with each other as they had chances to put some points on the board but for whatever reason they just didn't convert. The Oil Kings will have at least a week off before they start the next round. Brady Skjei (NYR 2012 1st) and his 2nd seeded Minnesota Golden Gophers saw their 2012-2013 come to a disappointing end when the 15th seeded Yale Bulldogs scored just 9 seconds into overtime to earn a 3-2 win. While others will call this a major upset; I won't as I saw this as what the Golden Gophers deserved because they tried to win this on reputation not effort. Yale who barely earned an invite to the tournament took the game to Minnesota turning a scoreless 1st period into a 2-0 lead after 2 period. Only a 3rd period rally kept this from being an even more embarrassing loss than it was. Skjei was scoreless on no shots and a +1. Scott Mayfield (NYI 2011 2nd) and his 9th seeded Denver Pioneers saw their season end at the hands of 7th seeded New Hampshire 5-2. In many ways Denver like Minnesota got the outcome they deserved as they limped into the tournament after losing in the WCHA playoff's 1st round to Colorado College. Against New Hampshire in front of a New Hampshire crowd, Denver let a 2-1 lead after the 1st period slip away as New Hampshire rallied to take a 3-2 after 2 periods. The big blow to Denver came in the 1st minute of the 3rd period when Denver's leading scorer Nick Shore was ejected after a contact to the head major. As for Mayfield, it is only fitting that he ended his season getting called for a penalty at the final buzzer. Mayfield was scoreless on 2 shots, a -1 and 4 PIMs. Ryan Strome (NYI 2011 1st) most likely played his last game as Niagara IceDogs were eliminated by the Oshawa Generals in 5 games after a 3-2 loss. Strome had a goal for the IceDogs but he and his linemates were never able to get untracked in this series. Jesse Graham (NYI 2012 6th) was scoreless as he didn't have a bad playoff series. So now the question is how fast will the Islanders get Strome to Bridgeport to get a jump on next season? Will Andrey Pedan (NYI 2011 3rd) be joining Strome in Bridgeport now that his Guelph Storm have been eliminated by the Kitchener Rangers? Pedan's Guelph Storm fell to the Rangers 4-2 and were eliminated in 5 games 4-1. In the end what did the Storm in was their own undisciplined play as it was fitting that they ended the series killing off a 5 minute major. The Rangers really didn't win this series as it was the Storm who handed it to them on a platter. The Rangers jumped out to a 3-0 lead behind 3 second period goals including a power play and a shorthanded marker. The Storm rallied to cut the lead to 1 goal in the 3rd period before Scott Kosmachuk took a major penalty for a "Check to the Head" at 15:00 which effectively killed Guelph's comeback. Pedan was scoreless in this one but whether I like Pedan's antics or not there is no doubting that the 6'5 defender has NHL potential. If the Islanders don't get him signed then they might regret it as Pedan if he can grow out of his "loose cannon" ways has 2 way defenseman stamped all over him. Despite my own dislike of the antics; I wouldn't think twice about giving him an NHL contract. Pedan with the right coaching could become a star on the Islander blueline. The only prospect still playing in their regular season is Jake Bischoff (NYI 2012 7th) of the Omaha Lancers in the USHL. Bischoff earned his 2nd point of the season with a secondary assist on Omaha's 4 goal as they held off the Sioux Falls Stampede 4-2. The Lancers are in a dogfight with the Waterloo Blackhawks for the 4th and final playoff spot in the USHL's Western Conference standings. The Lancers trail the Blackhawks by a point with 5 games remaining in their schedule but the Blackhawks hold 2 games in hand. Who is left? While St. Croix and Reinhart earned their ticket to the next round who is left might be a good question. The duo of McColgan and Nicholls will like it or not will be in the Memorial Cup. Brenden Kichton and his Spokane Chiefs should advance to the 2nd round of the WHL's Western Conference playoffs. Don't doubt for a second they are rooting for Seattle to knock off Kelowna so they can avoid playing the Portland Winterhawks who are making Everett pay for embarrassing them in game 1. Mitchell Theoret and his Barrie Colts are in the 2nd round of the OHL's Eastern Conference playoffs but Theoret is the only prospect left in the OHL. While Samuel Noreau is nursing a broken hand, his Baie-Comeau Drakkar are in the 2nd round of the QMJHL playoffs. Going to say this as don't hand the QMJHL title to the Halifax Mooseheads not as long as Eric Velleux is coaching the Drakkar. In the NCAA all that is left are Anders Lee, Robbie Russo and Steven Fogarty and their Notre Dame Fighting Irish. Really there isn't a team in the NCAA field that Notre Dame can't beat as this is as wide open a tournament as you can get.
Original Story:
http://feedproxy.google.com/~r/ThePro...
THE BACKYARD
BEST OF MAXIM
RELATED ARTICLES
UNIONDALE, NY (March 29, 2013) – The New York Islanders announced today that defenseman Lubomir Visnovsky has agreed to terms on a two-year contract extension. Visnovsky, 36, has nine points (three goals and six assists) in 22 games with the Islanders this season. Through his first 22 games this season, Visnovsky has been on the ice for 34 of the 59 goals (58%) scored by the...
In the next stage that has been a truly bizarre and turbulent tale, Lubomir Visnovsky, who a few months ago refused to report to the Isles and was threatening legal action against the teams involved in a trade where he would not report to, has been extended by the Islanders for two years/9.5M....while dedicated soldier and team captain Mark Streit remains a pending UFA. I honestly...
Colin McDonald scored two goals, Josh Bailey tallied the clinching score in the shootout and the New York Islanders won again on the road, coming up with a 4-3 shootout victory over the Philadelphia Flyers on Thursday night. John Tavares also scored for New York, which won its fourth straight on the road while improving to 10-4-1 away from home this season to pull into a tie with...
Brenden Kichton (Spokane Chiefs) Just 3 games on the Thursday playoff schedule and all involving New York Islander prospects which resulted in 2 losses and 1 escape. Depending on your point of view then the 2 losses mean that the Islanders are this much closer to adding 2 talented prospects to their system. One who nobody is really sure what is going to happen when Brenden Kichton...
Brenden Kichton (Spokane Chiefs) The Saturday report really isn't much better than Friday's was as 3 more prospects of the New York Rangers and the New York Islanders saw their season come to a sudden and quick ending. But one Islander prospect made sure his season wasn't ending by taking matters into his own hands. Now I have to wonder why the Islanders and Brenden...
Just a quick hit today as Art Staple has tweeted out the contact discussions for Lubomir Visnovky remaining with the Islanders are under way and are "very positive." I find it increasingly amusing that with the exception of Ryan Miller, the players who were most resistant to joining the Islanders are the ones that end up very happy to remain. Look at the case of Evgeni...
Lubomir Visnovsky will be with the New York Islanders for the next two seasons after signing an extension worth $9.5M over two campaigns. Visnovsky has played in 791 career NHL games with the Los Angeles Kings, Edmonton Oilers and Anaheim Ducks. He has collected 120 career Goals and 339 Assists for 459 total Points. He [...]
Islanders News

Delivered to your inbox

You'll also receive Yardbarker's daily Top 10, featuring the best sports stories from around the web. Customize your newsletter to get articles on your favorite sports and teams. And the best part? It's free!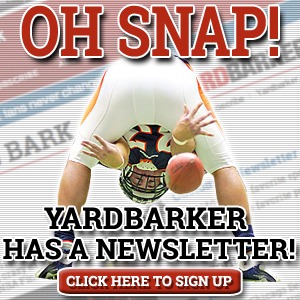 Latest Rumors
The Backyard

Today's Best Stuff

For Bloggers

Join the Yardbarker Network for more promotion, traffic, and money.

Company Info

Help

What is Yardbarker?

Yardbarker is the largest network of sports blogs and pro athlete blogs on the web. This site is the hub of the Yardbarker Network, where our editors and algorithms curate the best sports content from our network and beyond.