Found December 06, 2012 on The Pensblog:
The NHL has rejected the NHLPA's latest offer and it seems like they've now pulled their own offer off the table. Or something. We're not even sure anymore. Someone help us. It looks like more games will likely be cancelled soon. It's December 6th and they've already cancelled games to the 14th. No way the season starts by the 14th. It's been a bizarre night. Apparently Bill Daly broke up with Steve Fehr by voicemail. Gary Bettman just summed it up: "We are where we are as horrible as it is." No future talks are planned.
Original Story:
http://www.thepensblog.com/2012-archi...
THE BACKYARD
BEST OF MAXIM
RELATED ARTICLES
The full conference went around 45 minutes including the Q & A, but this video released by the NHL is the first 9 minutes or so.  
NHL commissioner Gary Bettman briefly addressed the media this afternoon and just said that he is pleased with the process going on. Bettman refused to elaborate on the process and did not field any questions. Bettman was scheduled to hold the press conference at 1PM after the NHL Board of Governors meeting, but the Governors [...]
In all the years I've been watching hockey, I've never seen Gary Bettman this angry. The world's most hated commissioner has his own "Boo Montage" on Youtube. He's been "wanted dead" by David Bolland. He's been called an "idiot" by Red Wings defenseman Ian White.Last night, in a press conference, Bettman lost his cool. Bettman'...
NHL deputy commissioner Bill Daly said Friday that he is out of ideas how to get negotiations back on track to save the hockey season. Talks fell apart on Thursday night amid back-and-forth accusations, and the fallout was still being felt Friday. The two sides had no contact with each other on the 83rd day of the owners' lockout of players. ''I have no reason, nor...
NHL-NHLPA session has broken up. Bill Daly and NHL group returning to their offices to confer. Will touch base with NHLPA later on next step — Bob McKenzie (@TSNBobMcKenzie) December 6, 2012 The PA will have something to say, will post when available.
Monster piece by David Staples: Former player Nick Kypreos, a Sportsnet broadcaster and staunch supporter of the NHLPA in labour negotations, says NHL commissioner Gary Bettman wants a deal done to end the NHL lockout by Friday.   "Apparently Gary is ready to get a deal done," Kypreos said. "He wants this thing done Friday. Friday!"   Oh man.  
Yesterday was a whirwind for the NHL, so lets get a quick recap of everything that went down. To do this, I'm going to quote some paragraphs from this ABC News article on yesterday's meeting. We all know that Gary Bettman spent about 20-30 seconds on a statement he was an hour late for so there's really no need to dig into any of that stuff.  Negotiations resumed...
After three days of marathon meetings between the owners and players – without outside influence on either side — there seemed to be some promise in the ongoing NHL lockout discussions. And then, it was gone. On Thursday evening, a group of 16 players met with Donald and Steve Fehr to discuss the talks that took place without them earlier in the week, according to Comcast Sportnet...
Don Fehr just announced it.  He says looks like this will not be resolved in the immediate future. Says NHL will get back to them and Fehr says PA will advise players tonight. Fehr also mentioned the NHL may be pulling some items off the table. This was relayed to Steve Fehr by Bill Daly via voicemail.
  Wednesday night we heard Bettman give the shortest presser ever. It was so short you could fit his entire message in a single tweet. We all fell for the optimism. We were like: And... And then... Hell, we were so stoked by the high the NHL and NHLPA left us we even made this: (hahahaha ha ha heh eh... meh)   Boy, weren't we fools...
from Larry Brooks of the NY Post, A sense of what had been described by one source as "cautious optimism" during the midpoint of yesterday's lengthy NHL owners-players meeting was markedly tempered when the session concluded around midnight. As such, even after 7 1/2 hours of interaction between six owners and 18 players, the 2012-13 season remains in jeopardy. ...
from Mark Everson of the NY Post, It was 20 years ago we first proposed the creation of an NHL commissioner. But not like this. Exactly not like this. The, ahem, brainstorm came in the wake of the 11-day April 1992 players' strike. That was the one that the late, great Roger Neilson was blamed (along with Mark Messier's costly shorthanded foray, pilfered and converted...
NHL News

Delivered to your inbox

You'll also receive Yardbarker's daily Top 10, featuring the best sports stories from around the web. Customize your newsletter to get articles on your favorite sports and teams. And the best part? It's free!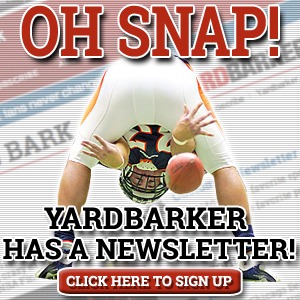 Latest Rumors
Best of Yardbarker

Today's Best Stuff

For Bloggers

Join the Yardbarker Network for more promotion, traffic, and money.

Company Info

Help

What is Yardbarker?

Yardbarker is the largest network of sports blogs and pro athlete blogs on the web. This site is the hub of the Yardbarker Network, where our editors and algorithms curate the best sports content from our network and beyond.