Found February 02, 2012 on The Prospect Park:
PLAYERS:
Brenden Morrow
,
Brandon Dubinsky
,
John Tortorella
,
Michael Sauer
,
Marc Staal
,
Stu Bickel
,
Anton Stralman
,
Steve Eminger
,
Dan Girardi
,
Ryan McDonagh
,
Dylan McIlrath
,
Glen Sather
,
Michael Del Zotto
TEAMS:
Dallas Stars
,
New York Rangers
,
New York Islanders
It never seems to fail; that the moment either the New York Rangers lose a game or somebody's name makes it to the rumor mill that Ranger fans start screaming for a move to be made.
It doesn't matter that the Rangers just so happened to be in first place of the Eastern conference.  It doesn't matter that the that most of the players involved in trade rumors are not addressing what the team really needs.
All that matters is that like a spoiled child, it becomes; "I've got to have that player." The world's worst general managers are fans because they typically make the world's worst trade offers.
You want Brenden Morrow? If I am the Dallas GM then I want somebody back who's going to give my team a future and not somebody you want to get rid of because he is having a bad year or contract.
It never ceases to amaze me how fans will go on and on about how worthless somebody is and then turnaround and offer them up in a trade. Now forgive me for being sarcastic, but why in the world do I want your trash?
No, seriously I see the current whipping boy Brandon Dubinsky being called everything from a passenger to grossly overpaid and yet you expect Dallas (or any other team for that matter) to take him.
Now why would I do that? After all you just said he's worthless, overpriced and passenger.
Okay, let's play the game and go under the impression that the Rangers are Stanley Cup contenders. What area do you really think really needs improvement?
If you been paying attention to what John Tortorella's been saying lately then you know that there's any area where the Rangers would be looking. It would be on the blueline.
Michael Sauer has been shut down and that more than likely means you might as well forget about him coming back this season. If you doubt me take a look at Mark Staal and notice how much he's been struggling with his own game since his return.
Notice what John Tortorella has been saying about why Staal is struggling. Staal missed training camp and missed most of the first half; it would be a fair statement to say that Marc Staal has been a mere shell of the player Ranger fans grown accustomed to.
And now take a look at how the minutes were spread out among Ranger defensemen against the Sabres. By the time the third period got underway in: John Tortorella had already cut back to a rotation of five defensemen sitting down Stu Bickel.
Rangers basically went with four defensemen alternating Staal and Anton Stralman. Michael Del Zotto who many of you are still wanting to run out of town plays about 25 minutes a game.
And I'll be the first one to acknowledge that Del Zotto turns the defensive zone into an adventure. Yes, we know Steve Eminger will be coming back soon but do you really think he's a top four defenseman that you want on the ice in the last minute of the game?
John Tortorella is playing with fire, using Dan Girardi 30 minutes a night is one thing but we are talking about the guy who tries to block every shot. One shot in the wrong spot and he's gone out injured.
I have nothing against blocking shots, but even if it doesn't injure what it does do is lessen a player's effectiveness with all the wear and tear on his body.
If the Rangers lose Girardi or Ryan McDonagh to injury then they're in big trouble. In other words if there is any kind of move the Rangers need to make it needs to be a durable defenseman.
And now it's time to be realistic as here is your choices as if you really think the Rangers are legitimate Stanley Cup contenders are, how much are you willing to pay?
Are you willing to part with any of the young talent? Rule number one about a trade is that both teams wanna walk away thinking they have improved their team.
If you are wanting to win the Stanley Cup, then you are not looking to pick up a spare part, but rather you want somebody that put you over the top.
So are you willing to give up on Chris Kreider? How about JT Miller or Dylan McIlrath? First of all, Glen Sather does not work that way, as he will not give up on any of these three. Not to mention Gordie Clark might throw Sather off the Garden roof if Sather did anything like that.
He might be willing to give up on second rounders or third rounders, but not first. But here's something that I think people will be freaking that they're reading right here.
If you willing to move young talent than this would be the year for you to part with a first-round pick if you truly, honestly think this team is a Stanley Cup contender.
The price for a quality defenseman in the NHL around the trading deadline is going to be a first rounder or a top prospect. And since I'm making the suggestion, allow me to explain why.
Draft rules for the first-round say that a team appearing in the cup final will have the 29th or 30th pick. Should the Rangers eliminated in the conference finals then they would have the 27th or 28th pick.
After that, your draft slot determined by your season record right now. If the Rangers would end the season tomorrow and failed to make it out of the conference finals then the best they would pick would be 25th or 26th.
The 2012 NHL Draft is going to be overloaded with defensemen in the first round. It is a good deep draft that the Rangers can still find quality prospects in the 2nd round and on.
If you're getting a quality defenseman who you would have for at least two years; then pay the price and then use the first-round pick as part of your offer.
If you want a run at the Stanley Cup; then be real about it. If you're not then go with what you have and stop with the fantasy trades.
And if you say Rangers need more offense than remember the old saying "offense wins games but defense wins championships."
Game action
Only one game was the night involving a prospect of either the New York Rangers or New York Islanders.
Brendan Kichton (NYI 2011, fifth)
and Spokane Chiefs found out the hard way why the Kamloops Blazers have the best record in the WHL.
A game that was tied at one entering the third period; turned on one bad elbow. Spokane's Corbin Baldwin was given a five-minute major for checking to the head and the Kamloops Blazers took full advantage.
With the teams playing four on four the Blazers scored twice and then added a goal when they had the man advantage. Three goals in a matter of 3:16 was the difference as the Blazers ended the Chiefs 8 game unbeaten streak 4-1.
Kichton was scoreless and a -1 for the evening.

(New York Rangers logo – New York Rangers)
Original Story:
http://feedproxy.google.com/~r/ThePro...
THE BACKYARD
BEST OF MAXIM
RELATED ARTICLES
I feel like the span between these posts about Brad Richards has become smaller and smaller as the season passes by, which, for obvious reasons, is not a good thing for the Rangers' big free agent splash this past summer. Richards was brought here for several reasons, but the most prevalent included his playmaking abilities, his presence at the point on the powerplay and...
The Rangers twitter account reports that the team took to the ice early this morning to work extensively on the power play....shouldn't that have been done two months ago?The Rangers also report that the training staff has cleared Steve Eminger (shoulder) to play. John Tortorella is unsure whether he will play on Sunday vs. Flyers.Andrew Gross adds that Eminger says his shot...
It looks like the Rangers have at least temporarily solved their surplus forward problem, as they have dealt Erik Christensen and a 7th round pick in 2012 to the Wild for Casey Wellman. Christensen had been a spare part for the Rangers for a long time, and hadn't played in a NHL game since December 17. The enigmatic and inconsistent center had once shown some chemsitry with Marian...
Although I was unable to watch the full game last night, I caught the Rangers In 60, so I caught most of the highlights. The Rangers again went oh-for-the-powerplay last night, making their stretch of games without a powerplay goal something like 700 games. The powerplay has done some good things (although last night it stunk), but the end result is what matters, and the end result...
Henrik Lundqvist came out on top in a duel of goalies, stopping 34 shots through overtime and four of five in a shootout in the New York Rangers' 1-0 win over Ryan Miller and the Buffalo Sabres on Wednesday night. Ryan Callahan scored the decisive goal by driving in on Miller, faking right and then snapping a shot in the open left side as the Eastern Conference-leading Rangers...
The Rangers announced that they have traded Erik Christensen and a conditional seventh round pick to the Wild for forward Casey Wellman. Wellman, 24, was assigned to the Connecticut Whale. More to come.
This is exactly what could be said of former New York Rangers' forward Erik Christensen. There is no doubt that Christensen had a lot of offensive potential. He is a great passer, solid in the shootout and has good vision. With that said, Christensen never used the above-mentioned talents on a consistent basis. When he was not hurt, Christensen often found himself in head coach...
With the Rangers up 1-0 in the shootout against Buffalo last night, Henrik Lundqvist went and did this to help secure the win... ... Remember to follow me on Twitter & Facebook or e-mail me at nyrfan94@yahoo.com.
// CLICK HERE for Rangers-Devils Pregame
Ryan Callahan scored the decisive shootout goal and Henrik Lundqvist stopped 34 shots to lead the New York Rangers to a 1-0 win over the Buffalo Sabres on Wednesday night.
It looks like New York Rangers general manager Glen Sather is trying to position the team for a serious run at a Stanley Cup Championship. The Rangers currently hold the number one seed in the Eastern Conference but do have some holes. They've got a very weak power play, an offense that could use a spark and another defenseman. If Sather has his wish he'll be reunited with...
BUFFALO — Not for nothing, but the Rangers will take nothing-nothing down to the wire every time. "It seemed like a grind the whole way, a game of hitting, blocking shots, coming down to the last shot," Dan Girardi, a rock on the blue line, said after another throwback Norris-type game...
NHL News

Delivered to your inbox

You'll also receive Yardbarker's daily Top 10, featuring the best sports stories from around the web. Customize your newsletter to get articles on your favorite sports and teams. And the best part? It's free!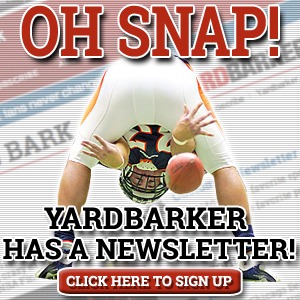 Latest Rumors
The Backyard

Today's Best Stuff

For Bloggers

Join the Yardbarker Network for more promotion, traffic, and money.

Company Info

Help

What is Yardbarker?

Yardbarker is the largest network of sports blogs and pro athlete blogs on the web. This site is the hub of the Yardbarker Network, where our editors and algorithms curate the best sports content from our network and beyond.