Found May 24, 2012 on Rob The Hockey Guy:
Alain Vigneault was given a two year contract extension on Wednesday. I'm torn on the decision. I don't love it, but I don't hate it either. If you were to have a town hall style debate on Alain Vigneault, it would be easy to make a compelling argument on why he should stay. Two straight President's Trophies and five division titles in six years would suggest he is an outstanding head coach in the regular season. What about the playoffs you say? Well his record in the postseason is impressive as well. In five playoff appearances, the Canucks have been good (not great) under Vigneault. For the most part, the Canucks under AV have beaten the teams they should have in the playoffs, and lost to the teams they should have. They beat St Louis (2009), Los Angeles (2010), Chicago (2011), Nashville (2011) and San Jose (2011) as they should have. They were clearly not as good as Anaheim (2007) and Chicago (2010), and lost as expected. They beat Dallas (2007), even though the Stars were probably the better team that season. But it's the tough losses to Chicago the first time (2009), Boston in the Stanley Cup final (2011) and eight seed Los Angeles that have the anti-Vigneault people upset. This season's loss in the first round was particularly concerning. Playing Mason Raymond on the first line to start the series was ridiculous. A lot of other moves can be questioned too, but that might be unfair. Most teams that get eliminated in the first round can have a number of things second guessed. The thing I haven't liked about Vigneault in his tenure in Vancouver is that he doesn't seem to make adjustments within a series in order to combat what the other team is doing well against them. The Canucks have seemed like a team that are what they are, and their opponent has 7 games to figure them out. Sometimes they do (like Boston in 2011), and other times they don't (like St Louis in 2009). The flip side to this is that teams under Vigneault are usually well prepared to start a series. They have won game 1 in 9 of 11 tries. It's very hard to come up with a reasoned argument against Vigneault. His detractors would point to the team not being prepared for game 1 of the playoffs this season. But if you want to do that, you also have to give him credit for his sparkling record in game 1s before this season. With every bizarre line change that doesn't work out, just remember that he was the only one who thought that Alex Burrows would fit on a line with the Sedins. There's an argument that young players don't flourish under him, yet the core group of this team grew under Vigneault. Vigneault's record should speak for itself, but somehow I'm conflicted. He has done well in Vancouver, but has he run his course? Every coach has a shelf life, and perhaps he is getting near the expiration date. I don't think the players will quit on him, but the core of the team has to have seen every motivational tool at his disposal by now. Another coach could have given the team another dimension and reduced complacency. But that coach would have needed to be competent also. If someone along the lines of Mike Babcock, Joel Quenneville or Dan Bylsma were available, I think it would have been a no brainer to let Vigneault go. As it stands, I don't see an obvious replacement for Vigneault, so bringing him back is probably the right decision… although I'm biting my lip as I type this.
Original Story:
http://www.robthehockeyguy.com/2012/0...
THE BACKYARD
BEST OF MAXIM
RELATED ARTICLES
Five days ago we asked the question. To AV or not to AV. We now have our answer folks. Big day for the Vancouver Canucks. They've got their man resigned and back behind their bench. Per a media release from the Vancouver Canucks this morning we've learned that Coach Alain Vigneault has had his contract extended by the team. Here's is the official press release...
The Vancouver Canucks have signed head coach Alain Vigneault to a contract extension. The Canucks have posted the NHL's best regular-season record for the last two seasons under Vigneault. But his job status was unclear after Vancouver was bounced from the first round of the playoffs by Los Angeles. Vigneault guided the Canucks to the Stanley Cup final last season. Vancouver...
The Vancouver Canucks have signed head coach Alain Vigneault to a contract extension. The Canucks have posted the NHL's best regular-season record for the past two seasons under Vigneault. But his job status was unclear after Vancouver was bounced from the first round of the playoffs by the Los Angeles Kings. Vigneault guided the Canucks to the Stanley Cup Final last season...
Earlier this afternoon, the Vancouver Canucks extended head coach Alain Vigneault for at least one more season. And while Vigneault may have his detractors among the 'Nucks faithful, choosing to give him more time behind the bench was an easy, and smart, decision.Vigneault led the Canucks to a fourth consecutive Northwest Division title. His 267 puts him atop of the team'...
Alain Vigneault will be sticking around Vancouver a little longer. That's bad news for the rest of the NHL. In the regular season anyway. No one has been better at guiding a team through the 82-game grind of the regular season over the last half dozen years than Vigneault. Over that span he's posted the best record of any coach in Canucks history, going 287-155-50. That was...
Even though the Vancouver Canucks were eliminated from the playoffs in the first round this season, they announced Wednesday that they have signed coach Alain Vigneault to a two-year contract extension. "Alain has established himself as one of the premiere coaches in the National Hockey League," Canucks general manager Mike Gillis said. "He has demonstrated a commitment...
With a year left on his contract, and an unexpectedly premature exit from his team this year, Alain Vigneault had unfinished business in Vancouver. The Canucks decided that giving him some job security in the completion of his mandate as the team and their coach agreed to an extension.   Like many NHL deals, terms of the contract are not immediately available. This is the second...
Vancouver, B.C. –Vancouver Canucks President and General Manager Mike Gillis announced today that Head Coach Alain Vigneault has agreed to terms on a contract extension. "Alain has established himself as one of the premiere coaches in the National Hockey League," said Gillis. "He has demonstrated a commitment to winning that has led to back-to-back Presidents' Trophies...
Canucks coach Alain Vigneault was signed to a two-year extension through the 2014-15 season on Wednesday, two weeks after general manager Mike Gillis inked an extension of his own. That doesn't mean there won't be major changes taking place in Vancouver this summer. And the biggest change expected is in goal. Just two years into a mammoth 12-year, $64-million deal, Roberto...
Tears of happiness… I was recently asked to name my top five Canucks moments of all time and by all-time, I mean all-time of my life. In now twenty three years of what has been an existence dedicated to the ever changing prism of Canucks colours, I still await that one moment to sit at the top above all the rest where a Canucks Captain is raising the cup. A moment in time from...
Patience Vancouver Twenty-five years ago, the Manchester United soccer team in England decided to hire a Scottish manager named Alex Ferguson to run a team that had been a historical powerhouse, but had fallen on hard times, and had not won a title for 19 years. Ferguson was unable to immediately bring the championship demanded by the team's rabid fanbase and, in line with an impatient...
Let's Make a Deal…. Kudos to anyone still toughing out the 2012 NHL playoffs but personally between the lack of sex appeal on any of the four remaining teams and the chance to take advantage of a rare period over the past two years where the Canucks haven't been playing hockey, I've been taking advantage of this thing called spring. It's pretty chill, takes place outside...
NHL News

Delivered to your inbox

You'll also receive Yardbarker's daily Top 10, featuring the best sports stories from around the web. Customize your newsletter to get articles on your favorite sports and teams. And the best part? It's free!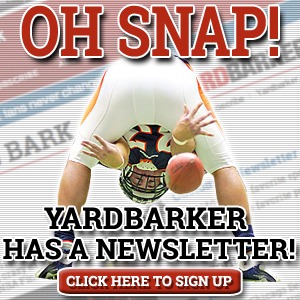 Latest Rumors
Best of Yardbarker

Today's Best Stuff

For Bloggers

Join the Yardbarker Network for more promotion, traffic, and money.

Company Info

Help

What is Yardbarker?

Yardbarker is the largest network of sports blogs and pro athlete blogs on the web. This site is the hub of the Yardbarker Network, where our editors and algorithms curate the best sports content from our network and beyond.