Found December 12, 2012 on Blue Seat Blogs:
Connecting the dots. I'm not one to speculate, I'm just one to use logical reasoning to come to a conclusion. Unfortunately in this post, my logical reasoning is leading to speculation, so take this with a grain of salt. Earlier this morning, Adam Rotter at SNYRangersBlog picked up this little tidbit from the Kalpa website noting that Derek Stepan has returned to the US, stating that Stepan was confident that a season would begin soon. With Stepan's return to the US, all –well, I believe all– Ranger roster players who were overseas have returned to the US. Rick Nash and Michael Del Zotto returned last week, and Carl Hagelin and Ryan McDonagh have been home for a while. While Hagelin and McDonagh returned for injury reasons last month, the returns of Nash and Del Zotto with "minor injuries that needed US medical attention" were a bit confusing. After all, Nash stayed with Davos when he bruised his shoulder earlier this year, so why wouldn't he stay with them if this groin issue was minor as well? Using my keen sense of logical reasoning , with keen being loosely defined, it is safe to assume that they may have sensed that the season was set to begin soon. Even Kalpa acknowledged that Stepan left because he believes the season is starting. Couple this with renewed negotiations today at 11am in a "super secret location that is so secret that if they told us where it was they would shoot us", and we have a situation where we can connect the dots. Let's go ahead and connect these dots: They are close to a deal. They are so close to a deal you can taste it. There is a super secret meeting today. All Rangers are back from Europe and in the New York area (or with Connecticut). I believe in coincidences, but there these are three things that are too much to write off as coincidence. My own speculation is that something big is coming, and the Rangers players were either instructed –indirectly of course– to return home or sensed this too. Tweet
Original Story:
http://www.blueseatblogs.com/2012/12/...
THE BACKYARD
BEST OF MAXIM
RELATED ARTICLES
Hockey's Future released its updated tea prospect rankings, and the Rangers have fallen quite a few spots to #17 overall. A few years ago, the Rangers were much higher in these rankings, but have dropped as many of their top prospects (Michael Del Zotto, Ryan McDonagh, Carl Hagelin, etc) have graduated from the prospect ranks. One of the main strengths HF notes is that the Rangers...
Marek Hrivik, a prospect that most fans have heralded as another undrafted gem, had a strong game last night, notching a pair of third period assists in the Whale's 2-1 victory over Worcester. Hrivik was credited with the secondary assist on Chad Kolarik's game-tying powerplay goal 1:23 into the third period, and picked up the primary assist on J.T. Miller's game winner five...
#NYR F Derek Stepan leaves Finnish league's #KalPa. Believes "the #NHL will start in the next few weeks". He was 2-2-4 in 12 gms. #SMLiiga — Pasi Tuominen (@PasiTuominen) December 12, 2012 With Stepan's return, there are currently no Rangers still playing in Europe. ...ok, something's going on. As I said earlier today, I don't want to get my...
Pat Leonard at the Daily News reports that Marian Gaborik (offseason shoulder surgery), Rick Nash (aggravated groin) and Carl Hagelin (shoulder) all would be available for an early-January training camp and start to the season. Leonard adds that Gaborik did some rehab work in Slovakia but has spent a significant amount of time recently in New York. Finally, Leonard says that...
Hockey's Future is currently releasing their organizational rankings and have ranked the Rangers at #17... Strengths: The Rangers have focused on building a team based on speed over the last five years. Top prospect Chris Kreider was one of the fastest skaters in the NHL during last season's playoffs. New York continues to add defensive prospects, and although several...
Larry Brooks at the New York Post reports that Rick Nash's groin injury is considered minor after medical exam. ...a lot of minor injuries forcing players home from Europe. If I was a conspiracy theorist, I'd say the players might know something regarding CBA negotiations. Remember to follow me on Twitter & Facebook or e-mail me at nyrfan94@yahoo.com.
The Whale made a pair of roster moves to help shore up the goaltender position. Whale goaltender Jason Missiaen was sent to the Greenville Road Warriors of the ECHL, while the Whale "recalled" Bryan Hince from Greenville. Recalled is in quotes because Hince himself had to be signed to an AHL PTO. For all intents and purposes it's a recall, but there was some additional paperwork...
Last night, JT Miller scored a late third period goal to give the Whale a 2-1 over Worchester (2:40 mark)... Miller also had an assist in the game to give him five points (3g, 2a) in the last four games. Chris Kreider, who was stopped on a breakaway in the first period, was again held off the scoreboard and is now pointless in his last nine games dating back to November...
12/5/12 New York Rangers (14-6-4) @ Washington (14-11-1) NYR 5 – 0 WSH Boston (12-9-4) @ Winnipeg (12-10-0) BOS 5 – 2 WPG Minnesota (12-10-3) @ Phoenix (10-11-2) MIN 5 – 4 PHX SO Florida (13-9-0) @ Anaheim (14-7-4) FLA 3 – 1 ANA 12/6/12 San Jose (10-12-3) @ Philadelphia (12-11-2) SJS 6 – 2 [...]
12/12/12 Montreal (11-14-3) @ New York Rangers (15-8-5) MON 3 – 2 NYR Minnesota (12-12-4) @ St. Louis (10-14-2) STL 3 – 2 MIN SO 12/13/12 Phoenix (11-12-3) @ Detroit (19-8-1) Detroit is 8-1-1 in their past ten games, and look to bounce back from a tough loss to Boston at home Monday, they welcome [...]
Breaking: Word on the street is, #NYR D Michael del Zotto has left #Rapperswil #Lakers and will not return. He played 9 games (2G/4A) — Nicola Berger (@BergerNeueLZ) December 10, 2012 According to a Swiss media outlet Del Zotto has a back injury. ...uh oh. Hope it's not a serious injury, because if there does end up being a season, Del Zotto could be losing a lot...
With federal mediators presiding over CBA talks for a second straight day yesterday, progress had to have been made...right?... Doesn't sound like PA is willing to work with the NHL's 3 main issues. League responded by saying it won't budge. No progress. As you were. — Darren Dreger (@DarrenDreger) December 13, 2012 The three main issues are "make...
Rangers News

Delivered to your inbox

You'll also receive Yardbarker's daily Top 10, featuring the best sports stories from around the web. Customize your newsletter to get articles on your favorite sports and teams. And the best part? It's free!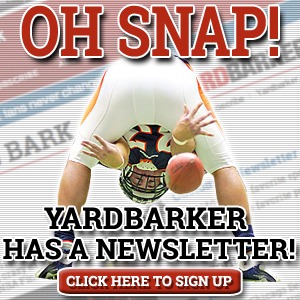 Latest Rumors
The Backyard

Today's Best Stuff

For Bloggers

Join the Yardbarker Network for more promotion, traffic, and money.

Company Info

Help

What is Yardbarker?

Yardbarker is the largest network of sports blogs and pro athlete blogs on the web. This site is the hub of the Yardbarker Network, where our editors and algorithms curate the best sports content from our network and beyond.