Found April 15, 2012 on NESN.com:
Brendan Shanahan had a busy regular season, but he could be in line for a busier postseason. Three players will have hearings with the league disciplinarian for their actions during Saturday's slate of playoff games. Rangers forward Carl Hagelin and Senators defenseman Matt Carkner will each have hearings Sunday afternoon, while Blackhawks forward Andrew Shaw will have a hearing on Monday. Hagelin was slapped with a major penalty after elbowing Senators captain Daniel Alfredsson in the head during the second period of Ottawa's overtime win on Saturday. Carkner received a five-minute major for fighting, a two-minute minor for instigating and...
Original Story:
http://www.nesn.com/2012/04/andrew-sh...
THE BACKYARD
BEST OF MAXIM
RELATED ARTICLES
The NHL's epic disaster discipline czar Brendan Shanahan met with Blackhawks' rookie Andrew Shaw on Monday afternoon to discuss his hit on Phoenix goalie Mike Smith. After hours of waiting, reports leaked that the NHL wouldn't rule on the Shaw … Continue reading →
The Blackhawks forward Andrew Shaw was ejected from last night's game for hitting Coyotes goalie Mike Smith. Depending on what angle you watch this collision from, it does appear that Shaw caught Smith with an elbow in the head. I think that Shaw could have avoided this collision and this was an unnecessary hit on the goalie who was playing the puck. There are other hockey...
Chicago Blackhawks forward Andrew Shaw was ejected for leveling Phoenix Coyotes goalie Mike Smith last night. Smith came out to play the puck behind the net, and Shaw collided with the Coyotes netminder.It's hard to say whether or not Shaw did it on purpose. Either way he was given a game misconduct and a major penalty for charging. He will be facing a hearing today. Chicago...
In the second period of Saturday's game in Phoenix, Blackhawks forward Andrew Shaw ran into Coyotes goaltender Mike Smith behind the net. As Smith was playing the puck, Shaw skated behind the net, attempted to cause a turnover and barreled over Smith. The Coyotes goaltender was down on the ice for a few minutes before he stayed in the game. Meanwhile, Shaw was given a five-minute...
In Game 2 of the Phoenix Coyotes and Chicago Blackhawks playoff series, Andrew Shaw received a game misconduct after colliding with Phoenix goaltender Mike Smith. Smith stayed down on the ice for a while, seemingly in pain, but eventually decided to stay in the game, despite his concussion history. I'm having trouble deciding whether or not Smith deserves an Academy Award for this...
The wrath of Brendan Shanahan has been felt. New York Rangers forward Carl Hagelin has been suspended by the NHL for three games for elbowing Daniel Alfredsson in the head and that Senators defenceman Matt Carkner has been suspended one game for repeatedly punching Brian Boyle in the face his tremendous *********** of Brian Boyle. Of course, thanks to the whimsical nature of the...
It is only the first round of the playoffs.  Competition heats up as play goes on.  But considering the level of intensity that has already been achieved,  what on earth do the next rounds have in store?Chief disciplinarian, Brendan Shanahan, has been busy in the first week of the playoffs.  He has handed out four suspensions and four fines to players and teams.  Boarding, elbowing...
It was to be expected that disciplinary actions were going to take place following Game two of the Eastern Conference Quarterfinals between the New York Rangers and Ottawa Senators. However, not many expected what would ultimately be an excrutiatingly baffling decision on the part of NHL Senior Vice President of Player Safety, Brendan Shanahan. Following [...]
Player safety? No, silly. When a player gets his brains scrambled, the NHL gets a rivalry. Rivalries are easy to promote and things that are easy to promote bring in big bucks. The NHL loves and needs big bucks.So what makes Bettman, Shanahan and the rest of the NHL front office slugs nervous? The media.When Savard got rocked by Matt Cooke, there were some angry fans out there...
Brendan Shanahan tells us why…
Should Shea Weber have been suspended for mauling Henrik Zetterberg? (Nam Y. Huh, AP) by Rhys Richards (@RREsq) People in all walks of life methodically make decisions or choose actions in the name of building their reputations. Unfortunately, some learn that one bad decision or action can undercut months and even years of hard work such that a once sterling reputation cannot be...
Its been a wild, wacky and somewhat thuggish start to the NHL playoffs. Cup favorites are already on the ropes. Home ice advantage has been usurped everywhere you look. I hope you didnt bet the Penguins to win it all. Or the Canucks. If you have been betting, hopefully you've been siding with the road sweaters. We're less than a week into the great hockey postseason chase. Here...
NHL News

Delivered to your inbox

You'll also receive Yardbarker's daily Top 10, featuring the best sports stories from around the web. Customize your newsletter to get articles on your favorite sports and teams. And the best part? It's free!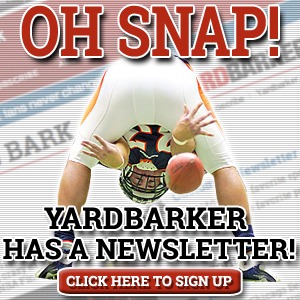 Latest Rumors
Best of Yardbarker

Today's Best Stuff

For Bloggers

Join the Yardbarker Network for more promotion, traffic, and money.

Company Info

Help

What is Yardbarker?

Yardbarker is the largest network of sports blogs and pro athlete blogs on the web. This site is the hub of the Yardbarker Network, where our editors and algorithms curate the best sports content from our network and beyond.