Found December 23, 2012 on Blue Seat Blogs:
PLAYERS:
Chris Bourque
,
Kris Newbury
,
Marek Hrivik
,
Chris Kreider
,
Lane Macdermid
,
Michael Hutchinson
,
Matt Gilroy
,
Shayne Wiebe
,
Chad Kolarik
,
Jordan Caron
,
Tommy Cross
,
Christian Hanson
,
Logan Pyett
,
Steven Delisle
,
Sam Klassen
,
Carter Camper
,
Kyle MacKinnon
,
Brandon Segal
,
Tommy Grant
,
Blake Parlett
,
Zach Trotman
TEAMS:
New York Rangers
,
Ottawa Senators
,
Winnipeg Jets
,
Boston Bruins
Providence Bruins 3, Connecticut Whale 1 By Wil Goldsholl Hartford, CT, December 22, 2012 – Chris Bourque's third-period goal was the difference Saturday night at the XL Center, as the Providence Bruins, Boston's top affiliate, came to Hartford for Military Appreciation Night and tipped the Connecticut Whale 3-1, advancing to 15-10-0-2 and moving ahead of the Worcester Sharks for second place in the Atlantic Division. In the opening minutes of the game, Providence and Connecticut were testing the water. Neither squad came on too aggressively and as a result the chances were few and far between. The first quality opportunity of the game went to the Whale on a Kris Newbury saucer pass directed for Marek Hrivik; the chance would go by the boards. Chris Kreider drew interference on Lane MacDermid at 4:19 behind Providence goaltender Michael Hutchinson's net, and a power play ensued. Connecticut again came close, but failed to hit the net when Matt Gilroy let a one-timer fly into traffic in the slot. The puck would flutter towards the net but just over the crossbar. Connecticut received another opportunity a second before MacDermid's penalty expired. Matt Bartkowski flipped the puck over the glass in the Providence defensive end for delay of game at 6:18. Hrivik found himself in the right place at the right time but could not convert the only Whale shot of the power play. Connecticut would finish 0 for 5 in man-up situations on the night. Cam Talbot, who, in Coach Ken Gernander's words was "enormous" in Manchester on Friday, did not see any rubber for nearly nine minutes until Jamie Tardif opened up in the high slot. The play came to the other end and Shayne Wiebe was called for goaltender interference near the midway mark of the period. That Bruin power play would produce one redirected chance, and a rebound try by Bourque, but still no goals. Newbury had a look at Chad Kolarik on a two on one moments after the penalty to Wiebe expired, but once again the pass was mishandled. Micheal Haley dropped the gloves with MacDermid with three and half minutes left in the period and Kreider drew another penalty, this time Jordan Caron for hooking with 1:41 on the clock. Tommy Cross and Christian Hanson nearly connected for a shorthanded goal before the period ended scoreless. Connecticut drew first blood 4:44 in to the second. Logan Pyett fed the puck across the blueline to newcomer Steven Delisle. Delisle slid it down the wall for Newbury to sling it right to the net from the half boards. Hrivik tipped the puck on net and Kolarik collected the rebound for his tenth of the season. Following the goal, the ice at the XL Center was covered in donated teddy bears, which will be donated to the children of Newtown, CT, in the Whale's annual "Teddy Bear Toss". Sam Klassen was sent off for holding, and Providence would knot the game up. Carter Camper sent a back-door pass to Kyle MacKinnon. Talbot made the initial save but Tardif was there to finish the rebound on the backhand. Brandon Segal, in reply, poked the puck free on the following play. Tommy Grant broke in alone, and Hutchinson came up with a timely stop on the five-hole attempt. Talbot opened the third period with a stretching kick save on a wraparound effort. The teams exchanged power play opportunities but neither 5-on-4 unit could produce another scoring effort. After a rebound on a Hrivik chance with Blake Parlett and Kolarik in front didn't find its way across the goal line, Bourque scored the game winning goal with 6:02 to play. Taking advantage of some contact with Talbot in the crease, Bourque was able to turn on a loose puck and fire one top-shelf. His fifth of the year was assisted by Zach Trotman and MacKinnon. The Whale came close in the closing minutes; Segal sailed one over the top on a rebound chance with 3:30 left, and the Newbury-Hrivik-Kolarik line was trigger happy during their 60-second shift with three minutes remaining. Talbot was lifted from the net with just over a minute to play, but Christian Hanson would seal the game with an empty netter. Talbot came up with 20 saves in the loss, while Hutchinson stopped 24 of the 25 he faced. Providence Bruins 3 at Connecticut Whale 1 Saturday, December 22, 2012 – XL Center Veterans Memorial Coliseum Providence 0 1 2 – 3 Connecticut 0 1 0 – 1 1st Period- No Scoring.Penalties-MacDermid Pro (interference), 4:19; Bartkowski Pro (delay of game), 6:18; Wiebe Ct (goaltender interference), 10:26; MacDermid Pro (fighting), 16:27; Haley Ct (fighting), 16:27; Caron Pro (hooking), 18:19. 2nd Period-1, Connecticut, Kolarik 10 (Hrivik, Newbury), 4:44. 2, Providence, Tardif 15 (MacKinnon, Camper), 12:06 (PP). Penalties-Klassen Ct (holding), 10:25; MacDermid Pro (kneeing), 15:33. 3rd Period-3, Providence, Bourque 5 (Trotman, MacKinnon), 13:58. 4, Providence, Hanson 4 (Trotman), 19:15 (EN). Penalties-Delisle Ct (interference), 2:56; Warsofsky Pro (tripping), 7:42. Shots on Goal-Providence 6-8-9-23. Connecticut 9-7-9-25. Power Play Opportunities-Providence 1 / 3; Connecticut 0 / 5. Goalies-Providence, Hutchinson 4-5-1 (25 shots-24 saves). Connecticut, Talbot 10-11-0 (22 shots-20 saves). A-5,626 Referees-Mark Lemelin (41). Linesmen-Mike Baker (11), Paul Simeon (66). Tweet
Original Story:
http://www.blueseatblogs.com/2012/12/...
THE BACKYARD
BEST OF MAXIM
RELATED ARTICLES
The NHL lockout talks are looking bleak right now, but at least one NHL player is planning as if the lockout will end. Patrice Bergeron is leaving his Swiss team, HC Lugano, to return to North America in hopes that the NHL season will be starting soon. Bergeron is going to play for Canada in the Spengler Cup, and then return to North America. The NHL and NHLPA spoke on Saturday briefly...
In this social media age, NEWS and ODDITIES are all around you and at your fingertips. With a tap of your smartphone, you can find out what your favorite athlete or celeb is doing and thinking. Some things make you LAUGH YOUR ASS OFF or SCRATCH YOUR HEAD. The members of the Boston Bruins are no different, they are quite in tune with the Twitter machine. In this edition: Seguin Apologizes...
Al Daniel can't figure out why Bruins prospect Jordan Caron has struggled so badly in the AHL this season: Everybody knows he has it in him based on his better moments in Boston, such as his four-game production streak that saw him tally three goals and four assists between March 4 and March 10, 2012. Simply put, though, the confidence Caron's skill set can give the...
By Wil Goldsholl Hartford, CT, December 22, 2012 – Chris Bourque's third-period goal was the difference Saturday night at the XL Center, as the Providence Bruins, Boston's top affiliate, came to Hartford for Military Appreciation Night and tipped the Connecticut Whale 3-1, advancing to 15-10-0-2 and moving ahead of the Worcester Sharks for second place in the Atlantic Division...
NHL News

Delivered to your inbox

You'll also receive Yardbarker's daily Top 10, featuring the best sports stories from around the web. Customize your newsletter to get articles on your favorite sports and teams. And the best part? It's free!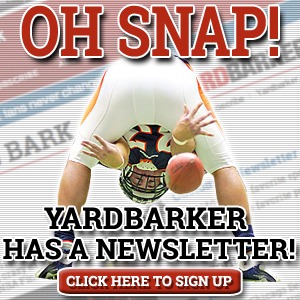 Latest Rumors
The Backyard

Today's Best Stuff

For Bloggers

Join the Yardbarker Network for more promotion, traffic, and money.

Company Info

Help

What is Yardbarker?

Yardbarker is the largest network of sports blogs and pro athlete blogs on the web. This site is the hub of the Yardbarker Network, where our editors and algorithms curate the best sports content from our network and beyond.