Found November 18, 2012 on Blue Seat Blogs:
In what is becoming par for the course for the Rangers fifth round pick in 2010, Michael St. Croix (WHL – Edmonton Oil Kings) notched another multi point game last night with a goal and an assist in the Oil Kings' 4-3 OT loss. Edmonton out shot Prince Albert 50-22, but still came out on the losing end. St. Croix also finished with a +2 rating in the game. Across the pond, another prospect having an outstanding year –Oscar Lindberg– notched another goal, adding to his top-five scoring totals in the SEL. Lindberg scored the seventh and final goal in Skelleftea's 7-0 win over Rogle. Check after the jump for the stats for all 13 prospects in action last night. SEL Jesper Fast (HV71, W 2-1): DNP – injury Oscar Lindberg (Skellefteå AIK, W 7-0): 1 G, 0 A, 2 PIM, +2 Calle Andersson (Färjestads BK, L 3-1): 0 G, 0 A, ) PIM, Even QMJHL Sam Noreau (Baie-Comeau Drakkar, W 6-2): 0 G, 0 A, 0 PIM, -1 WHL Michael St. Croix (Edmonton Oil Kings, OTL 4-3): 1 G, 1 A, 2 PIM, +2 OHL Peter Ceresnak (Peterborough Petes, L 2-1): 0 G, 0 A 0 PIM, -1 Connecticut Whale (W 2-1) Chris Kreider: 1 G, 0 A, Even, 0 PIM JT Miller: 0 G, 0 A, -1, 2 PIM Christian Thomas: 0 G, 0 A, Even, 0 PIM Marek Hrivik: 0 G, 0 A, -1, 0 PIM Andrew Yogan: DNP – scratched Kyle Jean: 0 G, 1 A, Even, 0 PIM Ryan Bourque: 1 G, 0 A, +1, 0 PIM Tweet
Original Story:
http://www.blueseatblogs.com/2012/11/...
THE BACKYARD
BEST OF MAXIM
RELATED ARTICLES
Katie Strang at ESPN.com was able to speak with Brad Richards and Ryan Callahan about Gary Bettman's ridiculous idea of a two-week moratorium on CBA talks... Richards... "I don't know what good that's going to do, I don't know what the tactic is. We want to get to the table; we feel we're close. ... We've indicated to them in the last meeting...
Katie Strang at ESPN.com reports that Marian Gaborik is now skating four to five times a week with a group of his Rangers teammates. Stang adds that Gaborik is also working out to regain strength in his shoulder and has been receiving treatment from the team's medical staff (players are allowed this contact with team employees if injured). "I'm trying to take...
I guess Chris Kreider's hard work has finally paid off as he scored the game tying goal on the power play in the CT Whale' 2-1 win over Worcester last night (1:41 mark)... It was just Kreider's second goal in 13 games. ...got to love Kreider going to the net and getting dirty to score. ...Bourque's game winning goal was an amazing individual effort...
Brandon Segal scored the lone goal for the Whale in last night's 2-1 loss to the Portland Pirates (Phoenix's AHL affiliate). Mike Vernace and Matt Gilroy added assists on Segal's goal. The Whale wasted a stellar 31 save performance by Cam Talbot. Two former Ranger farmhands played a direct role in Portland's victory, with Ethan Werek notching an assist and Chad Johnson making...
Starting the season with just one goal in 12 games would have some young players questioning themselves and possibly pouting. But for Chris Kreider, it has motivated him to work even harder as Blueshirts United explains... "Kreider routinely is the last, or among the last, player to exit the ice following Whale practice each and every day, usually with undrafted rookie Kyle...
(Photo by Scott Levy/NHLI via Getty Images) No matter how much we choose to ignore it, injuries happen to every NHL club. Players get banged up, nicked up, and bruised just like everyone else. It is one of the reasons why teams spend some time and money building their depth in the AHL, as these players can come to define a season. Some players, like Ryan McDonagh, can even make veterans...
NEW YORK -- The conversations have restarted in the ongoing NHL labor fight. The negotiations have not. One step at a time in the roller-coaster ride that holds the hockey season in the balance. A day after NHL Commissioner Gary Bettman suggested to players' association chief Donald Fehr that the sides take a two-week break from seemingly fruitless bargaining, talking resumed...
The NHL may not be in action, but that is not to say that players from the league are not about to take action for others. After witnessing the devastation that Hurricane Sandy left in the New York and New Jersey and Philadelphia area, players from the New York Rangers, Philadelphia Flyers and other players are getting together – despite the current NHL Lockout – to play a charity...
The New York Rangers Blog, a fellow Bloguin site, has pieced together a fascinating analysis of the salary situations of players -- not just the upper crust of the league, but the more average players as well. Much has been said over this lockout about how much the players have conceded to the owners in terms of lost pay; obviously the lost pay the players are worried about most...
If you've been frequenting this blog for a while, then you know that we aren't exactly fans of the plus/minus statistic. It's useful in some cases, especially when measuring some prospect's defensive value when they are in a shutdown role (Sam Noreau and Peter Ceresnak come to mind here). But at the NHL level, when other metrics are readily available, the plus/minus stat...
Rangers News

Delivered to your inbox

You'll also receive Yardbarker's daily Top 10, featuring the best sports stories from around the web. Customize your newsletter to get articles on your favorite sports and teams. And the best part? It's free!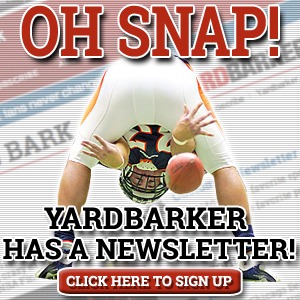 Latest Rumors
Best of Yardbarker

Today's Best Stuff

For Bloggers

Join the Yardbarker Network for more promotion, traffic, and money.

Company Info

Help

What is Yardbarker?

Yardbarker is the largest network of sports blogs and pro athlete blogs on the web. This site is the hub of the Yardbarker Network, where our editors and algorithms curate the best sports content from our network and beyond.