Found July 26, 2013 on Blue Seat Blogs:
Kreider pulled off the first major upset of the tournament yesterday. As the offseason wears on, us and Matt Josephs of Blue Line Station (Twitter: 11Matt_Josephs8) will be running a tournament for the Best Ranger since the 2005 lockout. Yesterday we saw #12 Chris Kreider upset #5 Jed Ortmeyer in the closest vote yet. The voting went to overtime and ended at 10:30am this morning. Today's matchup is #4 Carl Hagelin vs. #13 Derek Morris: Carl Hagelin (acquired – 2007 draft, 6th round) Carl Hagelin is the latest of late-round steals by the Rangers. Drafted prior to his freshman year at Michigan, Hagelin was a project pick. He was expected to spend four years at Michigan, and did just that. When the Rangers signed Hagelin, he became the second Wolverines captain to come to the Rangers in a five-year span (Jed Ortmeyer). Many projected he would make the big club out of camp, but Hagelin spent the first two months of the season in Connecticut before his first call up. The puck possession monster put up a line of 14-24-38 in the remaining 64 games that season, and was one of the major turning points of the season for the Rangers. With all that speed and skill, Hagelin is a bit inconsistent. He shows flashes, but he needs to harness that on a regular basis in order to be a top-flight top-six forward. Right now he is one of the best puck possession forwards in the NHL who will contribute 15-20 goals and 40 or so points. That output puts him at the cusp of the top-six, or one of the best third liners in hockey. Throw in his superb defensive and penalty killing ability, and Hagelin's value to this club will only go up. Derek Morris (acquired – 2009 trade with Phoenix) Morris was a trade deadline acquisition in 2009, acquired from the Coyotes in exchange for Dmitri Kalinin, Nigel Dawes, and Petr Prucha. While Kalinin wasn't exactly a fan favorite, Dawes and Prucha were, and many were outraged by this trade. After all, the Rangers just sent a 30 goal guy and a decent bottom-six winger for a deadline rental. Morris wasn't a disaster for the Rangers, as he contributed eight assists in his eighteen games with the Rangers, and another two assists in the playoffs. Many will look at his lack of goals during his brief Rangers career, but Morris was never a noted goal scorer. He was heralded as powerplay help, but that may have been unfair for Morris, since he was never a big powerplay scorer, or a scorer in general. As for Prucha and Dawes, no one really cared about Kalinin, neither were in the NHL much longer. Both are in the KHL, and both seemed to fizzle after the trade. You can argue that both were fizzling with the Rangers, which is why they got so little for them. Either way, the trade itself wasn't much of a win or a loss. So who do you think is the better Ranger, Hagelin or Morris? Vote thumbs up for the higher seed (Hagelin), or thumbs down for the lower seed (Morris). Voting ends at midnight tonight. Tweet
Original Story:
http://www.blueseatblogs.com/2013/07/...
THE BACKYARD
BEST OF MAXIM
RELATED ARTICLES
I'm intrigued with the Danny Kristo trade. I'm intrigued at the possibility of Glen Sather ripping off the Canadiens again and I'm intrigued at the timing of it all. A prospect – apparently pro ready – coming to a team with cup aspirations, at a time where there's positions up for grabs. What to make of it all? We thought we'd ask a couple of people who have great insight...
Yet another American for NYR: Danny Kristo Whether Christian Thomas makes it as a Montreal Canadien is of little concern to Rangers fans, although his smallish frame should fit right in with the Canadian club. Rangers' fans however should be excited at the prospect of Glen Sather once again acquiring a potential NHL regular from Montreal. In Danny Kristo, the Rangers have acquired...
Which Wolfpack prospect will be next to graduate? A lot of credit has to be given to the Rangers franchise for the way they have opened up space at all levels of the franchise for prospects. Room has been made so that prospects can get the maximum amount of ice time to aid their development. The caveat in all of this is that they still need to earn it, and should they not there needs...
One concern many Rangers have had the last few season regarding organizational depth is the dearth of top level goaltending prospects. Henrik Lundqvist isn't getting any younger, so the process of grooming The King's heir apparent needs to start and needs to start now. While Cam Talbot, Scott Stajcer and Jason Missiaen have had their moments and 2013 6th round pick...
Over at In Goal Magazine (H/T Puck Daddy), Kevin Woodley reports that the NHL goaltenders across the NHL are still awaiting an agreement between the NHL and NHLPA on equipment size reductions for this upcoming season, specifically the height of the leg pads. Woodley says the main disagreement seems to be the NHL wants to limit the length of the pads above the knee, while the...
This is incredibly spiffy, from the NHLPA: SMASHFEST! HOSTED BY DOMINIC MOORE RAISES OVER $100,000 FOR RESEARCH INTO RARE CANCERS AND CONCUSSIONS …Second annual charity Ping-Pong event included 25 current and former NHL players participating TORONTO (July 26, 2013) – NHL player Dominic Moore is pleased to announce that this year's Smashfest! charity ping-pong event...
Carl Hagelin took out Derek Morris yesterday. As the offseason wears on, us and Matt Josephs of Blue Line Station (Twitter: 11Matt_Josephs8) will be running a tournament for the Best Ranger since the 2005 lockout. Yesterday we saw #4 Carl Hagelin take out #13 Derek Morris. Today's matchup is #6 Fedor Tyutin vs. #11 Karel Rachunek: Fedor Tyutin (acquired – 2001 draft, 2nd round...
Fedotenko took out Sjostrom yesterday. As the offseason wears on, us and Matt Josephs of Blue Line Station (Twitter: 11Matt_Josephs8) will be running a tournament for the Best Ranger since the 2005 lockout. Yesterday we saw #8 Ruslan Fedotenko beat #9 Fredrik Sjostrom. Today's matchup is #5 Jed Ortmeyer vs. #12 Chris Kreider: Jed Ortmeyes (acquired – 2003 undrafted free agent...
This past Thursday in Toronto, Dominic Moore of the Rangers hosted the second annual Smashfest! ping-pong competition to raise money for charity. Other NHL players such as Martin St. Louis, Logan Couture, Phil Kessel and David Clarkson all attended, putting their ping-pong skills to the test. By the night's end, over $100K was raised for concussion research and rare cancer research...
During a recent live chat at the New York Ranger website, Jim Cerny reports that Chris Kreider's ankle, which had a bone chip due to a blocked shot while playing for the Whale during the lockout, is still not 100%. Cerny did add that Kreider expects the ankle to be 100% by camp. Kreider was originally said to be ok, but was eventually shut down after struggling with...
NHL News

Delivered to your inbox

You'll also receive Yardbarker's daily Top 10, featuring the best sports stories from around the web. Customize your newsletter to get articles on your favorite sports and teams. And the best part? It's free!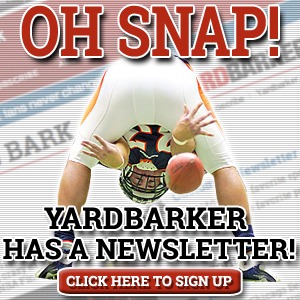 Latest Rumors
The Backyard

Today's Best Stuff

For Bloggers

Join the Yardbarker Network for more promotion, traffic, and money.

Company Info

Help

What is Yardbarker?

Yardbarker is the largest network of sports blogs and pro athlete blogs on the web. This site is the hub of the Yardbarker Network, where our editors and algorithms curate the best sports content from our network and beyond.