Found September 03, 2013 on Blue Seat Blogs:
PLAYERS:
Ryan Callahan
,
Carl Hagelin
,
Ryan McDonagh
,
Brendan Shanahan
,
Henrik Lundqvist
,
Tom Renney
,
John Tortorella
,
Mark Messier
,
Jed Ortmeyer
TEAMS:
New York Rangers
,
New Jersey Devils
,
Minnesota Wild
As the offseason wears on, us and Matt Josephs of Blue Line Station (Twitter: 11Matt_Josephs8) will be running a tournament for the Best Ranger since the 2005 lockout. Yesterday, #3 Ryan McDonagh took out #2 Brendan Shanahan to earn a shot at #1 Henrik Lundqvist in the Tom Renney Bracket Finals. Today, #1 Ryan Callahan takes on #4 Carl Hagelin to earn the first spot in the John Tortorella Bracket Finals. Ryan Callahan (acquired – 2004 draft, 4th round) The Rangers actually acquired the draft pick used to select Cally from San Jose in exchange for the negotiating rights to Mark Messier. It's funny how the Rangers traded the rights to their captain, and used that draft pick to draft a future captain. Cally saw his first NHL action in 2006-2007, playing 14 games with the Rangers. He played 52 games with the club the following season, which included an 11 game stint in Hartford. After that Cally stuck with the club and has been an all-round beast for the Rangers since. In his full Ranger career to date, Cally has put together a line of 121-108-229 in 405 games, and has slowly climbed from averaging 40 points per season to averaging close to 60 points over a full season. Cally has been the captain of the team since 2011, and was an alternate captain from 2009. There's not much else to say about Cally. We all know who he is and what he means to this team. Carl Hagelin (acquired – 2007 draft, 6th round) Carl Hagelin is the latest of late-round steals by the Rangers. Drafted prior to his freshman year at Michigan, Hagelin was a project pick. He was expected to spend four years at Michigan, and did just that. When the Rangers signed Hagelin, he became the second Wolverines captain to come to the Rangers in a five-year span (Jed Ortmeyer). Many projected he would make the big club out of camp, but Hagelin spent the first two months of the season in Connecticut before his first call up. The puck possession monster put up a line of 14-24-38 in the remaining 64 games that season, and was one of the major turning points of the season for the Rangers. With all that speed and skill, Hagelin is a bit inconsistent. He shows flashes, but he needs to harness that on a regular basis in order to be a top-flight top-six forward. Right now he is one of the best puck possession forwards in the NHL who will contribute 15-20 goals and 40 or so points. That output puts him at the cusp of the top-six, or one of the best third liners in hockey. Throw in his superb defensive and penalty killing ability, and Hagelin's value to this club will only go up. So who do you think is the better Ranger, Cally or Hagelin? Vote thumbs up for the higher seed (Callahan), or thumbs down for the lower seed (Hagelin). Voting ends at midnight tonight. Tweet
Original Story:
http://www.blueseatblogs.com/2013/09/...
THE BACKYARD
BEST OF MAXIM
RELATED ARTICLES
The Rangers have finally released their roster for the Traverse City tournament, starting on Thursday: Forwards: Anthony Duclair, Jesper Fast, Oscar Lindberg, Danny Kristo, Michael St. Croix, Thomas Spelling, Kyle Jean, JT Barnett, Josh Graves, Michael Kantor, Paxton Leroux, Josh Nicholls, Klarc Wilson, Andrew Yogan. Defense: Conor Allen, Charlie Dodero, Troy Donnay, Ben Fanelli...
Nine straight road games to start the season are probably not the ideal way to start for Alain Vigneault Two years ago the Rangers went on their first prolonged road trip to start the season as Madison Square Garden underwent renovations.  The Blueshirts played their first two games in Europe, which they lost in overtime to the Kings and in a shootout to the Ducks.  New York had...
Every summer since I've started blogging and writing down my hockey opinions in internet ink, I always try to use the downtime to advance my knowledge of the game. With no hockey to watch on TV, I try to make it a point to reconnect with old friends still in the Show, read up on new systems and tactics, or dive into books illustrating important points in hockey history. What can...
Once again, the Rangers will have to start a season with a long road trip since MSG is undergoing the final stage of its 3 year transformation into the world's most expensive arena.  This year's trek is a 9 game roadie which begins on October 3rd against the Coyotes in Glendale where Brad Richards scored […]
No one, not even the most optimistic Ranger fan, would argue that Henrik Lundqvist isn't and hasn't been the Blue Shirts most important player since he made his Manhattan debut back in 2005. He is arguably the best player in the league at what is considered by many to be the most important position in […]
One could definitely argue that Henrik Lundqvist is the best goalie in NHL. Look at this way....Were Lundqvist an American or Canadian he would be the starting goalie for either squad in the Olympics..there really isn't much of a question about that.. Of course many are drawing comparisons with the contract signed by Corey Crawford in Chicago today...in regards to what...
Awesome News… Barneys New York has remodeled their Men's 6th floor. Barneys held a re-opening event this past week hosted by New York Rangers goaltender Henrik Lundqvist, along with UNICEF's David Sable and Barney's own Mark Lee. The event (which benefited the U.S. fund for UNICEF) featured an eclectic cast of well-dressed editors, athletes, and designers, who mingled, and...
As the offseason wears on, us and Matt Josephs of Blue Line Station (Twitter: 11Matt_Josephs8) will be running a tournament for the Best Ranger since the 2005 lockout. Today's matchup is #2 Martin Straka vs #3 Marian Gaborik, with the winner taking on #1 Ryan Callahan in the John Tortorella bracket finals. Martin Straka (acquired – 2005 unrestricted free agent) Many laughed when...
Mixed Bag If there was one decision Mike Gillis had a wealth of options for, it was picking his new head coach this off-season. Sure, they weren't all great options, but they were plentiful nonetheless. Of the regularly mentioned names to choose from all came with their individual styles, benefits and baggage. In John Stevens you had the defensive specialist, who is lauded mostly...
As the offseason wears on, us and Matt Josephs of Blue Line Station (Twitter: 11Matt_Josephs8) will be running a tournament for the Best Ranger since the 2005 lockout. Today the third round continues with #2 Brendan Shanahan against #3 Ryan McDonagh. The winner will take on #1 Henrik Lundqvist in the Tom Renney Bracket Finals. Brendan Shanahan (acquired – 2006 unrestricted free...
One of the interesting things to watch this season will be the Vancouver Canucks and New York Rangers since they exchanged coaches.  In 2013 Alain Vigneault coached the Vancouver Canucks and John Tortorella coached the New York Rangers.  In 2013/14, Vigneault will coach the Rangers and Tortorella will coach the Canucks.  In principle it is a great way to evaluate these coaches...
NHL News

Delivered to your inbox

You'll also receive Yardbarker's daily Top 10, featuring the best sports stories from around the web. Customize your newsletter to get articles on your favorite sports and teams. And the best part? It's free!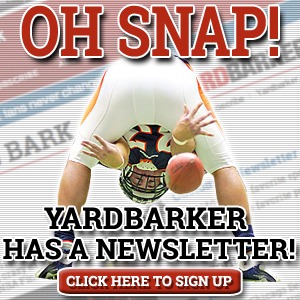 Latest Rumors
The Backyard

Today's Best Stuff

For Bloggers

Join the Yardbarker Network for more promotion, traffic, and money.

Company Info

Help

What is Yardbarker?

Yardbarker is the largest network of sports blogs and pro athlete blogs on the web. This site is the hub of the Yardbarker Network, where our editors and algorithms curate the best sports content from our network and beyond.