Found April 01, 2012 on Rob The Hockey Guy:
PLAYERS:
Manny Malhotra
,
Christian Ehrhoff
,
Mikael Samuelsson
,
Raffi Torres
,
Tanner Glass
,
Mason Raymond
,
Andrew Ebbett
,
Jeff Tambellini
,
David Booth
TEAMS:
Calgary Flames
,
Vancouver Canucks
,
Buffalo Sabres
,
Florida Panthers
,
Arizona Coyotes
,
Winnipeg Jets
,
St. Louis Blues
,
New York Rangers
The Canucks took back top spot in the conference Saturday night with a 3-2 win over the Calgary Flames. With only three games remaining in the regular season, the Canucks sit one point up on the St Louis Blues and tied in points with the New York Rangers for top spot in the entire league (although the Canucks would lose the tie breaker). So the question burning in my head right now is… are the Canucks better positioned to win their first Stanley Cup this year or last year? The success of last year's team is well documented. They won the President's Trophy with a startling 117 points, a full 10 points ahead of the next closest team. This year, the Canucks already have 107 points and could get as much as 113 if they win their final three games. Lets compare each time, at this point in the season and see how they match up: 2010-11: Sedin-Sedin-Burrows Raymond-Kesler-Samuelsson Hansen-Lapierre-Torres Higgins-Bolduc-Glass Hamhuis-Bieksa Edler-Ehrhoff Salo-Ballard Luongo Schneider Extras: Rome, Alberts, Tanev, Hodgson, Tambellini, Oreskovich 2011-12 Sedin-Sedin-Burrows Booth-Kesler-Raymond Hansen-Pahlsson-Higgins Lapierre-Malhotra-Kassian Hamhuis-Bieksa Edler-Salo Ballard-Tanev Luongo Schneider Extras: Gragnani, Rome, Alberts, Weise, Ebbett, Bitz, Reinprecht Of course, just because a player appears on both lists doesn't mean that the player is 'the same player'. Clearly, the Sedins, Kesler and Luongo are not having the same statistical years. Manny Malhotra is a shadow of his former self and I omitted him completely from last year's team because he was out with a long term injury (he played sparingly in 6 games in the finals). Tanev is better this year, so is Higgins and Lapierre. Statistically, Hansen, Bieksa, Salo and Schneider have been better than last year as well. Christian Ehrhoff is gone from the team this year, as is Mikael Samuelsson, Raffi Torres and Tanner Glass. They have been replaced with Gragnani,  Booth, Pahlsson and Kassian. But of course, statistics don't tell the whole story. X-factors like experience, grit and defensive responsibility are hard to measure. The players from last year's team are better prepared for the rigor and pressure of the Stanley Cup playoffs this time around. They are also better prepared to deal with injuries, something that crippled them last year in the Stanley Cup final. The players slated to start the playoffs in the press box are improved, particularly on forward. So while the Canucks seem to have less high end talent with the Sedins and Kesler not as dangerous and the departure of Ehrhoff, they have better depth and more options. They are a 4 line team when last year they were a 3 line team. If Mason Raymond struggles this year, they can promote Andrew Ebbett or Zach Kassian instead of Jeff Tambellini. David Booth should be a better player than Mikael Samuelsson. This team isn't as sexy as last year's team. They don't score as many goals, they aren't as cocky and there isn't as much hype. This isn't an anniversary season for the team either, and there has been way fewer homemade Canucks songs popping up on YouTube. Overall, the Canucks are a worse regular season team this year, but potentially a better playoff team. The problem is that this is a tougher year to win it all than it was last year. The elite teams are better this year than last in my opinion, so even if the Canucks are better, it might still not be enough. Of course, that's why they play the games and the Canucks are in a group of about 6-8 teams that have an excellent shot at winning it all. Either way, it's going to be interesting to see how it all plays out.
Original Story:
http://www.robthehockeyguy.com/2012/0...
THE BACKYARD
BEST OF MAXIM
RELATED ARTICLES
Vancouver Canucks Sami Salo gritty new 'Iron Man' Quote: "For sure, I'll be playing somewhere next year," said Salo. "I feel really good and the key has been being healthy and playing with a lot of good teammates has made it fun."
From a gameday report at the Vancouver Canucks website Canucks.com. Andrew Ebbett hasn't played for 3 months. He gets some game action tonight versus Calgary Flames. With just four games remaining, Ebbett will get a chance to find his role in the lineup and get some game action in before the post-season and give the coaches just one more option on a very full roster. ...
25-8-7 since Jan 1st The Vancouver Canucks struggled to bring their playoff intensity on Saturday, but managed to make the most of their performance against the Flames, forcing overtime in a 3-2 comeback over Calgary on Hockey Night in Canada. Roberto Luongo had a shaky return to the crease after sitting out Friday's game with a sore neck and Marc-Andre Gragnani buried his first...
Dark Roast The results are in and your Vancouver Canucks are officially ________! Fill it with what you will. With what happened this past week and Saturday night, the reactions are endless. Below is the customary list of best AND worst Canucks related writing from all over the interwebz the last few days. What are the HERMETIC NWSB staff saying? For the flat our best Canucks coverage...
Flames vs Canucks Game Recap Did you miss the Calgary Flames vs. Vancouver Canucks Saturday night on Hockey night in Canada? BOXSCORE | Q's POST GAME RECAP We've got the highlights for you. Flames vs. Canucks highlights courtesy NHL.com. CLICK HERE CHECK OUT THE CANUCKS CLUBHOUSE TODAY AT NWSB! © NWSports "Q" for North West Sports Beat, 2012. | Permalink | ...
Andrew Ebbett scored at 3:58 of overtime and the Vancouver Canucks took over the top spot of the Western Conference with a 3-2 win over the Calgary Flames on Saturday night. With 107 points, the Canucks also tied the New York Rangers for most points in the NHL in the race for the Presidents' Trophy. Ebbett deflected in defenseman Sami Salo's shot from in front of the Calgary...
Canucks host the Not Out Flames Saturday night The Vancouver Canucks extended their win streak to five games last night and in the process they returned to the team that resembled the one that won the President's trophy last season. On Saturday night the Canucks host a Calgary team that saw their playoff chances all but disappear with their seventh loss in eight games on Friday...
Friday Night Full of Stars The Vancouver Canucks recent schedule has allowed them to play kingmaker in the race for the final playoff spots in the Western Conference. A run of games against Dallas, Colorado, and Los Angeles has helped the Canucks not only effectively eliminate the Avalanche from the race but also helped give the team a week long litmus test to see how they measure...
A Slow Burn It's hard to find much fault with the Vancouver Canucks these days, which is obviously fantastic news with the post-season a week and a half away. The team has flipped the switch that so many thought would be impossible to achieve and more amazingly took over first place in the Western Conference last night thanks to Columbus somehow beating St Louis. Getting excited...
Loungo's in net, Ebbett is back from that collerbone injury suffered in the Boston game. Weise and Bieksa are out.
It's a page turner alright! If you thought the Vancouver Canucks hadn't seen Calgary in a while, take a wild guess at how long the divorce has been between the Nucks and Ducks. Thirty-four games is the total and let's just say not a lot has changed for the former Mighty Ducks of Anaheim. With a record of 18-13-4 since that fateful day of January 15th, the Ducks have a record...
NHL News

Delivered to your inbox

You'll also receive Yardbarker's daily Top 10, featuring the best sports stories from around the web. Customize your newsletter to get articles on your favorite sports and teams. And the best part? It's free!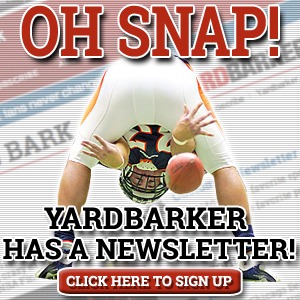 Latest Rumors
Best of Yardbarker

Today's Best Stuff

For Bloggers

Join the Yardbarker Network for more promotion, traffic, and money.

Company Info

Help

What is Yardbarker?

Yardbarker is the largest network of sports blogs and pro athlete blogs on the web. This site is the hub of the Yardbarker Network, where our editors and algorithms curate the best sports content from our network and beyond.