Found June 12, 2013 on Fox Sports:
The Phoenix Coyotes have been linked to several cities for relocation. There could be another possibility if the City of Glendale and an ownership group can't come to an agreement: going dark for the 2013-2014 season. NHL Commissioner Gary Bettman didn't deny that the Coyotes -- a franchise that has been under league control for three years -- could go on hiatus. "There are a myriad of options," Bettman told reporters before Game 1 of the Stanley Cup Final at United Center on Wednesday. "Obviously we'll have lots of choices, options and decisions. At the time, if we get to that point, and hopefully we won't, then we'll focus on which one is the best." Could Bettman be bluffing? Possibly, but the league appears to have no interest in running the team another season. Bettman denied there is a strict deadline to come to an agreement with a new owner along with the City of Glendale, which owns Jobing.com Arena. But Bettman mentioned a couple of important dates upcoming: a Glendale city council meeting on June 25 and the league's Board of Governors meeting on June. 27 "Obviously, we're getting to the point where some decisions are going to have to be made both by the City of Glendale and by us," Bettman said. "I haven't set a deadline, but time is getting shorter." The league is pressing Renaissance Sports and Entertainment -- the most recent ownership group looking to purchase the franchise and keep it in Glendale -- to come to deal on a new lease agreement with the city in short order, FOX Sports Arizona's Craig Morgan reported on Monday. If the two sides can come to a new deal, the league appears willing to allow the council to vote on agreement in July. "The puck is in the City of Glendale's end," NHL Deputy Commissioner Billy Daly said. Time is short for a deal to get done, for a few reasons. First, the lockout stretched the postseason a couple weeks longer than in past seasons. The result is a shorter offseason. Also complicating next season's schedule is a dramatic realignment along with the possibility of shutting down next season for a couple weeks due to 2014 Winter Games in Russia, an issue that is still not resolved. Daly said it remains "possible" that the Coyotes will relocate. Neither Bettman nor Daly mentioned where the Coyotes could land up if a new agreement can't be worked out, but Seattle and Quebec City appear to be the leading candidates to land the franchise. "There are a number of markets that have been expressing interest to us over the years," Bettman said. "The phone keeps ringing more regularly the longer that the Coyotes situation stays unresolved. Based on the dates we just happened to talk about with the previous question, it's causing the phone to ring even more." The Coyotes are the lone major tenant in Glendale and Bettman more than just hinted filling those 41 home dates during the regular season would be all but impossible. "I think it's likely to get boarded up because they're not going to have enough events to sustain it," Bettman said. "I worry about what's going to happen to Westgate and all the businesses and people that are employed there. I worry about the impact it will have on the football stadium that may not be ideal anymore."
Original Story:
http://msn.foxsports.com/nhl/story/ga...
THE BACKYARD
BEST OF MAXIM
RELATED ARTICLES
With a decision on the Phoenix Coyotes possible in the next two weeks, NHL Commissioner Gary Bettman says the league remains focused on keeping the team in Arizona. The NHL has chosen a new ownership group for the team, Renaissance Sports & Entertainment. But the group's deal is contingent on a new lease agreement for Jobing.com Arena, and negotiations with the Glendale...
By NANCY ARMOUR AP National Writer CHICAGO -- With a decision on the Phoenix Coyotes possible in the next two weeks, NHL Commissioner Gary Bettman says the league remains focused on keeping the team in Arizona. The NHL has chosen a new ownership group for the team, Renaissance Sports & Entertainment. But the group's deal is contingent on a new lease agreement for Jobing...
While the future of the Coyotes in Phoenix remains in doubt, the future of their front office has never been more clear.
The Phoenix Coyotes have signed assistant general manager Brad Treliving to a multi-year contract extension. Terms of the deal were not disclosed. Treliving, who also serves as vice president of hockey operations, has been Phoenix's assistant GM since 2007. He also serves as general manager for the Coyotes' AHL affiliate, the Portland Pirates. The 43-year-old Treliving...
Phoenix Coyotes forward Paul Bissonnette offered his congratulations to Pittsburgh Penguins forward Evgeni Malkin after Malkin agreed to an 8-year $76 Million contract extension with the Penguins on Thursday morning.  Malkin's reply was hysterical as he told Bissonnette, his former teammate, that he would give him some money, though I wouldn't hold my breath if I was BizNasty...
I would laugh at this lovely article from the Onion a little bit more if I didn't think that Chairman Mao had some catching up to do with his buddy and constant lockout companion Jeremy Jacobs. Just in case you aren't familiar with the Onion, what follows is ficticious and a farce and/or satire: [SATIRE] With the Stanley Cup finals quickly approaching, NHL commissioner...
NHL commissioner Gary Bettman offered a bullish assessment of the NHL's financial health during his "State of the Game" speech on Wednesday, and, in an analysis of Evgeni Malkin's contract, the Globe and Mail's James Mirtle suggests that the NHL's revenues are likely to continue climbing to the extent that the salary cap is going to stabilize for a few years...
NHL commissioner Gary Bettman and deputy commissioner Bill Daly held their "state of the game" speech prior to Game 1 of the Stanley Cup Final. Here's the transcript thereof: 2013 Stanley Cup Final Pre-Series Press Conference An interview with: COMMISSIONER GARY BETTMAN, DEPUTY COMMISSIONER BILL DALY COMMISSIONER BETTMAN: Good afternoon, everyone. Welcome...
((HT: TSN)) NHL deputy commissioner Bill Daly and Commissioner Gary Bettman had their press conference of the "State of the State" in Chicago before Game 1 of the Stanley Cup Final. And they're now admitting that there might be a problem in Phoenix with the Coyotes and their lack of an owner. Maybe... Maybe big enough to do something about it... Like move...
from Dan Bickley of the Arizona Republic, Divorces don't happen overnight. Most times, you can hear them coming. Loose comments? A chilly change in tone? If you're a Coyotes fan, you were jolted by both before Game 1 of the Stanley Cup Final. Commissioner Gary Bettman said time was running short on the city of Glendale. He said "stuff's gonna happen" in the...
Here's a bit from our NOHS mailbag, in which we get sacks and sacks of letters. This one comes to us from a reader in our Desert Contingent here in Arizona, and it regards the issue of our self-proclaimed rivals in the Phoenix Coyotes and, at a larger issue, Detroit's move to the ranks of the eastern teams and what it means for us fans left behind out west. Sully - What...
Coyotes News

Delivered to your inbox

You'll also receive Yardbarker's daily Top 10, featuring the best sports stories from around the web. Customize your newsletter to get articles on your favorite sports and teams. And the best part? It's free!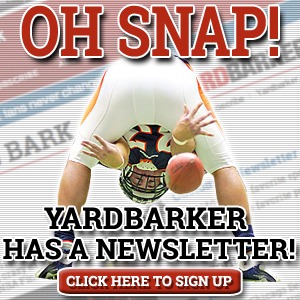 Latest Rumors
The Backyard

Today's Best Stuff

For Bloggers

Join the Yardbarker Network for more promotion, traffic, and money.

Company Info

Help

What is Yardbarker?

Yardbarker is the largest network of sports blogs and pro athlete blogs on the web. This site is the hub of the Yardbarker Network, where our editors and algorithms curate the best sports content from our network and beyond.