Found April 02, 2013 on Fox Sports Ohio:
COLUMBUS - Standing comfortably in a light colored t-shirt and jeans today, Mark Letestu appeared relaxed and relieved. Things have been going in the right direction, he quipped to the media scrum at Nationwide Arena Tuesday, where the Columbus Blue Jackets held an optional skate in the Ice Haus. As the trade deadline hangs uncomfortably over the heads of players in every club, Letestu was happy to take a moment and celebrate a 2-year, 2.5 million contract extension with Columbus just two days after scoring the game winning overtime goal against the Anaheim Ducks. And now, the 28-year-old is poised to help this underdog club push for the playoffs over their final 12 games, 8 of which are on the road. Its been quite a week for the versatile forward, to say the least. Theres always going to be ups and downs. Right now Im on an up, said Letestu, who has tallied 9 goals and 11 assists in this abbreviated NHL season. For them to come to me and work something outit speaks a lot to their confidence in me. Not that its hard for management to have confidence. In addition to having the second highest points tally, second only to Vinny Prospal, Letestu has a 6 rating and has won 52 percent of his face-offs. Since being acquired from Pittsburgh in 2011 for a fourth-round draft pick, hes contributed 20 goals and 24 assists. The contract extension has motivated Letestu to play harder. This certainly doesnt mean I can rest now, said Letestu, who acknowledged that even with a contract extension, he could still be on the trading block. This just means its another dollar figure that I have to live up to and work to. Theres another contract after this that Im playing for. Its just another step, another progression for me, and I hope theres another one at the end of this one. There havent always been weeks like this for the 511 winger. I didnt get drafted; Im still pretty new to the leagueI havent even hit 200 games yet, said Letestu, who said his career has surprised manyproven them wrong, even. And its something he doesnt take for granted. I think for me to pull in, on some nights, 20 minutes, its more than any forward in this league can expect. So to have earned that role, on some nights, I think is more than I could have expected. But there have been many along the way who did expect this from Letestu. And proving them right has become far more important than proving any doubters wrong. Ive had coaches along the way that obviously believed in me and put me in situations to succeed, said Letestu. (Head Coach Todd Richards) has played me a ton and I got a contract extension out of that. So (Richards and other coaches) are just as responsible for putting me in situations to succeed as I am for taking advantage of those situations. You dont get many opportunities and you have to make the most of them if you want to stick around. In fact, seizing opportunity is something Letestu has become adept at. The trait, he said, was born out of necessity early in his career. I wasnt always in the line-up so, to have the knowledge to play all positions, to be ready to play all positions, gave me a better chance to stay in the line-up night to night, said Letestu, who can play all forward positions, the penalty kill and the power play. Thats kind of where that came fromjust being prepared to play whatever. Around here, they call me the utility guy. His grit and determination mirrors his teams. The unlikely Blue Jackets are in a playoff push no one saw coming. Its the mentality weve adopted, the identity. Were starting to reap the benefits of sticking with the plan, said Letestu of the gritty mentality the club has adopted. Its everybody buying in. At the start of the season, Mr. Davidson comes down and talks about the direction we want to go, north, and brick-by-brick, and the coaches adopt the same kind of passion and structure it to where we want to go, and then the players buy in and you see results. It just breeds itself. The mentality is contagious and no one puts it out there more than Vinny Prospal, said Letestu, adding that the gritty, 38-year-old is one player in the room who always motivates him. I spend a lot of time with Vinny. Hes a line mate of mine, hes an older guy, hes been in the league and he still plays the game with a boyish passion. He plays like a young guy out there, said Letestu. He celebrates every goal like it might be his lastthats the way everybody should be. Asked if Prospal has ever given him any good advice, Letestu laughed, Hes full of advice. Hes full of advice after every shift, thats his thing. Hes always telling you to do something different. But really, said Letestu, Its just the way he plays, that motivates him night to night. The club will need all the motivation it can get as it heads into Nashville Thursday night and St. Louis Friday night, the first two of 8 remaining road games before the end of the season. I think were going to have to lean on the whole line-up (to keep up mentally and physically). I think thats probably one of our strengths. Were not reliant on one line or one guy. We dont score a lot but when we do it seems to be spread out throughout the line-up, said Letestu. If were relying on different guys, different nights, its tough for teams to have match-ups. And so far, that approach has been working. The key, though, said Letestu, is walking away with no regrets when its all said and done. You just go out and play hard and hopefully you leave it out there. You can watch the Blue Jackets take on the Nashville Predators Thursday night at 8 p.m. on Fox Sports Ohio.
Original Story:
http://www.foxsportsohio.com/nhl/colu...
THE BACKYARD
BEST OF MAXIM
RELATED ARTICLES
Columbus Blue Jackets center Mark Letestu has signed a two-year contract extension through the 2014-15 season. The 28-year-old Letestu has 20 goals and 24 assists for 44 points in 85 games since joining the Blue Jackets in a trade with the Pittsburgh Penguins in November 2011. This season, he has nine goals and 11 assists for 20 points. He ranks second on the club in all three...
Very interesting! Blue Jackets trade Steve Mason to Flyers. #transactions2013 — Renaud Lavoie (@RenLavoieRDS) April 3, 2013 #CBJ G Steve Mason confirms to The Dispatch he's been traded to Flyers. Trade call with league is pending. — Aaron Portzline (@Aportzline) April 3, 2013
Andrew Gross at the Bergen Record says JT Miller was recalled back to the Rangers after being assigned to the Whale this morning. Gross adds that Miller will NOT be in the line-up tonight vs. the Penguins. Meanwhile, Katie Strang at ESPN reports that Derick Brassard is en route to New York and could be here before game time. ...what an absolutely wacky day. ...would love...
Mark Letestu set up the only goal in regulation and scored the game-winner in overtime, and Sergei Bobrovsky stopped 29 of 30 shots on Sunday to lead the Columbus Blue Jackets to a 2-1 win over the Anaheim Ducks. The victory improved the Blue Jackets to 9-0-3 in their last 12 games at Nationwide Arena and gave them points in 15 of their last 17 games (10-2-5) to crawl into playoff...
Call Nick Drazenovic the poster boy for airline miles. Heck, call him the guy whos never quite sure what city hes in when he wakes up in the morning. Whatever, just call him. Thats what the Columbus Blue Jackets have been doing this season, with regularity. Drazenovic, the former 6th-round pick of the St. Louis Blues in 2005, has been recalled to the parent Blue Jackets from the...
from Aaron Portzline of the Columbus Dispatch, General manager Jarmo Kekalainen wants to add some offensive firepower to his resurgent club, but he doesn't want to trade a player off the current roster or give up a significant part of the club's future. "We're looking to add," Kekalainen said last night. "We've put into play one of our first-round picks, the...
(Photo by: Paul Sancya/AP Photo) Young goaltender Sergei Bobrovsky has found a comfortable place to play hockey without an extremely hostile environment pouring the pressure on to make the playoffs. Before coming to Columbus, Bobrovsky was a wash up out of Philadelphia. There were low expectations for him, and also the entire Blue Jackets' organization. However,...
The Philadelphia Flyers acquired Steve Mason from the Columbus Blue Jackets in exchange for Michael Leighton in a deal of backup goalies. Mason was stuck behind Sergei Bobrovsky in Columbus and was 3-6-1 with a 2.95 goals-against average and a .899 save percentage. In 232 games over five seasons with the Blue Jackets, Mason has a record of 96-99-27 with a 2.90 GAA, .903 save percentage...
New York Rangers forward Marian Gaborik was traded to the Columbus Blue Jackets on Wednesday, according to TSN's Darren Dreger. In exchange, the Rangers will reportedly receive forwards Derick Brassard, Derek Dorsett and defenseman John Moore.Marian Gaborik will and major scoring touch to Columbus. This move should replace some of the talent lost in the Rick Nash deal.  
Mark Letestu set up the only goal in regulation and scored the game-winner in overtime, and Sergei Bobrovsky stopped 29 of 30 shots on Sunday to lead the Columbus Blue Jackets to a 2-1 win over the Anaheim Ducks. The victory improved the Blue Jackets to 9-0-3 in their last 12 games at Nationwide Arena and gave them points in 15 of their last 17 games (10-2-5) to crawl into playoff...
The Columbus Blue Jackets are making a push for the playoffs by acquiring Marian Gaborik. The Buffalo Sabres continue to retool by dealing captain Jason Pominville. And rookie of the year candidate Cory Conacher is heading to Ottawa. These were among the notable players moved before the NHL trade deadline Wednesday. Columbus completed three deals, including one acquiring Gaborik...
The Columbus Blue Jackets have traded Steve Mason to the Philadelphia Flyers in return for Michael Leighton and a third round pick. Mason, 24, was the 2009 Calder Trophy winner as the NHL's Rookie of the Year. Since then, he has only fallen downwards and was replaced by Sergei Bobrovsky as the starter. The Blue Jackets also received Blake Comeau [...]
NHL News

Delivered to your inbox

You'll also receive Yardbarker's daily Top 10, featuring the best sports stories from around the web. Customize your newsletter to get articles on your favorite sports and teams. And the best part? It's free!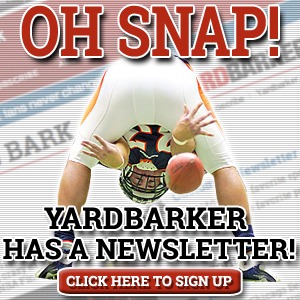 Latest Rumors
The Backyard

Today's Best Stuff

For Bloggers

Join the Yardbarker Network for more promotion, traffic, and money.

Company Info

Help

What is Yardbarker?

Yardbarker is the largest network of sports blogs and pro athlete blogs on the web. This site is the hub of the Yardbarker Network, where our editors and algorithms curate the best sports content from our network and beyond.