Found March 17, 2012 on NorthWest Sports Beat:
PLAYERS:
Mark Letestu
,
Rick Nash
,
R.J. Umberger
,
Vaclav Prospal
,
Daniel Sedin
,
Ryan Kesler
,
Roberto Luongo
,
Cory Schneider
,
Henrik Sedin
,
Alexander Edler
,
Kevin Bieksa
,
Zack Kassian
,
Chris Higgins
TEAMS:
Columbus Blue Jackets
,
Vancouver Canucks
Canucks look to snap funk…again
It is pretty hard to be a Canucks fan these days and it is hard to predict outcomes of games that they should be winning but just aren't. Vancouver will try to avoid a three game losing streak on Saturday night when they host the worst team in the NHL – the Columbus Blue Jackets.
Columbus Blue Jackets (22-41-7) at Vancouver Canucks (42-20-8)
When: 10:00 PM ET, Saturday, March 17, 2012
Where: Rogers Arena, Vancouver, British Columbia
Broadcast: CBC, FS-O (HD)
Jackets vs. Canucks Betting Lines from Bodog
Spread: OFF
Moneyline: Jackets +240: Canucks -266
Over/Under: 5 ½ goals
*NHL ATS Matchup Report*
It is not much of a secret as to why Columbus is so bad – they are last in the NHL overall, last at home and last on the road. They are 28th in goals for and 29th in goals against. Their power play is 25th and their penalty killing is last in the NHL.
They are absolutely no match for the Canucks on paper but neither were the Canadiens and the struggling Coyotes!
Mark Letestu is the hottest Blue Jacket offensively at the moment – that's right Mark Letestu has five points in his last five games. Rick Nash is pointless in five games and R.J. Umberger and Vaclav Prospal have failed to hit the score sheet in their last three games. Yuck!
The Canucks finally got some offense from their best players – Daniel Sedin broke an eight game pointless streak with two assists, Ryan Kesler scored for the third straight game and Christopher Higginscontinues his hot streak with five points in four games.
Columbus Blue Jackets vs Vancouver Canucks Betting Lines & Handicapping
The offense isn't the problem. It has been… The defense and specifically Roberto Luongo.
It is true that he is not getting a lot of help but a look at his numbers is frightening – 0-3-0 in his last four games with a 5.30 goals against average and an awful .845 save percentage.
Cory Schneider should get the call – he is 2-1-1 with a 1.25 goals against average in his last four games.
Betting Prediction: Columbus is 5-13 in their last 18 Saturday games while the Canucks are 11-4 in their last 15 played on Saturday.
The Canucks are 9-1 in the last 10 meeting with Columbus.
Vancouver can't lose to Columbus at home on a Saturday night can they? They did lay an egg against Montreal last Saturday and could conceivably lay another one this Saturday.
But Columbus made the Oilers look good the other night in a 3-0 – the Jackets are some good medicine for what is ailing their opposition.
The oddsmakers don't have any faith in Columbus and neither do I!
Pick: Vancouver Canucks -266
Here are some interesting Player Props for Saturday's game:
Rick Nash Points
Line = 0.5 Over (1.50) | Under (1.75)
Henrik Sedin Points
Line = 1.5 Over (1.80) | Under (1.45)
Daniel Sedin Shots on Goal
Line = 3.5 Over (1.40) | Under (1.85)
Ryan Kesler Goals
Line = 0.5 Over (1.75) | Under (1.50)
Alex Burrows Goals
Line = 0.5 Over (2.10) | Under (1.30)
Alexander Edler Shots on Goal
Line = 3.5 Over (1.75) | Under (1.50)
Kevin Bieksa Points
Line = 0.5 Over (1.45) | Under (1.80)
Vancouver Third Period Goals
Line = 1.5 Over (1.80) | Under (1.45)
Columbus Shots on Goal
Line = 28.5 Over (1.60) | Under (1.60)
Columbus Power Play Goals
Line = 0.5 Over (2.00) | Under (1.35)
Zack Kassian Points
Line = 0.5 Over (2.00) | Under (1.35)
Chris Higgins Shots on Goal
Line = 2.5 Over (1.45) | Under (1.80)
Game Links
Game 71 Blue Jackets vs. Canucks: Blowing Smoke
- NWSB Insider & Vancouver Canucks blogger Josh Hall says the Canucks would be better served losing to the Columbus Blue Jackets. What reasons could he possibly give for this?
Click To Bet Now At Bodog (Bovada.lv If Your In USA)
© Dave B for North West Sports Beat, 2012. | Permalink | No comment |
Follow NWSB on Twitter or join US on Facebook for real-time updates OR... | Share This on Twitter | Share NWSportsBeat.com on Facebook
Post tags:
BCLC Props
,
Blue Jackets Canucks Preview
,
Blue Jackets Canucks Props
,
Blue Jackets vs. Canucks
,
Blue Jackets vs. Canucks Odds
,
Bodog
,
Bovada
,
Canucks Handicapping
,
Canucks lines
,
Canucks odds
,
Canucks Predictions
,
Canucks Props
,
Columbus vs. Vancouver
,
Free Canucks Picks
,
NHL Betting
,
NHL Picks
,
NHL Predictions
,
sports action
Original Story:
http://www.nwsportsbeat.com/canucks/c...
THE BACKYARD
BEST OF MAXIM
RELATED ARTICLES
I love him…I can't stand him The Canucks approach the end of their sixth season under Head Coach Alain Vigneault, marking the fifth year the team will graduate to the post-season during his time as Vancouver's bench boss. Over this span players and fans have come to learn the intricacies of AV, embracing a calm but confident coach who understands how to get the most out of...
GOING THE DISTANCE
Sven Edler!? In the Vancouver Canucks vs. Columbus Blue Jackets game tonight we saw what might be one of the NHL goals of the year by the Canucks defenseman Alex Edler. Coast to Coast! If you listen carefully you can hear former goaltender Kevin Weekes on the CBC Hockey night in Canada broadcast team say "Coast to Coast and Butter on the TOAST!" The goal put the Canucks up...
Scoring tonight, David Booth has four goals in six games. When he hasn't been adjusting to his new team or getting back into game-speed after his injury he's been quite the explosive goalscorer. He's a tad one-dimensional but when that dimension is scoring goals and it's working, you can overlook things like defensive decencies. Which brings us to the second line...
from Jason Botchford of the Vancouver Province, The Canucks have made it clear they will bring Reinprecht up at the end of the season when he will no longer require re-entry waivers. They will be adding an intense, two-way, battled-tested hockey ­player who is making $2 million a year. Not bad at all when it comes to adding forward depth. He's not going to step in and be an answer...
Pure hypothetical and meant to be fun Say the Canucks go out in the first round. They limp out like they're playing now to some team like Phoenix or Colorado or maybe a sleeping giant like Los Angeles or San Jose. Or even worse, Calgary harnesses the hate that spews like oil in the tarsands in Alberta (I know it doesn't actually "spew" there) and Vancouver...
Blue Jackets vs Canucks Game Recap Did you miss the Columbus Blue Jackets vs. Vancouver Canucks Saturday night on Hockey Night in Canada? Boxscore | My Post Game Recap We've got the highlights for you. Blue Jackets vs. Canucks highlights courtesy NHL.com. CLICK HERE CHECK OUT THE CANUCKS CLUBHOUSE TODAY AT NWSB! © NWSports "Q" for North West Sports Beat, 2012....
Road Trippin' So those Canucks eh? They're really ________! You fill in the blanks…DUH! So I took some time and put together this bloody brilliant list of the best Canucks articles from all over the interwebz. Peruse them and read to your heart's delight. What are the BLOODY BRILLIANT NWSB staff saying? To find out, you have to do one simple thing: Click HERE! What are the...
VANCOUVER, British Columbia (AP) -- Daniel Sedin scored two goals and the Vancouver Canucks edged the Columbus Blue Jackets 4-3 on Saturday night. Sedin scored the winner on a third-period power play as he scooped the rebound of his own tip-in attempt behind Steve Mason. The goal gave the Canucks a 4-2 lead that was cut by a shot off a faceoff win by James Wisniewski, the Columbus...
Just Lose It This limerick brought to you by Saturday's Hockey Night in Canada matchup between the Columbus Blue Jackets and Vancouver Canucks on St. Patrick's Day. The disparity is vast with the Jackets and Nucks, Be it a story of sticks, or helmets, or pucks, The playoffs are near, the Canucks all but clinched, For the Canucks, Rick Nash would have been a good pinch, Alas...
The Vancouver Canucks' power play is clicking again, and it produced a much-needed win this time. Daniel Sedin scored the second of his two goals with the man-advantage Saturday night and it turned out to be the winner in a 4-3 victory over the Columbus Blue Jackets. Alex Edler also got into the act, scoring on an end-to-end dash that provided a 3-1 lead in the second period...
The Vancouver Canucks may be inching closer to clinching their fourth straight Northwest Division title, but they're enduring their worst stretch of the season. Hosting the NHL-worst Columbus Blue Jackets, who haven't beaten them in regulation in more than two years, could help the Canucks start to turn things around. They look to avoid their first three-game losing streak...
Record Pts Div. Rank G/G GA/G PP% PK% Minnesota Wild (29-30-10) 68 4th Northwest 2.06 (30) 2.69 (17) 14.8% (26) 82.8% (13) Vancouver Canucks (43-20-8) 94 1st Northwest 3.04 (4) 2.44 (5) 21.6% (1) 85.9%(6)   Minnesota Wild Top 5 Scorers: G A Pts 1. #15 Dany Heatley 20 26 46 2. #21 Kyle Brodziak...
NHL News

Delivered to your inbox

You'll also receive Yardbarker's daily Top 10, featuring the best sports stories from around the web. Customize your newsletter to get articles on your favorite sports and teams. And the best part? It's free!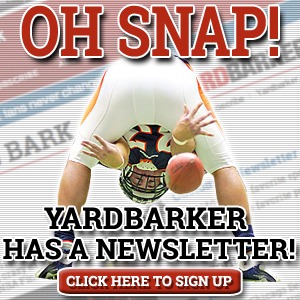 Latest Rumors
Best of Yardbarker

Today's Best Stuff

For Bloggers

Join the Yardbarker Network for more promotion, traffic, and money.

Company Info

Help

What is Yardbarker?

Yardbarker is the largest network of sports blogs and pro athlete blogs on the web. This site is the hub of the Yardbarker Network, where our editors and algorithms curate the best sports content from our network and beyond.