Found November 01, 2012 on The Majors National:
PLAYERS:
Gustav Nyquist
,
Henrik Zetterberg
,
Mark Giordano
,
Valtteri Filppula
,
Niklas Kronwall
,
Matt Stajan
,
Jakub Kindl
,
Jimmy Howard
,
Chris Butler
,
Jiri Hudler
,
Ryan Smyth
TEAMS:
Detroit Red Wings
,
Calgary Flames
,
Edmonton Oilers
,
Toronto Maple Leafs
,
New York Rangers
Well folks, sorry I was mistaken in reading the schedule. There was a game last night; Wednesday, October 31st Pittsburgh (4-5-0) @ Washington (7-3-0) Pittsburgh dropped to below .500 in an absolute blowout. Washington reams Fleury. WSH 5 – 1 PIT Thursday, November 1st Detroit (5-4-0) @ Calgary (3-3-2) After a three game win streak to start the season, the Flames haven't won one since. The Red Wings look to go streaking after a 3-2 win over Vancouver Tuesday night. Gustav Nyquist makes his season debut on left wing with Captain Henrik Zetterberg looking over him. The game would start off quickly, with only 2 minutes into the game, Mark Giordano would leave the game with a 5 minute boarding major, sending, Valtteri Filppula into the dressing room to be evaluated. The Red Wings could not capitalize during that powerplay, however at the ten minute mark, Danny Cleary (4) beat Kippursoff, on Filppula's first shift back after being cleared, Filppula gained an assist. Not even one minute later, Henrik Zetterberg (3) would keep the pressure on, and scored on a onetimer right in front of the net. That would end the scoring for the period. In the second, Detroit kept with their gameplan and it paid off. Five minutes in, Niklas Kronwall (2) scored on the powerplay, with recent call up Gustav Nyquist assisting. Calgary would not go quietly, and cut the lead back to two and the halfway point of the game, with Matt Stajan (3) beating Howard. Jakub Kindl (1) would ice the game however, with less than a minute left in the period, he pinched in the offensive zone, got the pass back and beat Kippursoff for the final goal of the game. DET 4 – 1 CGY Three Stars: Danny Cleary (RW) – 1G, 2A, 4S, +3 Jimmy Howard (G) – 1.00 GAA, .966 SV%, 29 SA Henrik Zetterberg (C) – 1G, 1A, 3S, +2 Notes: CGY D Chris Butler will be injured for the next 4-5 weeks with a separated shoulder. In his first game against his former team, CGY C Jiri Hudler was a minus 2, with 1 SOG. Addendum: Danny Cleary currently is on a runaway lead for the points lead for the Wings. In 10 games he has 12 points, 4G, 8A. Other games: Colorado (3-6-1) @ Vancouver (5-4-2) In another Northwest division battle, the Avalanche look to right their ship against a struggling Canucks team. They certainly do not do so. VAN 4 – 0 COL Montreal (3-5-2) @ Edmonton (5-4-0) The red hot Canadiens go for four in a row, but perhaps the timezone gets to them as they get shut out by the Oilers. EDM 3 – 0 MTL Notes: EDM LW Ryan Smyth will be injured 8-9 weeks with a concussion. St. Louis (5-4-0) @ San Jose (3-4-2) The Blues just keep losing ground. They faced a struggling Sharks team, and Brian Elliot got embarrassed, a rough season perhaps for the one year wonder. SJS 5 – 2 STL Los Angeles (6-3-0) @ Minnesota (3-4-2) The Wild, so far lacking with their superstar summer, still can't gain ground in what seems to be a tough division in the Northwest. They fall to the Kings. LAK 4 – 3 MIN SO New Jersey (1-6-1) @ Philadelphia (4-4-1) The Devils woes continue, as they lose to the Flyers. PHI 4 – 1 NJD Notes: PHI RW Danny Briere will be injured 4 weeks with a broken hand Dallas (6-3-1) @ New York Rangers (4-3-2) The Rangers are hitting a slump, they fall under .500 with a loss to the scalding Stars. DAL 2 – 1 NYR Boston (7-2-1) @ Toronto (4-2-2) Suffering their second loss of the year, the Bruins fall to the subpar Maple Leafs. TOR 2 – 1 BOS Phoenix (3-5-0) @ Buffalo (6-2-1) The Coyotes just don't find an answer, as many teams haven't this year, to league leader in SV% Ryan Miller (.955). BUF 3 – 0 PHX Winnipeg (5-3-0) @ Tampa Bay(4-4-0) In the biggest blowout of the year, the Bolts absolutely dissect the Jets defense. TBL 7 – 0 WPG
Original Story:
http://themajors.net/?p=6768
THE BACKYARD
BEST OF MAXIM
RELATED ARTICLES
from Helene St. James of the Detroit Free Press, Red Wings forward Darren Helm could be looking at more surgery after getting injured during Friday's player-run practice in Troy. A source familiar with the situation said Helm suffered a fractured cheekbone. He is to see a specialist today to determine whether the break will heal on its own, or if an operation is required...
from Chris Johnston of the CP at TSN, The experiment is off to a rousing start. When the Detroit Red Wings signed free-agent forward Damien Brunner over the summer, they did so with the idea of playing him alongside Henrik Zetterberg. The NHL lockout put a hold on those plans -- at least until Zetterberg contacted his new teammate a couple weeks back and inquired about joining...
from RIANOVOSTI, Lev Prague bought the KHL rights to Detroit Red Wings forward Tomas Tatar as an investment in the future rather than with short-term plans in mind, Lev general manager Normunds Sejejs told R-Sport on Thursday. With nine games for the Red Wings since signing in 2009, Tatar has previously hinted he will look to Europe if he fails to break into the Detroit...
TROY, Mich. -- The NHL sure knows how to ruin a good thing. Since the previous lockout killed the entire 2004-05 season, the league had actually done some good things to move the game forward: changing the rules to allow skilled players more freedom; working to prevent and treat head injuries more effectively; and creating the Winter Classic, an annual outdoor celebration of hockey...
In the midst of the NHL Lockout, the League announced Friday that the Winter Classic between the Detroit Red Wings and Toronto Maple Leafs at Michigan Stadium as well as all corresponding events leading up would be cancelled. Those events leading up to the Winter Classic on January 1st were AHL, college, high school and alumni games that were to take place at Comerica Park between...
The NHL has canceled the 2013 Winter Classic, the AP reported. The Jan. 1 game was set to pit the Detroit Red Wings and Toronto Maple Leafs. Continue reading →
from Cam Cole of the Vancouver Sun, Not to be a contrarian here, but all the gnashing of teeth over the National Hockey League's reported intention to cancel the Bridgestone Winter Classic later this week is completely misplaced. If the league does it, it won't be despite the fact that it was Toronto versus Detroit, two storied franchises, a first inclusion of a Canadian...
NHL News

Delivered to your inbox

You'll also receive Yardbarker's daily Top 10, featuring the best sports stories from around the web. Customize your newsletter to get articles on your favorite sports and teams. And the best part? It's free!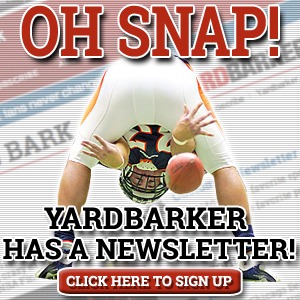 Latest Rumors
Best of Yardbarker

Today's Best Stuff

For Bloggers

Join the Yardbarker Network for more promotion, traffic, and money.

Company Info

Help

What is Yardbarker?

Yardbarker is the largest network of sports blogs and pro athlete blogs on the web. This site is the hub of the Yardbarker Network, where our editors and algorithms curate the best sports content from our network and beyond.