Found November 27, 2012 on Boston Sports Then & Now:
In this social media age, NEWS and ODDITIES are all around you and at your fingertips. With a tap of your smartphone, you can find out what your favorite athlete or celeb is doing and thinking. Some things make you LAUGH YOUR ASS OFF, SCRATCH YOUR HEAD or SAY AWWW. The members of the Boston Bruins are no different, they are quite in tune with Twitter. In this edition, people really DIG Tyler Seguin and his ULTRA COOL peach fuzz. FILE THIS UNDER "I'M KIND OF A BIG DEAL" Should I feel kinda cool? Havnt checked these in a while #facebookcreepintwitter.com/tylerseguin92/… — Tyler Seguin (@tylerseguin92) November 26, 2012 Seguin's international popularity is growing to EPIC heights as he continues to destroy the Swiss league.   FILE THIS UNDER "ODE TO TEEN WOLF" Movember. Attempt. #greasy #puberty101 twitter.com/tylerseguin92/… — Tyler Seguin (@tylerseguin92) November 27, 2012   Facial hair is NO FRIEND of "The Kid". Tyler Seguin is doing his best to grow some peach fuzz for a GREAT cause. Unfortunately, he looks more like Michael J. Fox in "Teen Wolf". In time lad…..in time….it will come…. Stay Tuned For More Boston Bruins Tweets Of Interest! END THE LOCKOUT!
Original Story:
http://boston.sportsthenandnow.com/20...
THE BACKYARD
BEST OF MAXIM
RELATED ARTICLES
Jacobs Has Held Bruins Fans Hostage Far Too Long Being A Boston Bruins fan is a "Catch 22″. We are in a NO-WIN situation. We are HOSTAGES of Delaware North. By supporting the team I LOVE, I line the pockets of an owner that could CARE LESS about the fans… A "business man" that is leading the way to destroy a LEAGUE fueled by GREED & the LUST for ABSOLUTE POWER… A...
Marc Savard's playing career may or may not be over, but when Savard hangs up his stick for good, he might be ready to grab a clipboard. Savard tweeted last week that he thinks he's "very interested" in coaching hockey at a high level. While that might not exactly mean the NHL, Savard seems open to something in the Ontario Hockey League (OHL), which could always be a springboard...
  Fans are obviously upset about the ongoing NHL lockout. We all miss our teams, and would rather be at games than trying to watch players on grainy European feeds. Many fans have taken to protesting the lockout, and rather seriously, at that. Of course, these well-meaning protests have fallen on deaf ears, so why not have a little bit of fun with it?   The Bruins...
Tyler Seguin must have been CLAIRVOYANT, he knew back in 2011 that Bruins owner Jeremy Jacobs was going to SCREW him (and other Bruins) over by NOT HONORING his pre-lockout contract. How can you believe in a boss that talks out BOTH sides of his mouth? I wonder how the players will treat Jacobs after the NHL Lockout ends…..probably like the relative you REALLY HATE, but have to...
Bobby Carpenter may not have quite lived up to the potential that landed him on the cover of Sports Illustrated in 1981, but he did put together a serviceable 21-year career that included four seasons with the Boston Bruins. He also raised his daughter, Alex Carpenter, to be one heck of a hockey player, herself. Ranked as one of the top women's hockey players in the country, the...
The Bruins had already survived one Game 7 against the Canadiens in the first round of the 2011 playoffs. So as the B's prepared for a second winner-take-all game, this time against the Tampa Bay Lightning in the Eastern Conference finals, fans should have been prepared to strap in for another roller-coaster ride. If only it was that easy. The game between the Bruins and Lightning...
It's probably not the best time to talk about the NHL and money, but ignoring Forbes' latest report won't lift the lockout. According to Forbes, the most-valuable NHL franchise, the Toronto Maple Leafs, are the first NHL team worth $1 billion, while the Boston Bruins ($348 million) are the fifth-most valuable NHL franchise. The New York Rangers ($750 million) are second-most...
Bruins News

Delivered to your inbox

You'll also receive Yardbarker's daily Top 10, featuring the best sports stories from around the web. Customize your newsletter to get articles on your favorite sports and teams. And the best part? It's free!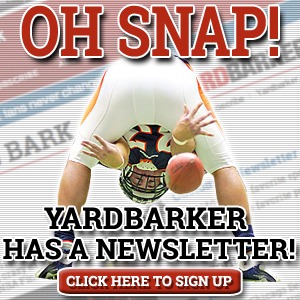 Latest Rumors
The Backyard

Today's Best Stuff

For Bloggers

Join the Yardbarker Network for more promotion, traffic, and money.

Company Info

Help

What is Yardbarker?

Yardbarker is the largest network of sports blogs and pro athlete blogs on the web. This site is the hub of the Yardbarker Network, where our editors and algorithms curate the best sports content from our network and beyond.