The Hurricanes sure like to keep the families connected. Not only do they have two Staal's in their organization but three members of the Sutter family tree as well. The one who most fans know about is Brandon Sutter, who plays an important role as the team's third line center, but one who the national media may not know about is his cousin, Brett Sutter. There's a very good reason for that, though. Brett might be vital to the Hurricanes organization as the captian of their AHL affiliate, the Charlotte Checkers but he has yet to make his mark in the NHL and time is running out for him to do so. Sutter has spent the majority of the last five seasons in the AHL and wasn't much of a scorer there, and that limits what he can do in the NHL. Which is the reason why he is usually regulated to fourth line duty and called up on either an emergency basis or to be a fourth line plug. The most time he played in a game this season was 9 minutes and 35 seconds so that should tell you what kind of role he played when he was called up. The 15 games he played this year was also a career high for him. Now, you can't judge a player on a 15 game sample size but whenever Sutter was in the lineup, he wasn't very effective. He failed to outchance the opposition in every game he played in and this was with fourth line assignments, which is pretty weak competition. The Hurricanes' fourth line is known for playing the "energy role" and aren't really depended on for scoring or defense. They are mainly expected to play 5-10 minutes a night, hit a few players, work hard and not get destroyed. You can say that Sutter played this role but that doesn't mean that he helped the team. In fact, the Hurricanes were outshot heavily whenever Sutter played and he was on ice for fewer chances than the amount of games he played. There's no doubt that Charlotte will definitely want him to stick around for next year but it doesn't seem like he'll be getting a call-up to Raleigh any time soon. Scoring chance breakdown coming after the jump. Brett Sutter 2011-12 Scoring Chances Average TOI: 8:27
Even Strength Scoring Chance% Fwd Rank: 19/19
Even Strength Scoring Chance Diff/60 Fwd Rank: 19/19
QualComp Fwd Rank: 16/16
OZ Start%: 41.5% Scoring Chances by Season Segment Game # TCF TCA SCF SCA Segment% Team % 1-10 4 9 4 9 0.308 0.475 11-20 4 9 0 0 0.000 0.527 21-30 8 17 4 8 0.333 0.518 31-40 8 17 0 0 0.000 0.473 41-50 14 27 6 10 0.375 0.465 51-60 14 27 0 0 0.000 0.511 61-70 14 27 0 0 0.000 0.454 71-82 14 27 0 0 0.000 0.548 TCF = Total Scoring Chances for at even strength, TCA = Total Scoring Chances against at even strength, SCF = Even strength chances for during segment, SCA = Even strength scoring chances against at even strength, Segment% = Scoring chance percentage during segment, Team% = Hurricanes even strength scoring chance percentage during segment Season Segment Line Graph
The blue line is Sutter's segment scoring chance graph and the red line is the Hurricanes'. Sutter performed at below replacement level for most of the season and that's because he basically is a replacement level player. He is only used on an emergency basis and is what you would expect from an AHL forward. The team was getting outshot by a wide margin whenever he was on the ice and whether or not you want to attribute it to his playing situation (fourth line minutes & teammates) or him not being that good of a player is up to you. Both factors probably have a big role in it. Either way, he probably won't see much action in the NHL next season. I don't have a wowy posted because there isn't anything to say in regards to what teammates he performed better with.
Original Story:
http://www.shutdownline.com/hurricane...
MORE FROM YARDBARKER
Hurricanes News

Delivered to your inbox

You'll also receive Yardbarker's daily Top 10, featuring the best sports stories from around the web. Customize your newsletter to get articles on your favorite sports and teams. And the best part? It's free!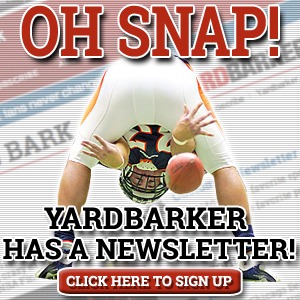 Latest Rumors
Best of Yardbarker

Today's Best Stuff

For Bloggers

Join the Yardbarker Network for more promotion, traffic, and money.

Company Info

Help

What is Yardbarker?

Yardbarker is the largest network of sports blogs and pro athlete blogs on the web. This site is the hub of the Yardbarker Network, where our editors and algorithms curate the best sports content from our network and beyond.