Found June 06, 2013 on Fox Sports:
Boston Bruins center Gregory Campbell proved, once again, why hockey players are the toughest men on the planet. With Game 3 of the NHL's Eastern Conference tied at 1-1 on Wednesday night and the Bruins defending a power play with just under 8:00 left in the second period, Campbell threw himself in front of a slapshot from Penguins center Evgeni Malkin, blocking the shot. After a few seconds on the ice, Campbell struggled to his feet, and hobbled around for the next 45 seconds, continuing to play defense as he finished his shift and the Bruins killed the power play. Check out the video of the sequence below: Now, that display of toughness alone would normally be enough to earn the respect of anyone who might be watching. And the Bruins crowd chanted Campbell's name as he came off the ice. "They know their hockey. But you don't have to know hockey too well to know how gutsy that was," Bruins defenseman Andrew Ference told NHL.com . "But, I think this i...
Original Story:
http://msn.foxsports.com/nhl/story/bo...
THE BACKYARD
BEST OF MAXIM
RELATED ARTICLES
When Gregory Campbell broke his leg blocking a shot and then heroically stuck out the final minute of a penalty kill during Wednesday night's Game 3 of the Eastern Conference finals, it was an inspiration to many, including his Bruins teammates, who went on to win in double overtime in their fallen forward's honor. Apparently, that inspiration wasn't exempt from Twitter hashtags...
Gregory Campbell is a hockey player. That's really the only way to describe him after an incredible shift against the Penguins, where he was very clearly injured yet soldiered on to help kill off a Pittsburgh power play. After blocking a shot from Evgeni Malkin in the second period of Game 3, Campbell willed himself to his feet and gritted his way through the remainder of his shift...
There is simply no replacing Gregory Campbell. The Bruins' fourth-line center proved that in a big way on Wednesday night in Game 3. Despite not being one of the team's elite offensive talents, there's no denying Campbell is an integral part of this team's fabric. The B's forward provided what will surely be a lasting image in the team's longstanding history as he limped...
Most people don't understand how grueling a sport hockey is. I was big hockey fan growing up, but didn't realize how tough it was until I started ice skating myself. There was a big ice skating rink close to my dorm when I was at The Ohio State University. My girlfriend at the time convinced me to go. The first thing you realize is that the ice is VERY HARD and secondly it is...
Gregory Campbell appeared to suffer a serious injury during a second period penalty kill Wednesday night during Game 3 of the Eastern Conference Finals in Boston. Campbell hit the deck to block an Evgeni Malkin slapshot and did just that, appearing to take the puck off the side of his leg. Campbell immediately screamed out in pain before getting to his feet and remaining on the ice...
The Bruins are just one win away from the Stanley Cup Final, which is obviously the good news. The bad news, however, is that the B's will have to continue their quest for the Cup without one of their core players. Gregory Campbell put himself in harm's way in the B's Game 3 win on Wednesday night, and it cost him. Campbell sold out to block an Evgeni Malkin slap shot and ended...
It was one of the most inspiration moments of the 2013 Stanley Cup Playoffs but, unfortunately for Gregory Campbell, it will also be his last. During the second period of last night's Game 3 in Boston, Campbell hit the deck to block an Evgeni Malkin slapshot and wound up taking a puck hard off the side of the leg. Despite appearing seriously injured, Campbell stayed on the ice...
The Stanley Cup Playoffs bring out the best in hockey players. For those who get a chance to take part in the greatest spectacle in all of sports, it's an opportunity to realize a childhood dream; the ability to hoist a 35-pound chalice over your head, give it a big kiss, then pass it off to a teammate. In order to win, players do whatever it takes to help their team even if it...
Boston Bruins forward Gregory Campbell sustained a broken right leg during the second period of Game 3 of the Eastern Conference finals on Wednesday when he was hit by a slap shot by the Penguins' Evgeni Malkin. Campbell was unable to get off the ice because the Penguins controlled the puck, so he endured the pain for 45 seconds before heading to the locker room. He will be out...
Kaspars Daugavins is replacing injured forward Gregory Campbell for the Boston Bruins on Friday night in Game 4 of the Eastern Conference finals against the Pittsburgh Penguins. Campbell, the Bruins' fourth-line center, broke his right leg in the second period of Boston's double-overtime win in Game 3 on Wednesday night. He is out for the rest of the playoffs. Daugavins...
By Kristin Tullo (@K_Tullo) Getty Images Weathered faces and post-season surgeries have become the norm for NHL hockey players. A puck to the nose here, a stick to the face there, get stitched up and back out on the ice they go. Usually it comes down to their feet; if they can still skate, they can still play. In Gregory Campbell's situation last night, he had one working leg and...
NHL News

Delivered to your inbox

You'll also receive Yardbarker's daily Top 10, featuring the best sports stories from around the web. Customize your newsletter to get articles on your favorite sports and teams. And the best part? It's free!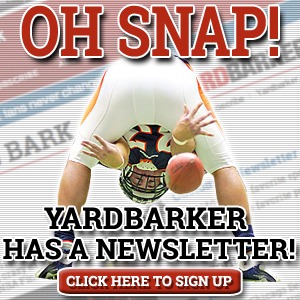 Latest Rumors
Best of Yardbarker

Today's Best Stuff

For Bloggers

Join the Yardbarker Network for more promotion, traffic, and money.

Company Info

Help

What is Yardbarker?

Yardbarker is the largest network of sports blogs and pro athlete blogs on the web. This site is the hub of the Yardbarker Network, where our editors and algorithms curate the best sports content from our network and beyond.