Found September 26, 2012 on Fox Sports West:
Kelly Reeves remembers it vividly. "The postseason was just a unreal; that ride," Reeves, the 6-foot UCLA outside hitter said, wistfully. Her eyes light up as she continues talking about the magical postseason run that the UCLA women's volleyball team went on last season that culminated in a 3-1 defeat of Illinois to win the 2011 NCAA Championship. "We got to host the first two rounds, which was awesome, and I think was really good for us," Reeves said. "And then we go to Kentucky and take down Penn State and I was just like, 'What, are you kidding me?" It was awesome." From there, Reeves went on to talk about the Bruins' match against a tough Texas team in the Regional Finals. The top-seeded Longhorns have long been known to play a physical brand while fielding a big, athletic team. At the time, UCLA head coach Michael Sealy described the Longhorns as an NBA volleyball team. But the Bruins controlled the ball better and dispatched the Longhorns in four sets to advance to the Final Four, where they promptly swept Florida State. There were no nerves in the National Championship game, Reeves said, but an intense excitement like no other upon the realization that the Bruins were the last team standing. "It was just volleyball," Reeves said. "But when we got that (final) kill, my body just went numb." Reeves then quickly snaps back to the present. That was last season, and that season can never be duplicated. The Bruins are knee-deep into 2012, and have already been ranked as high as No. 1 and now, as low as No. 4. UCLA is halfway down the path of a new ride, and while the team is working toward reaching the same destination as last season, the Bruins feel remarkably little pressure to repeat. Senior outside hitter Tabi Love says the team has other things to worry about before even thinking about reaching the national title game. "Right now, one of our kind of focal points as a team is to be fearless and to come out with a kind of quiet confidence," Love said. "We don't have to worry about winning when we're just kind of focused on being ourselves because that's when we play our best as a team." The Bruins have done exactly that. On a team that features several weapons ranging from Love and AVCA All-American Rachael Kidder outside to supporting characters like Reeves that have the ability to play all over the court, leadership isn't judged by statistics. However, those stats are significant. Love and Kidder are currently leading the team with 3.93 and 3.85 kills per set, respectively, which are numbers also rank them both in the top 10 in the Pac-12 conference. Libero Bojana Todorovic has the defense locked up with 4.16 kills per game. But even with that trio performing at a high level, there still isn't one person on the team with overwhelmingly high numbers; each person plays a role and each does their best to pick up where another leaves off. The Bruins aren't a team of specialists, they're a team of versatility and depth to back it up. Two weeks ago, facing Colorado State on the road, freshman middle hitter Hannah Boland was called on to start against the Rams. Boland did her part, contributing four blocks to help the Bruins outlast their opponents in five sets. This performance, in particular, was one that stood out to Boland's teammates. "We've needed different people in different games," Love said. "The fact that we can just call on anyone randomly and have them step up and play is great." Coming into conference play, the Bruins were rolling at 8-1 with seven straight wins and a No. 1 ranking. But then they headed downtown in a highly-anticipated match that pitted the Nos. 1 and 2 teams against one another. The match lived up to its billing. Crucial sets came down to the wire, both teams managed to capitalize on the few errors that came and utilized all weapons available. But in the volleyball battle of Los Angeles, it was USC that came out on top, winning 3-1. After the second-ranked Trojans edged UCLA 28-26 to go up 2-1, the Bruins ran out of gas. They hit at just a .100 clip and fell 25-17, watching USC go on two decisive rallies. "We didn't play very fearless," Reeves said, citing a hesitation to make big plays in big moments. "We can't have that little slow start and expect then to gain the lead very easily," Love said. "We don't play as well when we start slow because it's a process for us to then turn it on." Opening up with a fast start is a theme carried over from last season when the Bruins won 32 opening sets and outscored opponents 893-670. But adjusting to two young setters, Strehlow and sophomore Megan Moenoa, might not always allow for those fast starts right away. "I also think that we learned that we need to trust each other more and that we need to come together as a team and make the adjustments during the game and not be able to wait until after," Love said. The Bruins effectively bounced back two days later with a sweep of Oregon State. The Beavers, though unranked, carried a 10-3 record into the John Wooden Center, with a big win over then-No. 2 Penn State highlighting their season. Reeves assured that the Bruins played the Beavers with as much intensity and enthusiasm as any other team. "Every match you have to go in and just treat it as if it's your last match," Reeves said. "You have to go down fighting." "We want their best," Love said. "That's when the best games come and that's what is going to make us the best team for the postseason." Now at 9-2 and 1-1 in the Pac-12, the target is still firmly on the power blue. The Bruins are enjoying the challenge. "We're always going to have that big target on our back," Reeves said. "But I think we can't get scared; we have to embrace it."
Original Story:
http://www.foxsportswest.com/09/26/12...
THE BACKYARD
BEST OF MAXIM
RELATED ARTICLES
In this social media age, NEWS and ODDITIES are all around you and at your fingertips. With a tap of your smartphone, you can find out what your favorite athlete or celeb is doing and thinking. Some things make you LAUGH YOUR ASS OFF , SCRATCH YOUR HEAD or SAY AWWW. The members of the Boston Bruins are no different, they are quite in tune with Twitter and Facebook. Here are some...
In this social media age, NEWS and ODDITIES are all around you and at your fingertips. With a tap of your smartphone, you can find out what your favorite athlete or celeb is doing and thinking. Some things make you LAUGH YOUR ASS OF OFF or SCRATCH YOUR HEAD. The members of the Boston Bruins are no different, they are quite in tune with Twitter and Facebook. Here are some Bruins...
Six current members of the Bruins have left the country to play professional hockey elsewhere. Patrice Bergeron could be the seventh as he decides the next move of his career. Bergeron has remained relatively quiet regarding his lockout plans, but according to the French sports network RDS, the forward had been involved in serious negotiations with a Swiss club and was very close...
The true ramifications of the NHL lockout have set in for most hockey fans, but that doesn't make watching their favorite players move overseas any easier. Bruins goalie Tuukka Rask has been officially signed to a contract in Europe. According to ESPN, the 25 year old Finnish star will play for HC Plzen, and joins teammate Andrew Ference as the second Bruin to commit to a Czech...
Professional sports teams will go to extraordinary lengths to market themselves with everything from ridiculous hats to Snuggies bearing their logo. The NHL may have reached a new low, however, with their latest officially licensed product: gnomes. The NHL's line of team-themed collectibles may seem pretty harmless, especially when you consider that the league is now over a week...
Boston Bruins and Ottawa 657's tough guy Ken Belanger is also not a fan of the OHL's knew fighting rule. I also think that it's just a matter of time before more current and former players come out against this ridiculous rule. Belanger thinks that the new rule might actually increase acts of violence. I agree with his assessment. You're going to have players...
Despite a lockout currently happening in the National Hockey League, CLNSRadio.com is growing their Boston Bruins coverage this fall. Recently, thanks to BPaul, we were able to create a Twitter handle for our Bruins coverage @CLNS_Bruins. Be sure to follow us on there as we will have updates on the lockout and written material in [...]
This morning we saw long-time DOY reader @lisa617 tweet a link of Andrew Ference and the You Can Play Project:Ference continuing to be a beast and the Tea Party's worst nightmare. Good video of the turnout he's gotten for the asscrack of dawn stair workout, too. Also, we think Ference blinded us with those sneakers... holy cow. From the YCPP website: Andrew had been Tweeting...
In yet another interesting plot twist that is the soap opera of collective bargaining talks between the NHL and NHLPA, one league exec took a shot at the Bruins' Milan Lucic. Detroit Red Wings senior-vice president Jimmy Devellano commented in a recent interview, comparing players to "cattle." "I will tell you this: The owners can basically be viewed as the Ranch...
After the jump, we break down this year's first preseason game...   
Bruins News

Delivered to your inbox

You'll also receive Yardbarker's daily Top 10, featuring the best sports stories from around the web. Customize your newsletter to get articles on your favorite sports and teams. And the best part? It's free!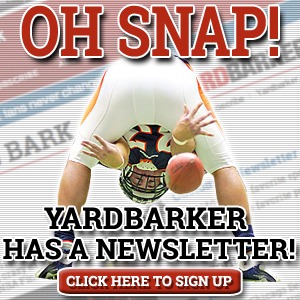 Latest Rumors
The Backyard

Today's Best Stuff

For Bloggers

Join the Yardbarker Network for more promotion, traffic, and money.

Company Info

Help

What is Yardbarker?

Yardbarker is the largest network of sports blogs and pro athlete blogs on the web. This site is the hub of the Yardbarker Network, where our editors and algorithms curate the best sports content from our network and beyond.