Found January 09, 2013 on Philly Sports World:
Today, I can officially lift my self-imposed no NHL embargo because the NHL and the NHLPA finally came to their senses (with the help of federal mediator Scot Beckenbaugh). It sure feels good, and now the speculation can begin. Probably the most intriguing part of this new Collective Bargaining Agreement, aside from the length (10 years with an opt out at 8) is the addition of two salary cap compliance buyouts for each club. The teams will not be able to use the buyouts, which will allow them to essentially void two contracts to achieve compliance with the salary cap, until after this upcoming season, but before the next season. Teams will be responsible to pay the player 2/3 of the remainder of their contract value but it will not count against the salary cap. The most glaring opportunity for the Flyers to use the buyout is clearly Ilya Bryzgalov. The Flyers signed Ilya Bryzgalov to a 9-year $51 million contract before last season to finally bring stability to the goaltending position that had long plagued the Flyers. Bryzgalov did little to stabilize the position. In fact, he was lightning rod for controversy. In the month leading up to last year's Winter Classic showdown with the Rangers, Bryzgalov achieved worldwide notoriety with his quirky comments shown on HBO's 24/7. He had already been making quirky comments to the local press from nearly the moment he rode into town. While seemingly reveling in his celebrity, Bryzgalov's play began to dip and had never really been all that stellar to begin with. By the time the Classic rolled around, Bryz was benched. He rebounded late in the season with a remarkable two month stretch of play that had the Flyers faithful feeling like he was finally the goalie they had hoped. Then the playoffs came, and Bryz looked like Swiss cheese. Bryz failed to turn in any dominating performances, and again the fans soured. You can't win a Cup without a dominant goalie. So now the temperamental goalie will probably have one more year with the team to prove he can be the man. If he has another season like last year, the Flyers may look to go in another direction at goaltender. If Bryz can step up and be the man, then that will go a long way toward helping the Flyers capture that long elusive Stanley Cup. As entertaining as Bryz is, I'm hoping he can be the man and stay around a while. Similar Posts: Eagles lose again as Reid dials up the run Phillies on a limited budget? Trade for Revere a good business move Replacing Bynum, would Greg Oden be a good fit for the rest of the season? Soriano to Phillies, the last big move? How would Vernon Wells help the Phillies?
Original Story:
http://phillysportsworld.com/bryzgalo...
THE BACKYARD
BEST OF MAXIM
RELATED ARTICLES
3.. 2.. 1.. Take off. The Flyers' season doesn't begin for another week and a half, but goaltender Ilya Bryzgalov is already making headlines in the Philadelphia media with his quotes. "He's like from the movie Cast Away. We need to buy some ball for him so he has best buddy Wilson," said Bryzgalov when asked about forward Scott Hartnell's hairstyle.  It was...
via Frank Seravalli of the Philadelphia Daily News, On Wednesday, the hot rumor was Luongo to . . . the Flyers? It all started with a report from former player-turned-analyst Enrico Ciccone, who tweeted that the Flyers have interest in Luongo. His report was seconded by TSN analyst James Duthie, who is believed to be a close friend of Luongo. When contacted, Flyers general...
Here are some Flyers quick hits for your Wednesday morning. I will be leaving shortly to attend the NHL's press conference in New York later today, along with Eklund and HockeyBuzz's Capt. EO. * When Ilya Bryzgalov left CSKA Moscow ahead of the settlement of the NHL lockout, the official cover reason issued by the team was that Bryzgalov had an upper-body injury for which...
The Philadelphia Flyers goaltender never disappoints. He's back from Russia and ready to keep the media entertained. Thank goodness the NHL lockout ended!
Bill Guerin was around during the '94-'95 lockout-shortened season.  He said he plans to tell the players not to get too caught up in it.  Obviously much more at this link. It's great to watch Pens YouTubes without crying afterward.  
With the NHL lockout coming to an end, most of the league's players that played overseas have made their way back home to prepare for the start of training camp next week. For Ruslan Fedotenko, it was sort of a dual homecoming when he joined his Flyers' teammates on the ice at practice for the first time in a decade. "I'm excited to be a part of this organization...
The Roberto Luongo trade rumours are in full force. Previously I've looked at the possibility of Luongo heading to Toronto, Edmonton, Florida and Chicago. Until today, I have not thought about the possibility of Luongo in the orange and black of the Philadelphia Flyers. The Luongo to Philadelphia rumour heated up today after TSN's James Duthie mentioned Philly's interest on...
Two days since a handful of Flyers have trickled into pre-camp, we've had a bundle of news. The bad: Danny Briere will probably miss the season opener, by his own admission, because of a badly sprained wrist. He might even miss a week. Funny thing is, GM Paul Holmgren seemed more worried about Briere than Andrej Meszaros and anyone who has been around Achilles injuries...
Claude Giroux was among 5 Philadelphia Flyers who needed surgery to repair various ailments. Giroux had both of his wrists operated on. The Philadelphia Flyers will open camp this weekend, months after they were supposed to before a lockout almost caused a lost season. Camp will be short, probably beginning Sunday and ending Thursday or Friday. There will be no preseason games on...
Barring additional injuries or roster moves, the Flyers opening-night lineup is likely to look something like this when the team opens its schedule a week from tomorrow against the Pittsburgh Penguins. 1st forward line: Scott Hartnell - Claude Giroux - Jakub Voracek Although Jaromir Jagr spent most of last season on the top line, Voracek was on the unit for much of the playoff...
Categories: BREAKING NEWS Flyers News NHLTags: Enrico CicconeIlya BryzgalovJames DuthieRoberto LuongoVancouver CanucksEarlier this morning, former NHL player and TV analyst Enrico Ciccone reported via twitter that the Philadelphia Flyers were interested in Vancouver Canucks goaltender (until next week) Roberto Luongo. Casual fans and Philadelphia media alike scoffed at the notion...
Rumors are swirling tonight that the Philadelphia Flyers are workig om a trade for Roberto Luongo. I am told that as on 10pm et they are not at all in on Luongo..This from a terrific source who would absolutely know if they were or weren't. When I asked if I could safely kill this rumor the source told me, "yup."
NHL News

Delivered to your inbox

You'll also receive Yardbarker's daily Top 10, featuring the best sports stories from around the web. Customize your newsletter to get articles on your favorite sports and teams. And the best part? It's free!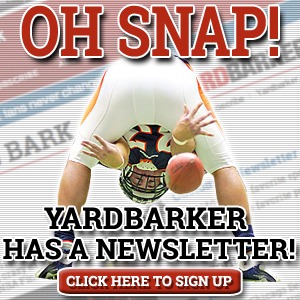 Latest Rumors
The Backyard

Today's Best Stuff

For Bloggers

Join the Yardbarker Network for more promotion, traffic, and money.

Company Info

Help

What is Yardbarker?

Yardbarker is the largest network of sports blogs and pro athlete blogs on the web. This site is the hub of the Yardbarker Network, where our editors and algorithms curate the best sports content from our network and beyond.