Found August 02, 2012 on Queen City Sports:
PLAYERS:
Derek Roy
,
Shane Doan
,
Bobby Ryan
,
Thomas Vanek
,
Jason Pominville
,
Drew Stafford
,
Ville Leino
,
Steve Ott
,
Cody Hodgson
,
Tyler Ennis
,
Nathan Gerbe
,
Matt Ellis
,
Cody McCormick
,
Patrick Kaleta
,
John Scott
,
Kevin Porter
,
Corey Tropp
,
Luke Adam
,
Mikhail Grigorenko
,
Zemgus Girgensons
,
Lindy Ruff
,
Marcus Foligno
,
Adam Henrique
,
Ryan Nugent-Hopkins
,
Sean Couturier
,
Dwight King
,
Ryan Carter
TEAMS:
Dallas Stars
,
Arizona Coyotes
,
Anaheim Ducks
,
Buffalo Sabres
,
New Jersey Devils
,
Edmonton Oilers
,
Philadelphia Flyers
,
Los Angeles Kings
From the moment the Sabres season reached an all too abrupt end on April 7th in Boston, much has been made of their lack of what the fans and media consider to be a true number one center.  Over the course of the off-season Sabres General Manager Darcy Regier has traded away the consensus top line pivot in Derek Roy, and Buffalo has been bandied about as a possible destination for free agent Shane Doan, and star forward Bobby Ryan of Anaheim.  While there is no doubt that another shuffle could be made somewhere in the Sabres top six, unless Regier makes an additional move the more intriguing area of this Buffalo squad is in it's bottom two forward lines. Heading into training camp, or tryouts as it would appear, the Sabres have seven forwards who appear to have a roster spot locked in.  Based on pure ability, and or contract status we should all expect to see Thomas Vanek, Jason Pominville, Drew Stafford, Ville Leino, Steve Ott, Cody Hodgson, and Tyler Ennis (pending new contract) in blue and gold to start the season.  Including the thirteenth forward that leaves six spots for veteran incumbents, new acquisitions, and organizational prospects to battle for.  While it's still early in August some of the players heading into camp would appear to have a leg up on the competition.  Here's how I see things breaking down. Nathan Gerbe:  Nathan had a frustrating 2011 campaign, dropping to 6g on the season after a career high 16g the previous year.  One can never call Gerbe's effort or determination into question, but his lack of size coupled with the Sabres newfound affinity towards "team toughness" means Nathan will need to produce on the score sheet more often to earn his keep.  Gerbe is right on the cusp of becoming a consistent NHLer but if he can't gain traction early in the year I could see the Sabres management going in a different direction. Matt Ellis:       With little finishing ability, and Regier having added additional size on the back end of the forward corps, Matt would appear a prime candidate to be usurped by some of the more versatile young talent in the Sabres system.  Despite having one year remaining on his NHL contract for 525k, and barring an incredible camp, Ellis will likely spend the season in Rochester. Cody McCormick:  Cody is one of the most respected players in the locker room by both his teammates and coaches.  While Buffalo does have an insurgence of young centerman, none of them are truly suited for the fourth line and it would appear it is Cody's job to lose. Patrick Kaleta:  Patrick's situation is one of the more interesting, as his recent multiyear contract would have you believe the Sabres feel Kaleta will have a prominent role to play in the near future.  However upon further examination of the wealth of talent Lindy has to pool from for the bottom two lines it becomes difficult to distinguish exactly what Patrick's role is.  When healthy he is one of the best agitators in the game, but Kaleta will need to return to the scoring ways of the 2009 season (10g in 55gp) if he wants to be in the lineup every night. John Scott:  Let's not beat around the bush here, we all know why Scott was brought in, and it wasn't to play 82 games in blue and gold.  Scott will likely spend much of the year in Rochester and if he's called up he'll be the 13th forward unless the Sabres happen to be in Boston while he's with the big club. Kevin Porter:  Kevin was one of those under the radar signings that could surprise people as the season takes shape.  Porter is truly the only candidate that would seem to be able to knock Cody McCormick out of that fourth line center role.  Kevin has experience at the pivot, and possesses more offensive upside than Cody.  However he does give away some size and grit to McCormick and unless he can really impress Ruff in camp he'll likely join Ellis and Scott as some veteran muscle down in Rochester.  Still, he's worth keeping an eye on. Corey Tropp:  Tropp caught some lightning in a bottle when he was recalled late in the season for Buffalo.  Corey plays with a reckless abandon that reminded many of Kaleta as a rookie.  However Tropp brings more offensive punch to the table as he racked up 22 pts in 27 games last season in Rochester.  By comparison Patrick Kaleta amassed a mere 4 pts in his final 29 games at the AHL level.  It still remains to be seen if Tropp can get under opponents skin with the same efficacy as Kaleta but if Corey can pick up where he left off last season he has a serious shot of making the opening night roster.  Perhaps merely as the 13th forward, but up with the big club nonetheless. Luke Adam:  Luke came out of the gate last season on fire but cooled off considerable in the second quarter of the year before being sent down to Rochester.  He also has the unenviable task of fighting for the most hotly contested roster spot, that being the role of the remaining unclaimed top 9 center.  Assuming Cody Hodgson, and Tyler Ennis fill two of the top three lines down the middle Adam will have to battle out for that remaining slot with rookies Mikhail Grigorenko and Zemgus Girgensons.  Luke has the advantage of 71 games of NHL experience under his belt, and if he can prove to Lindy Ruff that he can be more consistent than he showed early last year he may have a shot to stick around a bit longer this season. Marcus Foligno:  After the impressive showing Marcus put on the final month of the season it'd be hard to imagine him not in the lineup to start the season.  Still, he'll have to impress in camp as would anyone else with his tenure.  With his combination of size, skill, and fearlessness that produced 13 pts in 14 games, Foligno should be on the fast track to donning the crossed swords for the long haul. Mikhail Grigorenko:  Thanks to a late season illness that caused a drop in production, the talented Russian born center dropped right into the Sabres lap at the draft.  Fully recovered and armed with size, speed, and hands that had him ranked in the top 3 players in the draft by many pundits prior to his illness, Grigorenko is the true wildcard of this bottom 6 mix.  As stated before, Ennis and Hodgson can be penciled in down the middle, as can McCormick/Porter on the fourth line.  That additional center spot is up for grabs and after seeing the impact rookie pivots Adam Henrique, Ryan Nugent-Hopkins, and Sean Couturier had last season it isn't out of the realm of possibility for Mikhail to follow suit and take ownership of that final center slot. Zemgus Girgensons:  Assuming that currently unclaimed center role is on the line designated as the third line, Zemgus is actually the perfect candidate for that role long term.  A big bodied pivot who is equally happy to run over his opponents as he is to score on them, Girgensons is built in the mold of your prototypical third line center who can shut down opponents and chip in on the scoresheet.  However in the short term, it is much more realistic that Zemgus needs at least a year of seasoning in the Sabres system before making the jump to the NHL.  Despite having a tremendous year for the Dubuque Fighting Saints in the USHL, there is no precedent for a player jumping directly from the USHL to the NHL in successive seasons.  Girgensons certainly looks up to the part, but it is unlikely we'll see him with the big club this year. All of this competition for bottom six duty is a testament to the depth Darcy Regier has been building for this organization, and will certainly help yield stronger team than previous seasons.   As we saw last year with the New Jersey Devils and Los Angeles Kings in the finals, the bottom six guys had a huge impact in the playoffs.  Whether it was Dwight King, or Ryan Carter, many times star players cancel each other out and it's the teams with the better bottom line depth that advance in the post-season.  So while rumor mongers continue to throw out names like Doan and Ryan, I'll stick to debating the less sexy end of the forward corp.  When all is said and done, they may have the bigger impact.
Original Story:
http://www.queencitysports.net/2012/0...
THE BACKYARD
BEST OF MAXIM
RELATED ARTICLES
(Source: Dave Sandford/Getty Images North America) Buffalo, NY - With the signing of Patrick Kaleta now out the way, the Buffalo Sabres have one more key player to lock down for the future, restricted free agent Tyler Ennis. On Wednesday morning Sabres general manager Darcy Regier updated the current state of the negotiations with Ennis. "We spoke with his agent yesterday,"...
courtesy: Getty Images Buffalo, NY – At the start of the offseason there were plenty of fans and media members who felt that Patrick Kaleta's time with the organization was coming to end. However, as time went on it became more obvious that he was going to stick around. Now, he'll be here for at least a few more years as he signed a 3-year contract worth a reported $3.7-million...
This is the first of a 5-part audio series taken from a podcast that Joe Pinzone of Buffalo Wins recorded with me.  Each part will be a quick 5 or 6-minute segment discussing Sabres related topics. In today's clip, Joe tells me how underwhelmed he is about the Sabres re-signing Patrick Kaleta.     If you're having trouble with the player, just click here to listen.
Decision making time is getting close for five-star guard Tyler Ennis. The five-star guard has narrowed his list to five schools and will announce his choice soon.
(Courtesy: Associated Press) Buffalo, NY – Over the past few days there has been a lot of speculation that the Buffalo Sabres were one of the few teams scheduled to meet with veteran free agent Shane Doan. This morning, Sabres general manager Darcy Regier put those rumors to rest, for now. "No, we have not met with him (Doan)," said Regier. "I don't know whether we will...
NHL News

Delivered to your inbox

You'll also receive Yardbarker's daily Top 10, featuring the best sports stories from around the web. Customize your newsletter to get articles on your favorite sports and teams. And the best part? It's free!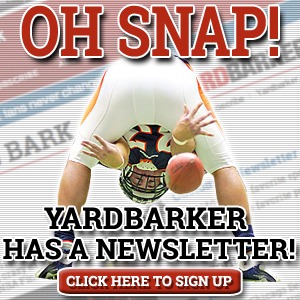 Latest Rumors
Best of Yardbarker

Today's Best Stuff

For Bloggers

Join the Yardbarker Network for more promotion, traffic, and money.

Company Info

Help

What is Yardbarker?

Yardbarker is the largest network of sports blogs and pro athlete blogs on the web. This site is the hub of the Yardbarker Network, where our editors and algorithms curate the best sports content from our network and beyond.