Found June 20, 2012 on NorthWest Sports Beat:
We first learned today via CKWX 1130 that Nicklas Jensen is looking to play in the Swedish Elite League next season if he in fact fails to make the Vancouver Canucks roster.
CKWX has learned that #Canucks #1 draft pick Niklas Jensen will play in Sweden next year of he doesn't make the Canucks.

— News1130 Sports (@News1130Sports) June 20, 2012
Jensen's agent Anton Thun tells CKWX that he has informed the Canucks and Oshawa Generals of the OHL.

— News1130 Sports (@News1130Sports) June 20, 2012
Thun tells CKWX that Jensen needs to play pro hockey next season as a 19 year old if he doesn't make the Canucks.

— News1130 Sports (@News1130Sports) June 20, 2012
This was confirmed a short while ago by Canucks GM Mike Gillis on Team1040 Radio. This is due in large part to the AHL's age minimum of 20 years.
Jensen will be 19 next season so isn't eligible to play for the Chicago Wolves, and would be forced to play another year of junior hockey.
Gillis said the Canucks are aware of the situation and fully support Jensen.
Listen to the full interview with Mike Gillis on Team Radio
here
.
Original Story:
http://www.nwsportsbeat.com/forums/va...
THE BACKYARD
BEST OF MAXIM
RELATED ARTICLES
The Draft Matters With the 2012 NHL Entry draft going down this week on June 22-23 at the CONSOL Energy Center in Pittsburgh, we thought we'd go back and take a look at some recent Vancouver Canucks draft picks since 2009 to predict who will crack the team's lineup, and help the squad in its ever growing quest to win a Stanley Cup. We give you 5 such players – The Young Canuck...
Earlier this week the Vancouver Canucks did the expected and tendered qualifying offers to restricted free-agent goalies Cory Schneider and Eddie Lack. There were some guys from last years roster that were in limbo. Marc-Andre Gragnani, Mike Duco, Victor Oreskovich and Ryan Parent. They had to be qualified or released by June 25. Quote: On Monday Gillis...
Mitch has been blogging faster than I can post lately. 'Mitch the blog machine' is what I call him. You can call him @Mitch_SBMedia on Twitter. Last week the Vancouver Canucks decided to take Mason Raymond to club elected "cut-down" arbitration. What's cut-down arbitration? You're asking that like last week was the first time you had ever heard the term. Well, if that's...
2012-2013 Canucks Opponents The 2012 NHL offseason is underway. We just had the (yawn) NHL awards. Did you hear a Sedin finished 9th in the running for a trophy? Ya. me too! Friday night the 2012 NHL draft gets underway, we'll be your source for all Vancouver Canucks analysis on Friday night during the first round. So check back often. Onto present matters. The 2012/13 National...
Remembering the Season We'd All Like to Forget… Before we start I trust you read Part 1 of my Canucks Moments In Time right? It features moments 10 -> 6. As we move towards the top five of our 2011/2012 moments in time countdown, we leave the goofy and get to the weighter moments of the year i.e. those brief glimpses when we as Vancouver Canucks fans felt something instead...
NWSB Insider and Vancouver Canucks blogger Richard Hodges weighs in with his top 5 matchups to watch out for this NHL season for the Canucks. The 2012 NHL schedule came out today. The NHL draft is tomorrow. It won't be long now till October is here right?! Richard predicts the Canucks will be back as Stanley Cup contenders once again, games versus Boston and Milan Lucic will be fun.
Per a story on ESPN Insider this week that suggests that Canucks are looking to find a replacement for Andrew Alberts, Keith Ballard, and Aaron Rome. Could they find that guy on the Islanders roster? Seriously? We'll see. The player mentioned is Dylan Reese. (UFA (2.2 GVT)) Quote: Though the 27-year-old has played just 74 NHL games, all on the questionable...
Swiiiing Batter Batter… Based off the Vancouver Canadians first five games of the season where they outscored the Spokane Indians 38-14, one may have considered just conceding the NW League Championship to the boys in red and white. Unfortunately for Manager Clayton McCullough, that's not how it works. They will have to do it the hard way but that means with the help of 11 returning...
from David Ebner of the Globe and Mail, It approached high noon in Las Vegas on Wednesday, the thermometer soaring towards 40 C, and Mike Gillis still had a somewhat-tattered ace in his hand: Roberto Luongo. "A lot of a different teams talk to us about a lot of different scenarios involving a lot of different people," said Gillis, general manager and president of the Vancouver...
from David Shoalts of the Globe and Mail, The NHL transaction wire had Mike Gillis smiling Tuesday and Brian Burke reaching for the Maalox. Gillis is laughing because now that Josh Harding signed a three-year contract with the Minnesota Wild there is one less potential No. 1 goaltender on the free-agent market. That leaves the Vancouver Canucks general manager with the best available...
from Kevin McGran of the Toronto Star, The draft, after all, is often the time for franchise-changing trades, the Leafs need a goalie and the Canucks are actively shopping Luongo around. The Vancouver Canucks, however, sounded Thursday like they wanted to kibosh that notion. Canucks assistant GM Laurence Gilman floated a few new ideas: that the Canucks might well hang on to Luongo...
I can't believe I'm letting Mitch write about Patrick O'Sullivan. He seems to be pretty passionate about him though. So lets give him a chance. Mitch, you've got some explaining to do! Disclaimer for those of you who are blinded with rage right now; I'm going to go a little off the board on this one here. I know that as soon as you see that name you think this is some...
Canucks News

Delivered to your inbox

You'll also receive Yardbarker's daily Top 10, featuring the best sports stories from around the web. Customize your newsletter to get articles on your favorite sports and teams. And the best part? It's free!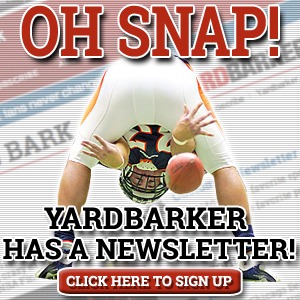 Latest Rumors
Best of Yardbarker

Today's Best Stuff

For Bloggers

Join the Yardbarker Network for more promotion, traffic, and money.

Company Info

Help

What is Yardbarker?

Yardbarker is the largest network of sports blogs and pro athlete blogs on the web. This site is the hub of the Yardbarker Network, where our editors and algorithms curate the best sports content from our network and beyond.