Found February 28, 2012 on Rob The Hockey Guy:
Mike Gillis sent shockwaves through Canuck nation on trade deadline day. In the biggest deal of the day, Gillis sent Cody Hodgson and Alex Sulzer to the Buffalo Sabres for Zack Kassian and Marc-Andre Gragnani. I think like a lot of people, I was immediately confused by this trade. So I sat down, weighed the pros and cons, looked at it from all angles and I still don't like it. Lets take a look at what the Canucks are getting: Zack Kassian Kassian is the key to the deal for the Canucks. He was the 13th overall pick in the 2009 draft and starred in the 2011 World Junior Championships for Canada. At 6'3″, 214 lbs, he's a big power forward and projects to be exactly what the Canucks need. He's mean and nasty and can score. He had 77 points in 56 games in junior last year and has put up very good numbers in the AHL (26 points in 30 games) as a rookie. He has only played in 27 NHL games with the Sabres this year, notching 7 points while averaging about 12 minutes of ice time per game. The Canucks are likely hoping that Kassian can be big, mean and provide a scoring touch, playing on their third line. If he's able to do that, he'll give the Canucks a dimension that they don't have currently. Of course, he's still a rookie so the jury is still out on whether or not he can carry the mail. I asked Eric Schmitz, a Sabres blogger at 3rd Man In, how he felt about Zack Kassian and here's how our conversation went: Rob: "You ought to be thrilled to get Cody Hodgson" Eric: "I definitely am. I'm very high on him, was hoping to get him in his draft year." Rob: "think you did ok with Myers" Eric: "Yeah, it worked out in the end I think hahaha" Rob: "do you think Kassian is ready to play full-time in the NHL right now?" Eric: "He has shown the skills. Great down low at defending the puck, good hands. Just rarely throws his weight around." So those are hardly rave reviews, especially when you consider that he hasn't scored a lot yet. Before speaking with Eric, I got the impression that Kassian was a big guy that wasn't ready to score at the NHL level yet, but was certainly ready to throw big hits. Marc-Andre Gragnani Gragnani is a 24 year old offensive minded defenceman playing in his first full NHL season. He has 12 points in 44 games this year, but first burst onto the scene late last year. Gragnani only played in 9 regular season games for Buffalo last year, but he had 7 points in 7 games in the playoffs. Gragnani averaged 22 minutes of ice time per game in last year's playoffs, good enough for third most on the Sabres. The question on Gragnani for me is if he was treated fairly this year. Was his drop in ice time unfair or was it warranted? The numbers would suggest to me that he should have been given more playing time, but high priced newcomers like Christian Ehrhoff and Robyn Regehr caused his reduced responsibility. Analyzing the Trade In many ways this is a bizarre trade, because people aren't sure if this is a trade for the future or a trade for the present. In my opinion, the best player in the deal is Cody Hodgson in the short term, and in the long term. He was more highly touted than Kassian as a junior player and has proven more at the NHL level. Hodgson has shown enough to believe that he is going to be a star player one day, and is a very useful player today. Kassian's ability for this season is undetermined, and long term is not a sure bet either. I hope that Mike Gillis believes that Zack Kassian will be a better player than Cody Hodgson in the long run, because that will determine the winner of this trade. In this trade, the Canucks have made a decision that they needed to go with a grittier, more defensive third line in the playoffs. I think Alain Vigneault would have been hesitant to play Hodgson as much in the playoffs, and I think they need a checking line. But to give up on Cody Hodgson to make this happen I believe is an unnecessary risk. Hodgson may not be your prototypical third line centre, but I think he could have learnt to play the wing, if that was the main concern. If you're going to trade a guy like Hodgson, I would have preferred to see players with fewer question marks coming back. In this trade, Mike Gillis has managed to make me less confident in the short term and the long term. But there is hope. The Canucks needed to get grittier and Zack Kassian certainly does that. They needed to get more depth on defence, and they did with Gragnani. Sami Pahlsson, acquired earlier from the Blue Jackets, will determine the success of this trade in the short term, as he will likely take over the third line centre spot. If Pahlsson is a better all-around third line centre in the playoffs than Hodgson would have been and if Gragnani can improve their defence and if Kassian can play on the third line, then the Canucks will have a better chance to win the Stanley Cup. And if the Canucks can win the Stanley Cup in 2012, nothing Cody Hodgson can do will make Mike Gillis regret the trade.
Original Story:
http://www.robthehockeyguy.com/2012/0...
THE BACKYARD
BEST OF MAXIM
RELATED ARTICLES
Kassian/Hodgson Trade Reaction At about 1pm this afternoon, much like the vast majority of Canucks Nation, following the Cody Hodgson trade I was about ready to take one big step off the top ledge of the highest and handiest, nearby building. However, it was a little crowded up there. So then I thought, heck I have some time to wait here while the other jumpers paraded by, why not...
Trade #2… Today on NHL Trade Deadline day the Vancouver Canucks have made their second move of the day. It's a blockbuster folks. They've acquired Zach Kassian and Marc-Andre Gragnani for Cody Hodgson and Alexander Sulzer. Earlier today in trade #1 the Canucks acquired Sami Pahlsson for a couple fourth round draft picks. This is a stunner folks. Kassian is a big winger but...
Big news here. Zack Kassian and Marc-Andre Gragnani have been traded to Vancouver. The Buffalo Sabres get Cody Hodgson and Alex Sultzer in return. Ray Shero will speak at 4:15 about the Pens situation.
The Buffalo Sabres have acquired rookie center Cody Hodgson in a trade with the Vancouver Canucks in exchange for rookie forward Zack Kassian. As part of the deal, the teams also traded defenseman with Buffalo sending Marc-Andre Gragnani to Vancouver in exchange for Alexander Sulzer. The deal was announced by Sabres general manager Darcy Regier on Monday, and reached shortly before...
Article Player Stats Article In perhaps the most surprising deal on trade deadline day, the Vancouver Canucks acquired forward Zack Kassian from the Buffalo Sabres in exchange for rookie forward Cody Hodgson. The two teams also swapped blueliners, with Marc-Andre Gragnani heading to Vancouver and Alexander Sulzer going to Buffalo. Canucks Perspective The 6-3, 214-pound...
It was half hour after the trade deadline had officially passed, and there were rumblings of a big deal with Vancouver Canucks, however no one expected that the other team in that deal would be the Buffalo Sabres – but that's exactly what it was. The Sabres have dealt Zack Kassian and Marc-Ande Gragnani for Cody Hodgson and Alexander Sulzer.  This trade coming in addition to...
Yes, I panicked yesterday with trying to get Q&A's out to Vancouver writers. I emailed everyone who was a mothercanucker! So, I got two questionnaires back about Cody Hodgson. You saw yesterday's version and now you get another one from the good folks over at our sister's website for bloguin, the Benched Whale. It is the same questions I asked yesterday about Cody...
AP By Adam Graham (@adam_graham) On the most overhyped day of the year in the NHL, there were very few deals that raised even fewer eyebrows, except for in Vancouver. This is the home to the one and only deadline deal that shocked the hockey world in 2012. The Vancouver Canucks dealt their prized rookie Cody Hodgson and defenseman Alexander Sulzer to the Buffalo Sabres for a tough...
NHL News

Delivered to your inbox

You'll also receive Yardbarker's daily Top 10, featuring the best sports stories from around the web. Customize your newsletter to get articles on your favorite sports and teams. And the best part? It's free!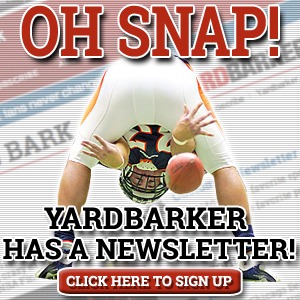 Latest Rumors
Best of Yardbarker

Today's Best Stuff

For Bloggers

Join the Yardbarker Network for more promotion, traffic, and money.

Company Info

Help

What is Yardbarker?

Yardbarker is the largest network of sports blogs and pro athlete blogs on the web. This site is the hub of the Yardbarker Network, where our editors and algorithms curate the best sports content from our network and beyond.