The Hurricanes might be out of the playoffs but they did release some very good news earlier in the week as the team has signed Brian Dumoulin to an entry-level contract. Dumoulin is rated the team's fourth best prospect and numerous scouts have said that he is NHL ready as of right now so it is very possible that he could be playing in Raleigh next season. What does this mean for the rest of the defense corps, though? Carolina has five defensemen under contract next season with Jaroslav Spacek and Bryan Allen becoming unrestricted free agents and Jamie McBain being a restricted free agent. McBain will likely be retained but there is also talk that Allen might be re-signed, as well. Should that happen, that means Carolina will have essentially the same defense next season as they did last year but things could easily be very different if both Dumoulin, Ryan Murphy and even Bobby Sanguinetti are impressive enough in training camp to make the team.  That's when you realize that there's a lot to be excited about with Carolina's defense even though it's in pretty bad shape right now. With Justin Faulk leading the way this year, the Canes could be seeing a massive youth movement on their blue-line as soon as next season. Is letting the kids play the right way to go or should the Canes let Dumoulin & Murphy ease their way in? After the jump, we'll talk about that and look into how different the Hurricanes defense might be come October. First, let's take a look at the defensemen that the Hurricanes have under contract for next season. This is what their D would look like assuming that they keep none of their free agents. Salary numbers courtesy of Cap Geek. Pitkanen ($4.25 mil) - Gleason ($3.5 mil.)
Faulk ($790k) - Harrison ($750k)
Joslin ($750k) - ??? That open spot could probably be filled by either Brian Dumoulin or Ryan Murphy next season but even then, this is not a defense I would be 100% confident in. It's possible that Faulk could play the shutdown role with Gleason but Jim Rutherford is going to have to spend money on some kind of defensive d-man next season if he wants the D from this year to improve. Whether or not that means re-signing Bryan Allen or finding another shutdown guy who can be moved throughout the lineup remains to be seen. Also, I think that Derek Joslin is going to find himself in the AHL or on the waiver wire next season. I like that we kept him on the team this year to prevent losing him through waivers, but he didn't play well at all. It didn't matter where he was playing, the opposing team always got more shots and chances whenever Joslin was on the ice and that was with sheltered minutes. I think it is safe to say that he won't be on the team full-time next season. That would leave two spots open, but let's change the scenario a little bit. This is what the defense would look like if McBain was re-signed and with one of Dumoulin or Murphy on the team. Pitkanen - Gleason
Faulk - Harrison
McBain - Murphy/Dumoulin Obviously, the d-pairings won't look like that but this is just a hypothetical situation. This d-corps isn't as bad as the last one but it still wouldn't have me very confident in the team's defense. Gleason would essentially be the only true shutdown defenseman on the team and either one of Faulk, Harrison, Pitkanen or McBain will have to step up in a shutdown role. We saw a glimpse into the future towards the end of the season with Faulk and Gleason playing together but I still don't know if Faulk is ready for a tough minute role yet. He will be one day but at only 20 years old he might be better suited on the second pairing. Dumoulin might be the wild card in all of this because he was known as a shutdown defenseman at Boston College and it certainly seems like he's ready for the big leagues but he's still only 20. We see players enter the league at younger ages but defensemen take awhile to adjust to the NHL and not everyone can make the jump in their early 20's like Victor Hedman and others have. I do think that Dumoulin has a very strong chance to make the team next year if he has a good camp, though. He's already signed his entry level deal and Carolina should look to get the most value out of his contract. Ryan Murphy, on the other hand, is a different story. He only turned 19 a month ago and still has the option of playing another year in junior, which could be the best for him. Murphy is going to be a great defenseman but he's still primarily an offensive threat and could use some time working on his overall game. Now, there's a good chance that Murphy might be ready as soon as next year but he needs to be one of the six best d-men on the team to justify keeping him up. Why? Because keeping him in junior hockey means that he doesn't burn a year off his entry level contract which helps Carolina save money now and down the road. I'm not sure how much Murphy's two-way game has progressed but with three offensive-minded guys already on the team, I think it would be in Carolina's best interest to keep him in junior unless he dominates in camp or if McBain looks awful. So, let's say that Pitkanen, Gleason, Dumoulin, Faulk, Harrison & McBain are the six defensemen who make the team next year. Is that enough? It's not horrible but I think the Canes need to look to add another defensive defenseman, which can be easily done by signing Allen to a one year deal. The problem is that Allen probably wants a longer contract and I don't know if the Canes can afford to give him one. There are too many defensemen in the Hurricanes system to committ any kind of long-term money to someone who isn't Pitkanen or Gleason. That's something to be concerned with for next year, but also something to be excited about for the team's future. None of our defensemen under contract for next year are over 30 years old, which shows that the team is getting younger and there's still a lot of promising young defensemen in the Hurricanes' system who haven't even been mentioned in this article yet. Mark Alt, Danny Biega, Keegan Lowe and Austin Levi are all making progress in their development and actually might have a chance of making an NHL roster somewhere, even if it isn't in Carolina. We are going to see a lot of newer, younger faces show up in Carolina's defense corps over the next couple of years and it's definitely something to be excited about as Rutherford is making progress with this rebuild. As for next year and who will replace Bryan Allen if he leaves, that's another issue for another day.
Original Story:
http://www.shutdownline.com/hurricane...
MORE FROM YARDBARKER
NHL News

Delivered to your inbox

You'll also receive Yardbarker's daily Top 10, featuring the best sports stories from around the web. Customize your newsletter to get articles on your favorite sports and teams. And the best part? It's free!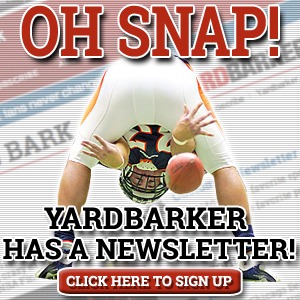 Latest Rumors
Best of Yardbarker

Today's Best Stuff

For Bloggers

Join the Yardbarker Network for more promotion, traffic, and money.

Company Info

Help

What is Yardbarker?

Yardbarker is the largest network of sports blogs and pro athlete blogs on the web. This site is the hub of the Yardbarker Network, where our editors and algorithms curate the best sports content from our network and beyond.