Found September 27, 2013 on Fantasy Sports Locker Room:
Chris Meaney on P.K. Subban at 1 in his 2013-14 Fantasy Hockey Defense Rankings Last year P.K. Subban won the Norris Trophy with a league high 38 points in 42 games, but Erik Karlsson missed most of the season and the year before last, he posted 78 points in 81 games. Why should anyone even consider P.K. over a point per game D-man in Karlsson? P.K. Subban is a stud. The reason he is a better fantasy player than Karlsson and Letang is because of the penalty minutes he racks up. Last year he had 57 penalty minutes compared to only eight from Letang. When Karlsson won the Norris in 2011-12 he finished with 78 penalty minutes, while P.K. pretty much racked up that many penalty minutes last year with his eyes closed. This isn't about which offensive defensman is better, it's about which defensman is the better fantasy player.  Karlsson may have the edge in points, but it doesn't come close when comparing other stats like PIM's and hits. The Canadiens powerplay has been in the top 5 for the past five years and P.K. adds to it with a rocket shot from the point.   Mark Streit has always been solid at quarterbacking a powerplay and this year will be no different. He will use his heavy shot and puck vision to make himself a better fantasy defensemen than most. (Elsa/Getty Images North America) Mike Omelan on Mark Streit at 10 in his 2013-14 Fantasy Hockey Defense Rankings   From a Hab, to a former Hab… why do you think Mark Streit will crack the top 10 in terms of fantasy defensemen this year? The Flyers had a pretty disappointing season last year and I think that will change. Philly is capable of putting up a ton of points and I think Streit is in for quite the productive year. Top pairing in Philly plus quarterbacking the powerplay unit? Success! He is in for a ton of points running the pp with Claude Giroux.   Esten Mclaren on Tobias Enstrom at 10 in his 2013-14 Fantasy Hockey Defense Rankings You're the only one to have Tobias Enstrom ranked inside the top 10, Why do you like him over say Duncan Keith who you have at 12. Enstrom's career 0.54 PPG mark is substantially better than Keith's 0.51. Enstrom is also two years younger, and at 28 is just entering the standard peak age. We have already seen the best of Duncan. We haven't seen the best of Enstrom yet.   Andrew Reid on Sergei Gonchar not in his 2013-14 Fantasy Hockey Defense Rankings You and Esten failed to rank Sergei Gonchar inside your top 70. How come fantasy hockey enthusiasts should look elsewhere when filling in their defensive positions? Gonchar is well past his prime, and hasn't produced terrific numbers in years. Although not always significant, he's not played a full slate of games since 2006 (and he's not getting any younger as he nears 40); over the past four years he's only produced a positive plus/minus once (and it was a +4). Even with a shortened season last year, Gonchar looked tired and out of place through a lot of the playoffs. I just personally don't want him on my squad.    Chris Meaney on Brent Burns at 10 in his 2013-14 Fantasy Hockey Defense Rankings Don't you think Brent Burns ranked as the tenth best defensemen is a bit much? He has never been inside the top ten over the course of his career? So why should he be considered a top fantasy player now? Brent Burns has been discussed as a bust and he has been discussed as a sleeper. but he should be discussed as a top five in terms of fantasy defensemen. The reason is simple – draft him as a defensemen late and you get an offensive defensmen who plays forward with Joe Thornton. He was tried out on a line with Big Joe last season and he piled up 20 points in 24 games. Burns will have no problem keeping up with the fantasy scoring, he  is a natural forward to begin with. Share your thoughts in the comments below and make sure to check out Our 2013-14 Fantasy Hockey Left Wing Rankings Our 2013-14 Fantasy Hockey Right Wing Rankings Our 2013-14 Fantasy Hockey Center Rankings The post 2013-14 Fantasy Hockey Defense Rankings Discussion appeared first on Fantasy Sports Locker Room.
Original Story:
http://lockerroomfantasysports.com/20...
THE BACKYARD
BEST OF MAXIM
RELATED ARTICLES
PK Subban of the Montreal Canadiens is the #3 defense points-only hockey pool pick. He is a Canadian born player who is 24 years old. He had a breakout season last year, winning the Norris Trophy as the league's best defenseman. He is likely to continue his torrid pace because this is the last season of his contract and he is going to get a huge raise if he has another stellar season. A
The Canadiens are no longer the consistent Stanley Cup winners they were throughout the NHL's history. Habs fans everywhere have been anticipating the next great Cup run, even though they won't admit that their team may not necessarily be the best. Since their last Stanley Cup in 1993, the farthest the Canadiens have gone in the playoffs is to the Conference Finals in 2009-2010...
Habs Captain Brian Gionta among veterans under pressure as prospects continue to climb the ranks. By Matthew Macaskill (@MTLMacaskill) If the preseason has indicated anything, it's that the future of the Montreal Canadiens is not that far from present. Veterans entering the twilight of their career find themselves more frequently checking their rear-view, where objects in the mirror...
Tomas Plekanec's second-period goal and a strong performance by Carey Price gave the Montreal Canadiens a 3-1 victory over the visiting Ottawa Senators on Thursday night. Alex Galchenyuk and Max Pacioretty also scored for the Habs, while Price made 29 saves. Cory Conacher scored for Ottawa. Craig Anderson stopped 22 shots. This was Montreal's second game in as many days...
We're preparing for the 2013-14 NHL season by looking ahead at some of the league's prestigious individual awards. Earlier, we made our prediction for the Vezina Trophy. Now let's discuss the James Norris Memorial Trophy. Last season, PK Subban of … Continue reading →The post NHL Awards Predictions: The James Norris Memorial Trophy appeared first on Committed Indians.
Canadiens News

Delivered to your inbox

You'll also receive Yardbarker's daily Top 10, featuring the best sports stories from around the web. Customize your newsletter to get articles on your favorite sports and teams. And the best part? It's free!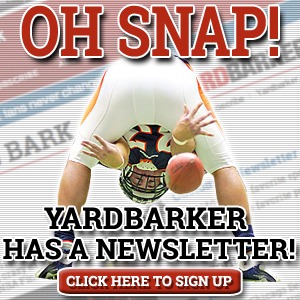 Latest Rumors
Best of Yardbarker

Today's Best Stuff

For Bloggers

Join the Yardbarker Network for more promotion, traffic, and money.

Company Info

Help

What is Yardbarker?

Yardbarker is the largest network of sports blogs and pro athlete blogs on the web. This site is the hub of the Yardbarker Network, where our editors and algorithms curate the best sports content from our network and beyond.