Found October 30, 2011 on The Rangers Tribune:
There are 101 things you can point to when assessing why the New York Rangers appallingly collapsed on a 4-1 lead in the second half of the third period yesterday against the Ottawa Senators; a game which New York ended up losing 5-4 in the shootout. Instead of looking at the club's problems individually, you have to look at the grand scheme of things, and there's been a developing pattern in the last few losses. The team mentality is not where it needs to be, and clearly everyone is not on the same page in the locker room. Typically, when you encounter problems such as this, you turn to the coaching staff and the leadership on the club to stabilize everyone and make sure each player is walking to the same beat. 
Starting with head coach John Tortorella, he is partially at fault for Saturday's collapse. After the Rangers made it 4-1 as Brad Richards scored his second goal of the game, the Rangers "exhaled" as Ryan Callahan put it, and they sat back on their lead. With the defense in the state that it is right now, they couldn't have made a more foolish decision than that. This team is not capable of sitting on a lead and would've been in much better shape had they maintained their offensive pressure and continued to push for more goals. 
That's the message Tortorella should have conveyed to his players on the bench and he failed to do that. The reason the Rangers never once gave up a third period lead last season was because of their consistent effort for the entire sixty minutes, not fifty. This is something Torts has preached since he became coach, but why he could not get that message through to his players yesterday is puzzling. 
Also, once Jason Spezza cut the score to 4-2, there absolutely should have been a timeout called. And if not then, Torts had another opportunity to do so when Spezza scored again to make it 4-3. Instead he left the team to fix things themselves, which I think any of us could have told him ahead of time that would result in the Sens tying the game, then had the nerve to criticize the team after the game for not battling to the final buzzer.
John Tortorella did an excellent job getting the team into a groove last season and I gave him a bundle of credit for that. But so far this season, Torts has fallen short of expectations behind the bench. I know that's an unconventional way of analyzing the coach, but I've always viewed the coach as another part of the team, and right now Tortorella is not producing as he should. 
Tortorella shouldn't receive all of the blame that the fan base is putting on him right now, though. Sure, he should be held accountable for certain things, but it's not completely his fault that the team is 3-3-3 through their first nine games. It is my belief that, in addition to the coach, some accusation has to go in the way of the leadership when the team repeatedly comes out flat or coughs up leads. And to be clear when I say this, I am not only referring to Ryan Callahan, Brad Richards and Dan Girardi since they are the only players wearing a C or an A.
There are plenty of impactful voices in that locker room, as you will discover once the cameras start rolling for HBO's 24/7 segment in December. The impactful voices, however, have been everything but impactful so far. Following the second period of Thursday's home opener, which was embarrassing to watch from the stands, someone should have gotten up in the room and ripped the entire team to shreds. There was no excuse for the pathetic excuse of hockey that we were forced to witness the team play that night, and someone needed to step in and get the boys fired up, or to put it more bluntly, get their heads out of their asses. 
And who knows, maybe someone did say something of significance between periods, but we wouldn't know that. And if someone did, they didn't get through to their teammates. In fact, they wasted everyone's time because the Rangers played even worse in the third period than they did in the second that night.
Look, many fans are viewing this ugly start as the end of the world. The Rangers are nine games into an 82-game season, and as of late, there have been some positives to pull out of these losses. For example, in Saturday's match with Ottawa, Brad Richards finally showed us the player he could be and looked to have some chemistry with Brandon Dubinsky and Ryan Callahan. Also, Marian Gaborik continued his stellar play, picking up another goal and two assists. And the powerplay - it finally showed some life.
The Rangers have had different aspects of their game going for them at different times. As of now, they have not yet been able to pull it all together and get everything moving in one swift direction. That's not something you can necessarily practice, either.  But I think once everyone in the room has the same mentality and the Rangers begin to overcome adversity and never have to look at their effort as a problem, everything else will start coming together.
This is where the coaching staff and leadership on the team come into play, because they are the ones that must lead the way to achieving the above goals. There needs to be motivation, there needs to be a desire to win and everyone on the squad needs to have the same understanding of that concept. That's how it was in 2010-11, and the product was one of the proudest seasons we have ever watched as fans. 
Original Story:
http://www.rangerstribune.com/the-ran...
THE BACKYARD
BEST OF MAXIM
RELATED ARTICLES
Here are the highlights about why the Rangers decided to re-call Sean Avery (or at least, put him on re-entry waivers). Will have audio in a few minutes right below this: John Tortorella: Why Avery now? "Rupper. Rupper has a lot to do with this. We're concerned about this. So we have to be careful there. Not sure what's going to happen. There's a couple other things...
First, he did not give out his lineup, or his lines, saying he wasn't sure. (Andrew Gross loves when he says that, LOL). But he said it will probably be the same lineup as the home opener. He did say that Mike Rupp (knee) remains out. I asked him a few questions about the possible breaking-up of Brad Richards and Marian Gaborik—at practice yesterday Gaborik played with Erik...
The New York Rangers are known for their consistently inconsistent offense.  One thing you can always count on when the team fails to score is that coach John Tortorella will put the lines in the blender and start over again, which he did today at practice. Katie Strang of ESPN New York tweeted the lines: Wolski-Christensen-Gaborik Dubinsky-Richards-Callahan ...
The Rangers' effort in their 2011-12 home opener against the Toronto Maple Leafs on Thursday was disgraceful. Actually, maybe I am wrong in using the word "effort" to describe what happened that night because there simply was no effort beyond the first period of play. From top to bottom, everything with the Blueshirts' game was ugly, even the goaltending, which...
John Tortorella may be impatient over Brad Richards' lack of chemistry with Marian Gaborik, but as Saturday's 5-4 shootout loss to the Ottawa Senators demonstrated, the Rangers have bigger problems.
Ryan Callahan scored twice in New York's three-goal second period, and the Rangers shook off a blown lead and raced past the surging San Jose Sharks, 5-2, on Monday night.
(10-31) 18:40 PDT New York (AP) -- Ryan Callahan scored twice in New York's three-goal second period, and New York shook of a blown lead and raced past the surging San Jose Sharks 5-2 on Monday night. The Rangers (4-3-3)...
You can bet that John Tortorella never told Jim Dolan, "I can't say we definitely want [a Brad Richards-Marian Gaborik combination] to happen," when lobbying the Garden CEO in May and June to invest $60 million over nine years to sign the blue-chip free agent center specifically to combine...
I had some expectations for this Rangers team this season. It's a team that made the playoffs last year and essentially replaced the aging injury riddled former captain Chris Drury with superstar center Brad Richards. Henrik Lundqvist is the best goalie in the world, our young home-grown guys like Ryan Callahan and Brandon Dubinsky were [...]
NEW YORK (AP) - Ryan Callahan scored twice in New York's three-goal second period, and New York shook of a blown lead and raced past the surging San Jose Sharks 5-2 on Monday night. The Rangers (4-3-3) led 2-0 in the first period but squandered...
The Rangers gave themselves a blueprint for how to hold a lead in their first home victory of the young season: Get everyone involved. Four Blueshirts registered at least two points, led by captain Ryan Callahan (two goals, one assist), as the Rangers (4-3-3) snapped a two-game skid with a 5-2 win over San Jose (6-4-0) at the Garden. In the process, they ended a five-game winning...
When the Rangers signed him to a nine-year, $60 million deal, center Brad Richards was supposed to be the missing piece of the puzzle that fit next to right wing Marian Gaborik. So far, however, he has fit like a square peg in a round hole.
NHL News

Delivered to your inbox

You'll also receive Yardbarker's daily Top 10, featuring the best sports stories from around the web. Customize your newsletter to get articles on your favorite sports and teams. And the best part? It's free!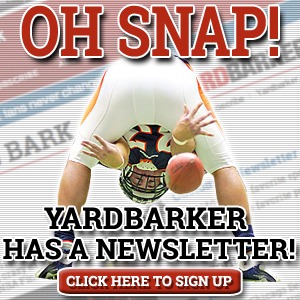 Latest Rumors
The Backyard

Today's Best Stuff

For Bloggers

Join the Yardbarker Network for more promotion, traffic, and money.

Company Info

Help

What is Yardbarker?

Yardbarker is the largest network of sports blogs and pro athlete blogs on the web. This site is the hub of the Yardbarker Network, where our editors and algorithms curate the best sports content from our network and beyond.