Found July 14, 2012 on NY Rangers Blog:
Columbus Blue Jackets GM Scott Howson explains to TSN what he's looking for in return for Rick Nash..."If we do complete a trade, we're trading out a 30 to 40 goal scorer," said Howson. "Defence is probably the strongest part of our team if we look at it today, so we're looking to get some NHL forwards back first and foremost."...fine, Dubi and AA for Nash. Done. I'll even throw in Christian Thomas for good measure.Howson also discussed Nash's value to the Blue Jackets..."I have a value that I've placed on Rick and that our whole organization has placed on Rick," Howson said. "He's an elite player, he's been a tremendous ambassador for our franchise and our city and we're very comfortable with the value we've placed on him and until we get that value, we're going to keep working away at it."...sorry to break the news to you Howson. You're not getting equal value back. He better trade Nash soon or...
Original Story:
http://nyrangersblog.com/2012-article...
THE BACKYARD
BEST OF MAXIM
RELATED ARTICLES
Rick Nash asked for a trade in January. He was not dealt at the trade deadline in February, nor at the draft in June. Now it's nearly two weeks into the free agency period with Zach Parise and the bulk of the options for scoring help up front off the market, and Nash still remains property of the Columbus Blue Jackets. How could such an elite player be up for grabs this long...
As Dave noted last week in our ongoing discussion about Rick Nash, it's very possible that Nash wouldn't be the only Blue Jacket coming back to the Rangers in a potential blockbuster trade this summer. There have been wide-ranging reports of Columbus GM Scott Howson's trade demands, but the general consensus seems to be that he wants a couple of NHL forwards, a top prospect...
It's a new day, which means that it is time for your daily, "Rick Nash trade talks are going absolutely nowhere," update. From Blue Jackets' beat writer Aaron Portzline: "The Blue Jackets are still trying to trade captain Rick Nash, but the last few days have been exceptionally quiet between Jackets GM Scott Howson and his potential trade partners... what...
Kevin McGran at the Toronto Star reports that the Rangers organization would have been gutted if they traded for Rick Nash at the trade deadline..."Other teams, notably the Rangers, refused such high demands at the trade deadline. It was noted recently to the Star by one Ranger front-office employee that Howson wanted so much, the Rangers would look like the Blue Jackets by...
The NHL trade deadline came and went in late February, and so did the NHL draft in late June. The start of NHL free agency is now getting smaller and smaller in the rear view mirror, but Rick Nash -- who requested a trade in January -- is still a member of the Columbus Blue Jackets. How much longer can this go on? Blue Jackets GM Scott Howson remains resolute, insisting he won...
The Bruins would love to acquire Rick Nash from the Columbus Blue Jackets. The 28-year-old forward wouldn't mind going to Boston either, as the Bruins were one of six teams on Nash's preferred trade list. The problem facing the Bruins -- as well as the Red Wings, Rangers, Flyers, Penguins and Sharks, who are the other five teams on the list -- is that Blue Jackets general...
If the Columbus Blue Jackets pull the trigger on a long-rumored Rick Nash trade, GM Scott Howson has said he wants "NHL forwards" back Continue reading →
As Columbus Blue Jackets fans waitand waitand wait for a resolution to the Captain Rick Nash trade saga, there are a couple other Blue Jackets players who fans can focus on momentarily. Oh, and one non-NHLer whose story of an ECHL tryout after a double-lung transplant resonates loudly with any hockey fan and player. Blue Jackets wingers and agitators Jared Boll and Derek Dorsett...
Aaron Portzline at the Columbus Dispatch wonders if a training camp holdout would be an option for Rick Nash if he's not traded this offseason....that would be an absolutely nightmare scenario for Columbus and their GM Howson. They'd lose what little leverage they might actually still have and the Rangers would probably be able to get Nash for some 1994 memorabilia.In other...
Just wanted to give everyone a heads up that I will be out of the country on vacation for the next five days and will not be updating the blog, unless something major happens such as a Rick Nash trade for example (I highly doubt that it will).  Also, when I get back, I will be on the hunt for fans out there that are interested in writing for the blog during next season. I will...
Besides a few, rather small signings there hasn't been much news for the Bruins this off-season. Could this be a sign of something big to happen? As mentioned in my previous posts the Bruins need that scoring punch. They need that guy who can consistently put the puck in the net. Rumors have it that we are still in the Rick Nash hunt, but in my opinion Nash isn't worth what...
  While some players, particularly power forward Rick Nash, don't want to play hockey in Toronto because they feel their every move will be scrutinized, James van Riemsdyk can't wait to become the centre of attention for the Maple Leafs, literally. The 6'3″, 200 pound forward spoke to reporters in Toronto on Wednesday for the [...]
Blue Jackets News

Delivered to your inbox

You'll also receive Yardbarker's daily Top 10, featuring the best sports stories from around the web. Customize your newsletter to get articles on your favorite sports and teams. And the best part? It's free!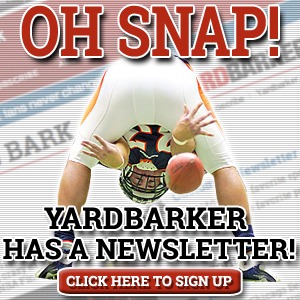 Latest Rumors
Best of Yardbarker

Today's Best Stuff

For Bloggers

Join the Yardbarker Network for more promotion, traffic, and money.

Company Info

Help

What is Yardbarker?

Yardbarker is the largest network of sports blogs and pro athlete blogs on the web. This site is the hub of the Yardbarker Network, where our editors and algorithms curate the best sports content from our network and beyond.