Found June 17, 2012 on The Sports Headquarters:
PLAYERS:
Jonathan Quick
,
Jarret Stoll
,
Dustin Penner
,
Martin Brodeur
,
Johan Hedberg
,
Josh Harding
,
Zach Parise
,
Ilya Kovalchuk
,
Adam Henrique
,
Adam Larsson
TEAMS:
Los Angeles Kings
,
New Jersey Devils
,
Minnesota Wild
,
Toronto Maple Leafs
Congratulations to the 2011-2012 Stanley Cup Champion Los Angeles Kings!  I don't think anyone really expects to see a team dominate their way through a postseason the way the Kings did…and they did it as an 8th seed.  Kudos to the entire organization, from the top all the way down to the bottom.  They were patient building this team and knew when to make a splash with some deadline acquisitions to try a serious run at the Cup.  This strategy, of course, worked.  Now they have the summer to celebrate with the world's greatest trophy. Goalie Jonathan Quick without a doubt deserves the praise he's been getting.  He was a brick wall from Game 1 against Vancouver to Game 6 against the Devils.  But to give him too much credit cheapens what the rest of the team did in front of him.  There is no doubt that he is a stud goalie, but a strong defense in front of him allowed him to produce at his full potential.  Quick is not going to be beaten near the goal mouth and on low shots.  LA did a fantastic job of understanding their goalie's strengths and weaknesses and then playing a style that complemented them well. While their defense and many of their forwards will still be under contract going into next season, a few players head into the offseason as free agents.  The most notable free agent is Jarret Stoll.  He was a very good third line center who could play solid minutes and chip in a goal here and there.  This is no knock on Stoll, because he is what he is, but his value right now is exaggerated.  Had his team not won the Cup, he'd be seen as a decent player who wasn't worth nearly as much as his $3.6 million cap hit given his production over the last few years.  But give him a Cup, and he's suddenly "the guy you need on your team to win."  It happens every year: a third line player goes on a surprising tear late in the playoffs.  Now fans from all over the league are willing to pay whatever it takes to get the guy on their team without realizing they've already got several players who can do the same job.  Bottom six "energy" players win Stanley Cups because pretty much every club in the league has those types of guys on their team.  Stoll might be able to get back to a more offensively productive role in the right circumstances, but I wouldn't want to give him more than $2.5 million a year, especially if he's not expected to play in the top six. The other interesting free agent is Dustin Penner.  He had a forgettable regular season this year before posting a respectable 11 points in 20 postseason games.  In years prior to that, he's had mixed results in production, including some that caused him to receive criticism from his coach in Edmonton about his play and conditioning.  Penner is in need of a new contract, but I'm not sure anyone's going to match his previous $4.25 million cap hit courtesy of a Kevin Lowe offer sheet several years back.  I liked what I saw from him in the playoffs.  He was skating well and seemed very motivated.  At 6'4" and 245 lb, he has power forward written all over him and could be signed to a relatively cap friendly contract to a team looking to improve in size up front. I don't want to forget to bring up the New Jersey Devils in this.  They deserve congratulations on a heck of a run in the playoffs.  Like the Kings, no one really expected them to play that far into the playoffs, but it only shows once again that the games are played on the ice, not on paper.  The Devils have a few more question marks this offseason than the Kings do, including two players that represent the face of the franchise.  There's plenty of cap space to go around, but that's mostly because they only have 13 players under contract for next season. Martin Brodeur is, well, old.  It looks like he will likely resign for another year with the team, and I would hope at a decent cap hit for the Devils.  But at this point, the Devils need to focus on who they're looking at to take over the reins in net when Brodeur decides it's time to hang them up.  There are some decent goalies in their system, but with Johan Hedberg also a UFA and 39 years old, they might want to look at a 2 to 3 year band aid before a prospect is NHL ready (or they decide to make a move to acquire an NHL goalie).  That said, I think that Josh Harding could be a good fit for the Devils, and a cheap one at that if the Wild decide not to resign him. Zach Parise is the big question mark.  As I mentioned earlier, the Devils currently don't have many players under contract, and after next season, Ilya Kovalchuk is the only contracted forward on the team (pending all signings to come, of course).  With the cap likely increasing to just over $70 million next year, there will be money to spend, and the Devils won't be able to win a bidding war with another team or two, especially if Brian Burke decides that he'll mortgage the Maple Leafs' present, future, and even past to get Parise.  I really don't see Parise in a Devils uniform next year.  With the Brodeur era to be over soon and so much roster turnover likely to happen, New Jersey might be looking to start with a relatively clean slate in the next few years, especially with young talent like Adam Henrique and Adam Larsson being the future of the club. It was a great season this year and we should all be looking forward to an intriguing offseason.  In the next few days, I'll give a preview of what I think some players and teams will do this offseason.  And remember, don't blink…it's only two weeks before the July 1st free agency period begins.
Original Story:
http://feedproxy.google.com/~r/TheSpo...
THE BACKYARD
BEST OF MAXIM
RELATED ARTICLES
DEVIL IN THE DETAILS
As the Los Angeles Kings tossed their gloves into the air and prepared to hoist the franchise's first ever Stanley Cup trophy, they left one important piece of history behind on the ice. And it appears that a New Jersey Devils player may be in possession of the historic keepsake. Devils forward Patrik Elias is the most likely suspect in the case of the missing puck. Elias, a...
Back in 2004, Doug Mientkiewicz was accused of "stealing" the game ball that recorded the final out of the Red Sox' first World Series win in 86 years.  It took eighteen months, but the story finally blew over – once Dougie permanently "loaned" the ball to the Baseball Hall of Fame on behalf of the [...]
Congratulations to the Los Angeles Kings and their Stanley Cup. I hadn't got a chance to say that on this site quite yet, and I offer many apologies for that fact. Since I have been working on a Los Angeles Kings/Star Wars motif for about 4 years (I think), the only way to properly show how happy I am for you is with a celebration.  Of course, now that the post season is over...
The Los Angeles Kings say they are missing the puck that was on the ice when the franchise won their first Stanley Cup.  Rich Hammond of LA Kings Insider believes New Jersey's Patrik Elias has the puck.   "The following video of the last two minutes of the game, and the ensuing celebration, clearly shows New Jersey's Patrik Elias flip the puck into his glove and then...
I honestly had no idea it would be like this. I figured the Los Angeles Kings would win the Stanley Cup and I'd be blogging non-stop about it until training camp starting in September. Don't get me wrong... this feeling I've had for the past 6 days is unlike anything I've ever experienced in my 25 years of being a fan of the sport of hockey. It's the perfect mixture...
Kinda disappointed this morning with the Stanley Cup champion L.A. Kings and their party yesterday at MGM Grand's Wet Republic. Just when you figure there will be multiple photos of bikini tramps drinking exotic bottled water from Lord Stanley, the Kings go and have a massive sausage party. And we're even more disappointed that the boys are all in a private pool without a bikini...
Wow! Nice slight to the Los Angeles Kings and their Stanley Cup victory. "We will probably be over the Laker's victory parade, Mark Kriski said.
The Kings were in on the Star Wars joke the whole time! And by that, I don't mean "the thing that I did where I wrote Los Angeles Kings into the script of Star Wars". I mean "the thing where they made three mediocre moves as a prequil to three tremendous movies".
There is no doubt that all three goaltenders that were nominated for the Vezina Trophy as the league's top netminder in the regular season are all deserving of the coveted Trophy. While Nashville Predators' goaltender Pekka Rinne had a terrific season and deserved to be nominated this season, this trophy will really be between Los Angeles Kings' Cup winning goaltender Jonathan...
Former UFC light heavyweight champion Mauricio "Shogun" Rua continues his quest back to the title when he collides with Muay Thai ace Brandon "The Truth" Vera at the STAPLES Center in Los Angeles on Saturday, Aug. 4. The Ultimate Fighting Championship formally announced today that the Rua-Vera showdown will take place at the home of the 2012 Stanley Cup Champion Los Angeles...
Hockey and vulgarity go hand-in-hand, but usually not on a loudspeaker for thousands of fans to hear. Don't tell that to Jonathan Quick though.
NHL News

Delivered to your inbox

You'll also receive Yardbarker's daily Top 10, featuring the best sports stories from around the web. Customize your newsletter to get articles on your favorite sports and teams. And the best part? It's free!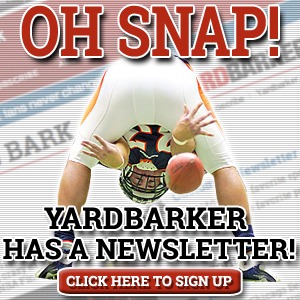 Latest Rumors
Best of Yardbarker

Today's Best Stuff

For Bloggers

Join the Yardbarker Network for more promotion, traffic, and money.

Company Info

Help

What is Yardbarker?

Yardbarker is the largest network of sports blogs and pro athlete blogs on the web. This site is the hub of the Yardbarker Network, where our editors and algorithms curate the best sports content from our network and beyond.