Found June 03, 2012 on Red Light District Hockey:
Through two games of the Stanley Cup Final, here are the top contenders for the Conn Smythe Trophy, which is given annually to the NHL's postseason MVP.
1. Jonathan Quick, Kings
If the Kings win the Stanley Cup (it's becoming more of a formality than a question mark), you can look back to last night's Game 2 when Quick won himself the Conn Smythe.  Dustin Brown and Anze Kopitar have been lurking in the Conn Smythe race, and Drew Doughty deserves some recognition – but Quick has separated himself here in the Cup Final.
Through two games he has given up two goals, neither of which were his fault.  With a pair of overtime wins, Quick's goals-against average for the playoffs has shrunk to 1.44.  His save percentage, you ask?  .947.  But here in the Final, Quick has been the player on the ice.  Neither team has really brought their A-game, but Quick has.  He's stopped 48 of the 50 shots that have come his way, showing a lot of composure for someone playing in their first Stanley Cup Final.
Conn Smythe voters tend to favor goaltenders.  Not only has Quick been the best goaltender in these playoffs, but he's been the best player – which is why the Conn Smythe will be his if (or when) the Kings close out New Jersey.
2. Anze Kopitar, Kings
Every Conn Smythe winner has their moment in which they shine.  Kopitar has had a few of those this postseason, including in Game 1 of the Final when he scored the overtime winner on a clean breakaway.  Further, in Game 2 at St. Louis he scored a pair of goals in a first period that set the tone for the rest of the series that ended in a Kings sweep.  A series later, Kopitar scored a big momentum goal to help the Kings take a 3-0 series advantage over Phoenix.
Beyond the offense, Kopitar has left his mark on these playoffs with his two-way excellence.  He has been dominant on both sides of the puck and boasts a plus-14 rating; he has only recorded a minus rating in one game this postseason.
Overall, he has 16 points in 16 games, tied with Dustin Brown for third in the Stanley Cup Playoffs.  In the process, Kopitar has gone from a great to an elite player.
3. Dustin Brown, Kings
Many times throughout the first three rounds, between the clutch goals, big hits and great defensive play, Brown has been the Kings' top performer.  His impact goes beyond the offensive side of the puck.  He, along with linemates Anze Kopitar and Justin Williams, have been dominant in all three zones.  Once they gain possession of the puck, it's hard to get it back.
Along with Kopitar, Brown ranks third in the NHL in playoff points.  Three of his seven goals have been of the game-winning variety.  Brown has especially been a physical force in these playoffs, recording a team-high 74 hits in 16 games.  He has also been valuable in the sense that he has gotten under the skin of his opponents.
The Kings captain has done it all this postseason and is in the Conn Smythe mix despite not collecting any points against New Jersey thus far.
4. Drew Doughty, Kings
As much recognition as Quick, Kopitar and Brown have received throughout the playoffs, it's blatantly obvious that Doughty has been the top defenseman all spring.  As a result, he should be considered for the Conn Smythe, as well.
Doughty has 12 points and a plus-12 rating, which leads all defensemen in the playoffs.  He's also averaging 26:25 of ice time per game, tops amongst remaining players.  Ever since being a Norris Trophy finalist in 2010, Doughty has had some ups and downs.  However, he's fulfilling his $56 million contract with a clutch playoff performance that shouldn't go unnoticed.
5. Martin Brodeur, Devils
Going into the Stanley Cup Final, some believed Brodeur should be up there with Quick as one of the top Conn Smythe contenders.  Though the 40-year-old Devils netminder has been solid (especially against New York in the conference final), he's had a few clunkers in the playoffs; Brodeur has given up three goals or more five times, compared to Quick's two.  Brodeur also has a .924 save percentage compared to Quick's .947.
Brodeur hasn't been entirely sharp against Los Angeles.  He was cleanly beat on both overtime winners in Games 1 and 2, and has failed to make that clutch stop contrary to what Quick has been able to do.  Right now, Brodeur is the only Devil that deserves to be on this list.
Photo credit: Getty Images
Original Story:
http://www.rldhockey.net/2012/06/conn...
THE BACKYARD
BEST OF MAXIM
RELATED ARTICLES
from Tim Wharnsby of CBC, For the fourth straight series, the Kings have marched into the opposition's building and flew home with a 2-0 series lead. This time, though, they accomplished the feat against a Devils team that led all other clubs in the playoffs with a 6-2 home record. Sorry, make that 6-4 now with Game 3 set for the Staples Center on Monday. "Tonight was heavy...
Jonathan Quick made 22 saves in his third shutout of the postseason, Anze Kopitar had a goal and an assist, and the Los Angeles Kings rolled to the brink of the franchise's first NHL title, beating the New Jersey Devils 4-0 in Game 3 of the Stanley Cup finals on Monday night to take a 3-0 series lead. Alec Martinez scored the opening goal, and Jeff Carter and Justin Williams...
Jonathan Quick made 22 saves in his third shutout of the postseason, Anze Kopitar had a goal and an assist, and the Los Angeles Kings rolled to the brink of the franchise's first NHL title, beating the New Jersey Devils 4-0 in Game 3 of the Stanley Cup finals on Monday night to take a 3-0 series lead. Alec Martinez scored the opening goal, and Jeff Carter and Justin Williams...
Darryl Sutter rushed the Los Angeles Kings out of their locker room in Newark on Saturday night as if they were fleeing the scene of a crime. The Kings coach was just in a hurry to get home, and that's what his club did: On the plane by midnight, wheels up by 1 a.m. Eastern time, and in their beds back on the West Coast shortly after 4 a.m. Pacific. ''Hey, every minute...
While Jonathan Quick stars in the Stanley Cup playoffs for the Los Angeles Kings, Jonathan Bernier cools his heels as his seldom-seen back-up.Once upon a time Bernier was slated to become LA's goaltender of the future. But Quick had other ideas. When he matured into one of the NHL's elite netminders this season, Bernier was limited to 16 appearances.Once the postseason ends,...
Photo by Dave Sandford/NHLI via Getty Images The Los Angeles Kings rolled to a commanding 3-0 series lead in the Stanley Cup Final, and the series is over almost as quickly as it began. Despite having plenty of powerplay time in the first period, the Devils could not capitalize, and they have still only managed two goals in this series.  The Kings scored two even-strength goals...
The Morning After:Yesterday's results:Kings 4, Devils 0RLD 3 stars of the night:1. Jonathan Quick, LA (22 saves, shutout)2. Anze Kopitar, LA (1 goal, 1 assist)3. Dustin Brown, LA (1 assist)---Video of the day:*Follow us on Twitter – @RLDhockey
LOS ANGELES -- The Los Angeles Kings are one win away from putting a Hollywood ending on one of the most spectacular playoff runs in NHL history. Jonathan Quick made 22 saves in his third shutout of the postseason, Anze Kopitar and Justin Williams each had a goal and an assist, and the Kings rolled to the brink of the franchise's first title, beating the New Jersey Devils 4-0...
The Kings and Fox Sports have reached agreement on a new television contract, providing an immediate cash injection that could help the team retain star goaltender Jonathan Quick. The new deal keeps the Kings on Fox Sports West through 2024 and guarantees the team about 250 million, according to a person familiar with the agreement who was not authorized to discuss the terms. The...
Just a few things that caught my eye ... Can you hear footsteps? The Devils sure can. They'd best use that ability to bail to start saving their sinking ship. This matchup may not be stellar, but the goaltending sure is. Both Martin Brodeur and Jonathan Quick are athletic and reactive, and their hybrid stylings are bringing back the art of twine-tending. It'...
New Jersey Devils @ Los Angeles KingsStanley Cup Final, Game 38:00 ET… TV: NBC Sports Network, CBCPlayers to watch:NJ-      Zach PariseIt's pretty simple: the Devils need their stars to elevate their game.  Los Angeles' top players have come through in the key moments; New Jersey's have not.  Captain Parise doesn't have a point yet in this series; that will have...
NHL News

Delivered to your inbox

You'll also receive Yardbarker's daily Top 10, featuring the best sports stories from around the web. Customize your newsletter to get articles on your favorite sports and teams. And the best part? It's free!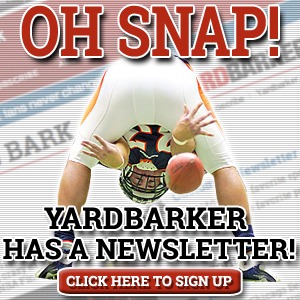 Latest Rumors
Best of Yardbarker

Today's Best Stuff

For Bloggers

Join the Yardbarker Network for more promotion, traffic, and money.

Company Info

Help

What is Yardbarker?

Yardbarker is the largest network of sports blogs and pro athlete blogs on the web. This site is the hub of the Yardbarker Network, where our editors and algorithms curate the best sports content from our network and beyond.