Found April 22, 2013 on NorthWest Sports Beat:
Outdoor Wear Canucks Nation knows full well that their team has had more costume changes over the years than Justin Timberlake as host of Saturday Night Live, but could there be one final changing of the guard? We're talking something permanent; something that will last 100 years like the Detroit Red Wings and Toronto Maple Leafs world-wide recognized brands. It may not be a popular idea, considering the alterations that seem to occur every couple seasons, but let's for argument's sake say there will be one more. Next season's still unconfirmed Heritage Classic at BC Place could be the venue for the Vancouver Canucks' organization to test something new, or old, out. Am I suggesting the retirement of the beloved Orca? Perhaps that is the easiest option regardless of its popularity, which is split down the middle. The club added the killer whale to its uniforms back in 1997, two years after Orca Bay Sports and Entertainment was founded. Of course Orca Bay no longer exists and the organization has been trending away from the logo anyway. With huge pushes in recent years of the 'Johnny Canuck' and 'Stick-In-Rink' brands, our orca may go the way of the dodo bird sooner than later. Let's get one thing straight: with the retirement of the Orca comes the dawning of the stylized, 'Stick-In-Rink,' era. It would become our permanent first jersey and would stay that way until the end of time. Will Johnny Canuck uniforms be coming out soon? So when you read the following possibilities, imagine the Canucks' current 3rd as their potential, future, primary logo/jersey. Hello Johnny A popular idea is making the 'running Johnny Canuck' a main part of the Canucks' set of logos, but this will not be the jersey the Canucks wear on home ice at BC Place. This game is all about heritage and so it will be something we've already seen before. That's not to say this couldn't be an option if a permanent switch were to come, but even then you'd have to think this would be the new permanent 3rd jersey or secondary logo as mentioned. The colours would be blue and green–of course–with identical trim. The issue here is we don't actually know how these jerseys look. The club could line a few players up at center ice and they may look really freakin' unappealing to our eyes, but by then it'll be too late. I can't say I agree with all the 'Vancouver' on the chest haters but that still hasn't grown on everyone since they sort of just threw those at us out of nowhere. Maybe the Vancouver Sun could hold a 3rd jersey design contest similar to what they did in 1987 prior to the Canucks home uni switch from puke yellow to piss-in-the-snow white. Money, Money, Money A lot of speculation after the Canucks wore throwback Vancouver Millionaires jerseys back on March 16 revolved around whether or not the club could bring them out of the closet periodically in the future. While I have to agree they are very sexy jerseys and a one-off would be disappointing, the Nucks of present day don't deserve to wear those jerseys. They may represent winning, but not for this franchise. One argument would be to have one 'Millionaires Night' each season to make it a special occasion. If, however, you bring them out four or five times each year, that's just as bad as the fact the NHL is planning six outdoor games. It would be watered down and no longer unique unless management is willing to make it the official third jersey. But again, not our franchise, not an option I support. Become Pastafarians There is no question, Canucks fans have been clamoring for the old, 'flying plate of spaghetti,' to make its triumphant return. Since the NHL introduced its Vintage Hockey line, there's really only one significant set of colours the Canucks are yet to resort back to. If you're wondering, I don't mean the burgundy, purple, blue and silver. My best guess and highest hope is that when the Vancouver Canucks take to the ice at hopefully an open-roofed BC Place on March 2nd, 2014, they will be donning the good ol' 'flying skate' with the black, yellow and red majestically stitched into Reebok Edge form. No other set of colours has given the Canucks more success. Granted, the 1982 final appearance was with the 'Flying V', and Luongo forbid they wear those. Could these be part of the new uniform lineup? (canucks.nhl.com) Think about this: every Heritage Classic is preceded by an Alumni Game and most of our highly worshiped Canucks legends wore the 'flying skate." Here's a sampling of some players we could see back in those colours  Pavel Bure, Trevor Linden, Kirk McLean, Gino Odjick, the Courtnall brothers, Greg Adams, Cliff Ronning, Dave Babych, Stan Smyl and oh yeah, Markus Naslund. What an event that will be! So once the Heritage Classic and 2013-14 NHL season are all wrapped up, I propose we see the 'Flying Skate' become the official, and I repeat, permanent Canucks 3rd jersey. While it's not traditional for a team's 3rd to have an entirely different colour scheme from their regular home and away, this is Vancouver and we're special in so many ways, so why the hell not? Just in case you didn't catch this in the last paragraph: yes the colours stay the same with a black/red/yellow stick-in-rink or Johnny Canuck shoulder patch. Canucks fans may not collectively feel up to another change of jersey or logo but it's probably something we know is coming with the unceasing push of the Johnny Canuck brand we all don't seem to mind. So let's make it permanent and something we can be proud of forever. Let's quit whining about the fact Gary Bettman is a greedy little Count and embrace the fact this is happening. Let's make the most of it Michael D. Gillis. Whaddya say? If it's any consolation, the Vancouver Whitecaps having altered their primary jersey this season will have had as many changes as the Canucks do after 42 seasons by their 20thth in the MLS. CLICK HERE CHECK OUT THE VANCOUVER CANUCKS CLUBHOUSE TODAY ON NWSB!
Original Story:
http://www.nwsportsbeat.com/canucks/c...
THE BACKYARD
BEST OF MAXIM
RELATED ARTICLES
Frank Corrado is moving on up to Vancouver We've learned this AM via a Canucks.com press release that the Vancouver Canucks announced today that they recalled defenceman Frank Corrado from their AHL farm team the Chicago Wolves. The top defensive prospect left on the club's farm team is moving up to the big leagues. With Kevin Connauton now with the Stars Corrado is...
Blackhawks vs. Canucks Monday Preview Chicago have a chance to capture the second Presidents' Trophy in franchise history, when they visit the Northwest Division-leading Vancouver Canucks. Vancouver, which clinched a postseason berth with a 2-1 shootout victory over the Detroit Red Wings on Saturday, can wrap up its fifth consecutive Northwest title by earning one point...
Canucks clinch 5th straight Northwest division title, defeat Blackhawks 3-1 Vancouver came out flying tonight and Daniel Sedin recorded a goal and an assist to become the second-leading scorer in franchise history as host Vancouver clinched another division title. The Canucks won the season series (2-0-1). Vancouver D Frank Corrado made his NHL debut, registering one blocked...
Daniel Sedin helped the Vancouver Canucks clinch their fifth straight Northwest Division title in style. Sedin scored a breakaway goal and added an assist on the winner as the Canucks posted a 3-1 victory over the NHL-leading Chicago Blackhawks. In the process, the Swede moved into second place on the Canucks' career scoring list with 758 points. Twin brother Henrik Sedin recorded...
Mats Sundin retired from the NHL in 2009, but he still has the most career NHL goals out of any player with 564. Sundin was initially drafted first overall in the 1989 NHL entry draft and played his first four seasons in the NHL with the Quebec Nordiques. The Swedish-born player played most of his career with the Toronto Maple Leafs, and excluding his rookie season, the shortened lockout...
Maxim Lapierre scored in the shootout, Cory Schneider made 33 saves through overtime and the Vancouver Canucks clinched a playoff berth with a 2-1 victory over the Detroit Red Wings on Saturday night. Schneider stopped all three attempts in the shootout for the Canucks, who won their seventh straight at home and prevented the Red Wings from breaking the playoff threshold. Vancouver...
The Vancouver Canucks Green Guys decided to up the intensity by performing a magic trick. Badly. 'A' for effort but...that's enough. **Follow us on Twitter or Facebook. Subscribe, or Return... Full story at Bob's Blitz ~ http://www.bobsblitz.com
Daniel Sedin had a goal and an assist to help the Vancouver Canucks lock up their fifth straight Northwest Division title with a 3-1 victory over the Chicago Blackhawks on Monday night. Jannik Hansen and Zack Kassian also scored for the Canucks, who won their eighth in a row at home and are guaranteed of home-ice advantage in the first round of the playoffs. Henrik Sedin added...
The Detroit Red Wings suffered another setback Saturday night, 2-1 in a shootout against the Vancouver Canucks. But forward Justin Abdelkader scored his own personal victory, taking down Vancouver's Keith Ballard with a vicious right hook during a second period fight. The Wings had been applying heavy pressure in the Canucks' zone prior to the incident — Ballard was also called...
VANCOUVER, British Columbia (AP) -- Maxim Lapierre scored in the shootout, Cory Schneider made 33 saves through overtime and the Vancouver Canucks clinched a playoff berth with a 2-1 victory over the Detroit Red Wings on Saturday night. Schneider stopped all three attempts in the shootout for the Canucks, who won their seventh straight at home and prevented the Red Wings from breaking...
Few hockey teams dislike each other as much as the Vancouver Canucks and the Boston Bruins, a hatred that grew out of the 2011 Stanley Cup Finals. But, with the events of the past week fresh on everyone's mind, we're reminded of an interesting dichotomy. Sports help us heal after tragedies, but at the same time we're reminded that sports are just that: sports. In the...
Seems like everything Justin Timberlake touches nowadays turns to Platinum, which is good news for Juicy J. While Wiz Khalifa stopped by DJ Whoo Kid's show over on Shade 45, the Taylor Gang captain made sure to show some love to his artists as well. From 4/20 and his marijuana habits, to Rocko's 'U.O.E.N.O.' remix [...]
NHL News

Delivered to your inbox

You'll also receive Yardbarker's daily Top 10, featuring the best sports stories from around the web. Customize your newsletter to get articles on your favorite sports and teams. And the best part? It's free!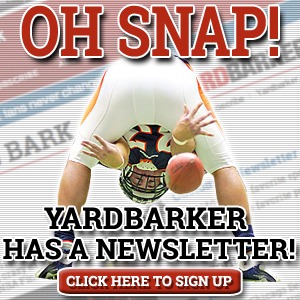 Latest Rumors
Best of Yardbarker

Today's Best Stuff

For Bloggers

Join the Yardbarker Network for more promotion, traffic, and money.

Company Info

Help

What is Yardbarker?

Yardbarker is the largest network of sports blogs and pro athlete blogs on the web. This site is the hub of the Yardbarker Network, where our editors and algorithms curate the best sports content from our network and beyond.