Found January 15, 2013 on Blue Seat Blogs:
PLAYERS:
Marc Staal
,
Henrik Lundqvist
,
Marian Gaborik
,
Rick Nash
,
Brad Richards
,
Sidney Crosby
,
Evgeni Malkin
,
Steven Stamkos
,
Ilya Kovalchuk
,
Dan Girardi
,
Ryan McDonagh
,
Michael Del Zotto
TEAMS:
New York Rangers
,
Pittsburgh Penguins
,
Tampa Bay Lightning
,
New Jersey Devils
A return to All Star form by Marc Staal would be huge for the Rangers While everyone in the media who've analysed the Rangers point to Henrik Lundqvist in net and Marian Gaborik, Rick Nash and Brad Richards up front as the critical components for a successful season, people have somewhat forgotten about the defense. Even when people have talked Rangers defense it's invariably been about the now resolved Michael Del Zotto contract situation. Of course, rightly so, all the aforementioned names will be critical to the Rangers season, but people need to remember just how good a certain Marc Staal was not so long ago. People assume Marian Gaborik will benefit from the lockout and of course he has and will. Healthy, refreshed and with more offensive help, Gaborik should be in line for a strong season again. But perhaps no Ranger will have benefited from the extra time off more than Marc Staal. Staal is a workhorse who didn't look himself when he returned from his long layoff last year. With the extra rest Staal could get back to being a dominant defensive presence for the Rangers. Recall how good Henrik Lundqvist was last year. He didn't have the luxury of the 'old' Marc Staal. Now recall how good that 'old' Staal was the year prior. Add the potential of the two together and you've the makings of a serious upgrade defensively. The Rangers need to be lucky with injuries on the blueline (as do all teams in an abbreviated season), but with the upgrades on offense and with a strong top four on the blueline, there is no reason this team can't have a hugely successful season. Can the Rangers keep pace offensively with the Penguins? They might not have to. No team in the league boasts the top end, elite skill the Penguins can; but there's not a chance in hockey h-e-double-hockey-sticks that the Penguins can match the Rangers for blueline and goaltending talent and depth. Marc Staal can be a significant x-factor should the Rangers need to get past the Penguins for the division race and/or if they meet in the playoffs. Staal has had success in years past against Crosby in terms of matchups, and he's routinely been successful when used in assignments against the league's best individuals. As a bonus, Staal should also be able to improve his game offensively, but it's the Rangers ability to take on the likes of Sidney Crosby, Evgeni Malkin, Steven Stamkos, and Ilya Kovalchuk head on that bodes well, as a return to form of Staal gives the team so much more defensively. Dan Girardi shouldn't need to play insane minutes this year (nor can he given the schedule). Ryan McDonagh also can be used more sparingly. If all three of the Rangers top defensive options can be rotated in a more user-friendly manner, then the results could be promising. Of course, this assumes Staal can get back to his All Star self. Concussions are funny things to predict, and in the grand scheme of things Staal has not played much hockey in the past two years. But his natural ability, his extra rest and the players around him suggest Staal is in a great situation entering this season, he could be the Rangers best kept 'secret'. By the way, did you know Marc Staal has brothers? Tweet
Original Story:
http://www.blueseatblogs.com/2013/01/...
THE BACKYARD
BEST OF MAXIM
RELATED ARTICLES
A depth forward could be on the radar for the Rangers. Looking over the Rangers training camp roster, one thing that really stands out is the lack of depth, particularly on offense. Right now, the following has been reported as Torts' early line combos. Line 1: Carl Hagelin – Brad Richards – Rick Nash Line 2: Marian Gaborik – Derek Stepan – Ryan Callahan Line 3: Chris Kreider...
Waivers Rangers: Sean Collins, Michael Haley, Chad Kolarik, Kris Newbury, Logan Pyett, Brendon Segal, Mike Vernace, Tommy Grant. — Renaud Lavoie (@RenLavoieRDS) January 15, 2013 Kolarik leads Whale with 15 goals and tied for team lead in points with 29. ...scratching my head at Kolarik being on that list. I was originally surprised when he wasn't in training camp...
Hockey will be back soon and finally we can start talking about the systems and strategies of this great game we all know and love. One of the most critical – and contested – aspects of the Rangers system in 2012 was their power play. For the sake of brevity, I will just say that last year's mediocre power play was not due to coaching decisions or their umbrella formation...
According to Melissa Andus at Black and Blueshirts, the AHL transaction list reports that the Rangers have recalled Brandon Segal. Segal has 9g, 7a in 38 games with the Whale this season. The 29-year old Segal has played 102 NHL games with Tampa, Dallas and Los Angeles. ...with Asham suspended for the first game and Bickel likely to take is spot on the wing, this is a...
Tonight, the Rangers made a minor deal, sending AHLer Tommy Grant and a 2014 seventh-round draft choice to the San Jose Sharks for LW Brandon Mashinter. Mashinter, 24, stands 6-foot-4, 230 lbs. He has posted two goals and three assists in 30 games this season with San Jose's AHL affiliate, the Worcester Sharks. Last season, Mashinter tallied 16 goals and 17 assists in 65 games...
Katie Strang at ESPN.com reports that the NHLPA is reviewing the developing situation between Wade Redden and Rangers in which the Blueshirts will sit the veteran defenseman for the remainder of the season to ensure he is not injured and jeopardize their ability to buy him out this summer. The Rangers have also been in contact with the league. The Canadiens have deployed the...
Rangers coach John Tortorella says it's the right time for Rick Nash to be in New York. The franchise is going for its first Stanley Cup since 1994. Nash improves the Rangers' chances. On the other side of North America, the Vancouver Canucks can't wait to resume their quest for their first NHL title. The Rangers, Canucks - and their fans - won't want to talk...
New York Rangers President and General Manager Glen Sather announced today that the club has acquired forward Brandon Mashinter from San Jose in exchange for forward Tommy Grant and a conditional pick in the 2014 NHL Entry Draft. Mashinter, 24, has registered two goals and three assists, along with 44 penalty minutes in 30 games [...]
This is exactly how New York Rangers' fans should approach the upcoming 48-game shortened NHL season. Last season, the Blueshirts shocked many and were one of the best teams in the entire league last season. They did it with great goaltending from Henrik Lundqvist, great defense, and a committment by the whole team to play well on both sides of the puck. Considering that...
Portland, ME, January 15, 2013 – Kris Newbury scored two goals, and Cam Talbot made 29 saves, as the Connecticut Whale rolled to a 6-1 win over the Atlantic Division-leading Portland Pirates Tuesday night at the Cumberland County Civic Center. Portland had won eight straight home games, tying a franchise record, and 13 of its previous 15 overall.  The Whale won despite being...
If you were to ask people who they felt would be the first two amnesty buyouts under the NHL's new CBA, they probably would have said Wade Redden and Scott Gomez. Apparently lots of folks have ESP, or at the very least have been alive and conscious the past couple of years, because who will be the first two guys bought out? Why, Redden and Gomez, of course! Redden came...
As mentioned yesterday, both Wade Redden and Scott Gomez are widely expected to be bought out at the end of this season. Both players are being told to go home, sit, and get paid for it -- the NHL's teams can't buyout injured players. While this is a smart strategy for the New York Rangers and Montreal Canadiens, the NHLPA is taking issue with two of their players being told...
NHL News

Delivered to your inbox

You'll also receive Yardbarker's daily Top 10, featuring the best sports stories from around the web. Customize your newsletter to get articles on your favorite sports and teams. And the best part? It's free!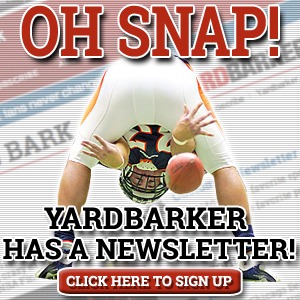 Latest Rumors
Best of Yardbarker

Today's Best Stuff

For Bloggers

Join the Yardbarker Network for more promotion, traffic, and money.

Company Info

Help

What is Yardbarker?

Yardbarker is the largest network of sports blogs and pro athlete blogs on the web. This site is the hub of the Yardbarker Network, where our editors and algorithms curate the best sports content from our network and beyond.