Found October 11, 2012 on Fox Sports:
Sidney Crosby wanted to spend Thursday watching the NHL drop the puck on the 2012-13 season while prepping for the Pittsburgh Penguins' opener the following night. Instead, the most recognizable face in hockey planned to flip on the Pittsburgh Steelers and wonder when the NHL lockout will end so he can get back to work. ''It's not something you want to be doing in October, you'd rather be starting the season,'' Crosby said. ''It is what it is. You can't really do much but sit and wait.'' And wait. And wait. While NHL owners and players' representatives met in New York trying to get past an impasse that has already wiped out the first two weeks of the season, Crosby and a handful of teammates went through drills in a quiet suburban Pittsburgh ice rink. There, in front of a dozen curious onlookers - including one child wearing a skeleton T-shirt and three female fans videotaping with their noses pressed to the glass - the Penguins captain tried his best to put a positive spin on hockey's second work stoppage in less than a decade. Wearing a black jersey with the NHL Players Association logo on it, the sport's most popular player insisted the league hasn't squandered all of its goodwill. ''It's still early,'' Crosby said. ''There's still time for decisions to be made and time to make sure nobody does something they're going to regret.'' Crosby, who signed a 12-year, $104.4 million extension over the summer, remembers being in the junior ranks when the league wiped out the entire 2004-05 season. He doesn't quite have the same pessimism now, but allows a substantial gap remains between the two sides. ''I think we're willing to make a deal,'' Crosby said. ''I don't think there's a deal to be made right now. There's their deal and then there's our deal and they want their deal.'' So Crosby will continue to work out and stay ready. Unlike some of his teammates - including reigning league MVP Evgeni Malkin - he has no plans to play elsewhere this season. Crosby has only caught the highlights of Malkin's play in the Russian KHL but added his good friend ''looks ready to go'' when or if the NHL re-opens for business. The 25-year-old Crosby believes he'll be ready too. He's become the de facto organizer of the somewhat informal player workouts. The numbers have fluctuated over the last month. There were eight Penguins in attendance on Thursday, including veterans Pascal Dupuis and Matt Cooke. Former Penguin Mark Recchi, who retired following the 2011 season as a member of the Boston Bruins, also got in some time. Crosby has enjoyed the reunion with his former linemate, though he'd prefer to be around more familiar - and younger - faces in the near future. Following two basically lost seasons in which he dealt with concussion-like symptoms, Crosby insists he's as healthy as he's ever been. He spent last week in Vail, Colo., getting in some altitude training with about 18-20 other players and was bumped around quite a bit without any issues. He certainly looked fresh dashing up and down the ice on Thursday, his white helmet with the No. 87 on the back of it a blur as he skated nimbly around a series of pylons and more than a few teammates. Crosby is eager to wipe away the taste of last spring's ugly first-round playoff exit when the Penguins were thumped by the rival Philadelphia Flyers in six games. As anxious as he is to go after a second Stanley Cup, he's also aware there's something more at stake than his own personal goals. That's why he hasn't gotten frustrated by the lack of progress in discussions, and in a way the turmoil he's dealt with over the last 20 months has helped prepare him for the current labor stalemate. ''When I went through all that stuff, a lot of things you can't control, you just have to be patient,'' he said. ''It's kind of a similar scenario here. You just have to be positive and hope for the best.'' Crosby would like to believe the owners are negotiating in good faith. He's heard talk about a predetermined deadline the owners have to not get serious about things until mid-November. He'd like to believe that's not the case. ''We had a good idea it wasn't going as fast as we would have liked but I don't think anyone gave up being positive,'' he said. ''You just realize negotiations are going to take a little time. If anything you'd like to see a little progress and we haven't seen any of that.'' So Crosby will continue to show up four days a week to stay in shape, hoping he can scrounge up enough teammates to get something resembling a hockey practice in. It's not ideal, but he's not quite ready to tell agent Pat Brisson to start seeking out a place for him to moonlight overseas while the NHL irons things out. ''If there's a point where I think that I'm not going to be ready to start the season unless I go and play somewhere else (I might),'' he said. ''But we're not to that point yet.''
Original Story:
http://msn.foxsports.com/nhl/story/si...
THE BACKYARD
BEST OF MAXIM
RELATED ARTICLES
Sidney Crosby planned to spend Oct. 11th watching opening night of the NHL season. Instead, the Pittsburgh Penguins star will spend it watching the Steelers. Crosby says the NHL players are ''willing to make a deal'' as the lockout continues, but that the owners ''have their deal, we have our deal and they want their deal.'' He is optimistic the owners...
On October 11th 1967, 45 years ago from yesterday, the Pittsburgh Penguins franchise played their first game in the National Hockey League. Since that day, there have been many exciting moments in Pittsburgh hockey. As a franchise the Penguins have won 3 Stanley Cups, with the last one coming in the 2008-2009 season. There was the emergence of Mario Lemieux, the first superstar for...
#NHL CBA talks are underway .... Brookes Orpik and Craig Adams and Steve Fehr; no Don. First of two sessions today. — Michael Grange (@michaelgrange) October 11, 2012
NHL News

Delivered to your inbox

You'll also receive Yardbarker's daily Top 10, featuring the best sports stories from around the web. Customize your newsletter to get articles on your favorite sports and teams. And the best part? It's free!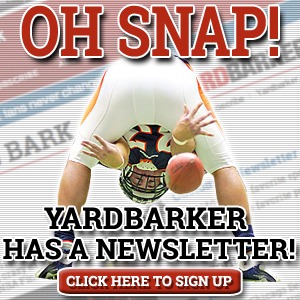 Latest Rumors
The Backyard

Today's Best Stuff

For Bloggers

Join the Yardbarker Network for more promotion, traffic, and money.

Company Info

Help

What is Yardbarker?

Yardbarker is the largest network of sports blogs and pro athlete blogs on the web. This site is the hub of the Yardbarker Network, where our editors and algorithms curate the best sports content from our network and beyond.