Found January 06, 2013 on The Pensblog:
If there's one thing that's annoying about Sidney Crosby, it's his innate ability to churn out meaningless quotes every time someone asks him a question.  By the end of his second year in the NHL, we were already skipping his quotes in anything we were reading.  Snore fest.  We know why he is the way he is, but it just got old really fast. Over the weekend, we were discussing how the end of the lockout would change life for the eBay autograph seekers who have probably been down at the Iceoplex every day to get Crosby's autograph.  Some people who have tried to get Crosby's autograph have set us straight:  Crosby knows what's up.  It would really take an idiot not to. Then we were thrown this YouTube (uploaded in 2009) of Crosby skinning an eBayer during an autograph scrum:  
Original Story:
http://www.thepensblog.com/2013-archi...
THE BACKYARD
BEST OF MAXIM
RELATED ARTICLES
Sidney Crosby and nearly a dozen of his Penguins teammates worked out at a suburban Pittsburgh ice rink on Monday, just as they did during the four-month NHL lockout. Only this time, the players were wearing their familiar Pittsburgh practice sweaters instead of jerseys promoting the NHL Players Association. It was a welcome return for the Penguins following the lockout's end...
We've been playfully making fun of Kris Letang for going to the KHL for like 6 minutes.  MAF did that today and it is great. Based on Fleury's reaction you can tell that Letang is going to get made fun of for a while. h/t to Freakshow
The Penguins issued a statement on the lockout today: To our Penguins Fans and Community: We offer our apology. There is nothing we can say to explain or excuse what has happened over the past four months. However, now that the NHL is back, we want to assure you that the Pittsburgh Penguins will do everything we can to regain your trust and show how much we value your...
Ahhh. Clicking the text centering button again. It feels like... It feels like watching a Flyers fan file out of the arena in the 2nd period, tear-stained "Crosby Sucks" poster under arm. It feels like not caring that the guy behind you spilled beer down your back because he's wearing black and gold and goddamn if that puck didn't almost tear a hole in the...
  #dregerface saved the season, by the way.   The last time we were all having a hockey convo it was sometime last June when the Pens traded Jordan Staal. It feels great to be back. We haven't been this excited since Christoper Lloyd didn't die in Back to the Future.   What will the schedule be? When will the season start? What is the cap? ...
Ray Shero's signing of Tomas Vokoun might be one of the most important moves he's ever made.  Teams with a solid 1-2 punch between the pipes are gonna have a decided advantange, as all teams will be staring 3- and 4-game weeks in the face, not to mention the likely possibiity of double-digit back-to-back situations, and every game is going to carry importance. Then you...
Another great video by Benstonium   © Phil Krundle for Pittsburgh Penguins - PenguinPoop Blog, 2013. | One comment |
By Wil Goldsholl Hartford, CT, January 6, 2013 - After watching Cam Talbot pick up his first shutout of the season in Hartford on Friday, Jason Missiaen decided he wanted one too. Supported by two goals from Kyle Jean, the Connecticut Whale skated to a 2-0 victory over the Wilkes-Barre Scranton Penguins, despite being outshot by a margin of 35-18. The Whale earned five points...
Penguins News

Delivered to your inbox

You'll also receive Yardbarker's daily Top 10, featuring the best sports stories from around the web. Customize your newsletter to get articles on your favorite sports and teams. And the best part? It's free!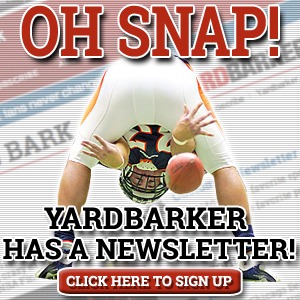 Latest Rumors
Best of Yardbarker

Today's Best Stuff

For Bloggers

Join the Yardbarker Network for more promotion, traffic, and money.

Company Info

Help

What is Yardbarker?

Yardbarker is the largest network of sports blogs and pro athlete blogs on the web. This site is the hub of the Yardbarker Network, where our editors and algorithms curate the best sports content from our network and beyond.