Found July 31, 2012 on Blue Seat Blogs:
PLAYERS:
Shane Doan
,
Rick Nash
,
Ray Whitney
,
Jaromir Jagr
,
Sidney Crosby
,
Evgeni Malkin
,
Eric Staal
,
Marian Gaborik
,
Shea Weber
,
Zach Parise
,
Ryan Suter
,
Chris Kreider
TEAMS:
Arizona Coyotes
,
New York Rangers
,
Dallas Stars
,
Pittsburgh Penguins
,
Carolina Hurricanes
,
Nashville Predators
,
Minnesota Wild
With Rick Nash in the mix, there appears to be only one more target for the Rangers, and that is Shane Doan. Adding Doan to the club would solidify the Rangers depth at forward, making them true Stanley Cup contenders, and possibly the Cup favorites come October. Since the Phoenix ownership situation is still up in the air, Doan has already begun shopping his services, which included a visit to New York last week. The interesting tidbits with Doan though come through his rumored asking price. The rumor mill is stating that Doan is asking for at least four years, and an average of $7.5 million per season. This is where that four year/$30 million price tag rumor comes from. While most are panicking and backing away from Doan, let's analyze this a bit more, because it really doesn't make any sense. Last season, Doan finished with a line of 22-28-50, a ten point decline from his previous season, and 23 points down from his 2008-2009 campaign, the last time he finished with 30 goals and 70 points. The soon-to-be 36 year old winger has actually seen a decline in his production the past two seasons, and at 36 years old, it's safe to assume that he won't touch 70 points again. This brings me back to the asking price. Four years and $30 million sure is a lot for someone who is a 50 point player, and someone who would be considered a 35+ contract upon signing. That's where this price tag doesn't make sense. The signing team is on the hook for the cap hit for the duration of the contract no matter what. Tying $7.5 million to someone who is in the tail end of his career isn't a logical move. Every GM in the league is aware of this. The 40 year old Ray Whitney, Doan's former teammate, signed with Dallas for $9 million over two seasons. Whitney had 70 points last season. Jaromir Jagr got $4.55 million for one year from Dallas after a 54 point season. Jagr is four years Doan's elder. This is more along the lines of what Doan should expect, logically speaking. Players in the $7.5 million and up category include Sidney Crosby, Evgeni Malkin, Eric Staal, Marian Gaborik, Rick Nash, Shea Weber, Zach Parise, and Ryan Suter. Doan, simply put, is not in the same category as these players. He never was throughout his entire career. This is another reason why this $7.5 million asking price seems absurd. In my humble opinion, this rumor got started by an irresponsible tweet (I believe this was started by the Coyotes' radio announcer, correct me if I'm wrong please), and it went viral. After all, if you see enough tweets about it, it must be true. But if we think logically, then we know that Doan's eventual price isn't going to come near the four years and $30 million that seems to be sweeping the web. Using market value and comparable signings, a fair assumption is that Doan gets 3-4 years and around $4.5 million per season. If he were to sign for fewer years –say two years– then he would likely get around $5 million, perhaps a little more. This is about market value. Just because an asking price is read about on Twitter, doesn't mean it's true. After all, if you believe everything you read on Twitter, then you believe that Chris Kreider was a sticking point in the Nash trade.
Original Story:
http://www.blueseatblogs.com/2012/07/...
THE BACKYARD
BEST OF MAXIM
RELATED ARTICLES
A piece of Shane Doan's heart will always be in Phoenix, but there's no guarantee that's where the whole thing will be next season. According to multiple reports, Doan was in Vancouver visiting with the Canucks on Tuesday. Doan has spent his entire 16-year NHL career with the Coyotes (formerly Jets) organization, but he's a free agent and could elect to sign elsewhere...
The Nashville Predators are looking for a top 6 forward in the free agent market and there is one available, if they have the money. Phoenix Coyotes captain, Shane Doan, is an unrestricted free agent and will have to sign with a team sooner rather than later. However, Doan will wait out the news of ownership and it could take a while.Read more after the jump. Shane Doan has stated...
If reports are to be believed, Shane Doan is currently seeking a four-year contract worth around $30 million if and when he concludes remaining in Phoenix is no longer a desirable scenario. A deal of that magnitude would call for a salary cap expenditure of $7.5 million annually. Doan will be 36 by the start [...]
Photo by: Ed Mulholland/US Presswire Many teams around the league are vying for the services of Shane Doan. The Predators amongst others are rumored to be in the mix, but some teams have graciously bowed out of the Doan sweepstakes (Detroit and Vancouver) citing that Doan wants too much money or too long a contract. But while 27 other NHL franchises may be weighing up the possibility...
After all the Rick Nash hullabaloo has now calmed down, here's the final part of the greatest European Rangers series. It's subjective and meant for debate and how much one man's opinion truly matters is really open for debate. Some players like Ulf Samuelsson and Radek Dvorak don't make the debate, some people may disagree but that's the beauty of lists like this.  Anyway...
Steve Zipay at Newsday spoke with former Columbus Blue Jacket GM Doug McLean about what type of player the Rangers are getting in Rick Nash..."Where do you find a 6-4, 235-pound guy with hands, who can skate, is entering his prime, with limited miles on him -- although every night he was the No. 1 focus, tightly checked, man-on-man, because teams knew if you shut down Rick Nash...
NHL.com lists the UFA's still available... FORWARDS NAME 2011-12 TEAM STATS SKINNY Shane Doan Phoenix 79 GP 22-28-50 Longtime Coyotes captain has started talking to other teams but is still not in any hurry to leave the only franchise he's ever played for Kristian Huselius Columbus 2 GP 0-0-0 Injuries wiped out most of 2010-11 and almost...
Today marks the beginning of August, which is most often the very worst month of the year for hockey fans. Most of the major transactions, as well as the minor ones, go down in July in the weeks that follow the opening of free agency, and then the fire dies down to a small flame come August. There's an extremely small chance we a see a move of the magnitude or larger than that...
Kevin Paul Dupont at the Boston Globe feels now that Rick Nash is a Ranger, not to be surprised to see the Blueshirts make a real play for the Sharks' Joe Thornton.Dupont adds that Nash and Thornton were magic together in Davos, Switzerland, during the last lockout, and have paired like hand and glove in the Olympics for Team Canada.Thornton has a no movement clause in his contract...
Believe it or not, back on Feb. 21 the Detroit Red Wings sat atop the NHL standings, which was business as usual. Since that time, it has been anything but business as usual for one of the leagues premier franchises. Injuries during the second half of season, another playoff disappointment, a game-changing retirement and a summer of being jilted by big-name free agents have left...
It truly is the low point of the off season. The Rangers are quiet, at least publicly, and attention around the league is primarily focussed on the CBA talks. There are still a few things we can talk about though so welcome to another musings. Jump on in. The Hockey News wrote an article recently on why the North West division is the league's worst. It got me thinking again about...
NHL News

Delivered to your inbox

You'll also receive Yardbarker's daily Top 10, featuring the best sports stories from around the web. Customize your newsletter to get articles on your favorite sports and teams. And the best part? It's free!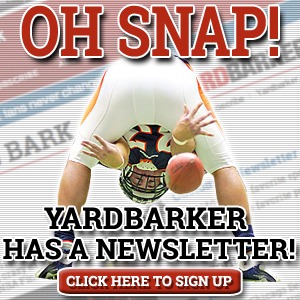 Latest Rumors
Best of Yardbarker

Today's Best Stuff

For Bloggers

Join the Yardbarker Network for more promotion, traffic, and money.

Company Info

Help

What is Yardbarker?

Yardbarker is the largest network of sports blogs and pro athlete blogs on the web. This site is the hub of the Yardbarker Network, where our editors and algorithms curate the best sports content from our network and beyond.