Found August 05, 2013 on Blue Seat Blogs:
Don't worry, there's enough room to sign him (Photo credit: Christopher Pasatieri). When the Rangers re-signed Mats Zuccarello the other day, the attention rightfully shifted to Derek Stepan. Many went to Capgeek and saw that the Rangers had a shade over $2 million of cap space, and began to instantly panic. After all, if Stepan's market value is the $3.75 million that Claude Giroux received in his bridge deal (that value will be used as Stepan's cap hit for the sake of this post), then the Rangers don't have enough room. However, the data on Capgeek is a tad misleading. Capgeek currently lists everyone signed to a one-way deal. Per the summer cap rules, any player that does not have a separate –and lower– AHL salary, thus the definition of a two-way deal, must count against the summer salary cap. This is why players like Aaron Johnson are currently listed on the roster. There are some nuances that I don't quite understand — For example, why Chris Kreider counts, but JT Miller doesn't. I seriously don't understand that, so any answer would be helpful– but this is also the reason why each team can spend 10% over the cap ceiling each summer. For the Rangers, this means they can spend $70 million this summer, giving them ample space to sign Stepan. Teams need to be under the $64.3 million cap ceiling come the start of the season. At that point, the Rangers will be down to 13 forwards and 7 defensemen, as opposed to the 15 forwards and 8 defensemen currently listed. Johnson will be sent to the AHL, clearing $600k from the cap. With Stepan's $3.75m added and Johnson's $600k removed, the Rangers have 14 forwards and 7 defensemen, and stand $1 million over the cap. Darroll Powe is likely to be demoted as well, but since his one-way contract has a salary over $925k, the remainder ($141,666) counts against the cap. That leaves the Rangers a shade over $44k over the salary cap. Since Arron Asham was waived earlier in the offseason, it's likely that he will be demoted as well, clearing another $925k from the cap (his contract follows the same rules as Powe's, so $75k will count against the cap). Now the Rangers sit with $880k in cap space. However, this does not take into account the injuries to Ryan Callahan and Carl Hagelin. This is where things get a bit tricky. LTIR rules state that a player must be on LTIR for ten games and three weeks to qualify for LTIR cap savings. If neither player is ready to go for the start of the season, then the Rangers will need two extra forwards at the start of the season. For simplicity purposes, let's use Asham and Powe as the replacements, and round down Powe's salary to $1 million ($66k less). Since cap space is calculated on a daily basis, the cap savings would be equal to the percentage of days on LTIR. For example, if they are on LTIR for exactly 41 games, then the Rangers have an LTIR savings of 50% of their salaries. The ten-game qualifier takes the Rangers through their nine-game road trip and the home opener, then the club would save roughly 12% of their salary from the cap (if they come back after that tenth game). If both can't go for the home opener, then the Rangers save 12% of their salaries, which is $270k for Hagelin and $513k for Callahan. Total savings of $783k. Asham and Powe would only account for 12% of their $1 million salaries each, which is $120k each ($240k total). Since Asham and Powe, at the ten game mark, would only account for $240k in cap space, then only one of Hagelin/Callahan would have to be placed on LTIR, since the savings for one is greater than the cost for the soon-to-be-waived duo. The math is a bit of a pain to do, but the Rangers are going to be ok heading into the season. Tweet
Original Story:
http://www.blueseatblogs.com/2013/08/...
THE BACKYARD
BEST OF MAXIM
RELATED ARTICLES
Per Capgeek, the Rangers have re-signed RFA forward Brandon Mashinter to a one-year deal worth $605k. The contract is a two-way contract, with Mashinter's AHL salary at $75k. Mashinter played four games with the Rangers last season, going scoreless in those four contests with a -2 rating. With the Whale, Mashinter played 35 games, putting up a line of 10-9-19 with 52 PIMs. The...
Thomas Spelling, the speedy 20-year-old right-wing from Denmark, was drafted in the 5th round (142nd overall) in the 2012 NHL Draft. He is currently playing for team SønderjyskE (Denmark League) He has yet to make a splash to the North American leagues. The New York Rangers website says Spelling "Has excellent acceleration and mobility. … Anticipates […]
While no official announcement has been made, it appears the Rangers have signed undrafted free agent defenseman Charlie Dodero of the Sudbury Wolves, per Michael Kantor's Twitter. The 6′, 195-lb defenseman just finished his age-20 season in the OHL, putting up a line of 7-20-27 with a -23 rating. The -23 rating is a bit misleading, as Sudbury wasn't solid defensively, and...
As the offseason wears on, us and Matt Josephs of Blue Line Station (Twitter: 11Matt_Josephs8) will be running a tournament for the Best Ranger since the 2005 lockout. Yesterday we saw #6 Petr Prucha beat #11 Paul Mara. Today's matchup is #7 Brad Richards vs. #10 Martin Biron. Brad Richards (acquired – 2011 unrestricted free agent) Richards came on board with the Rangers in July...
Last week, Henrik Lundqvist expressed safety concerns about the NHL's recommendation to shorten the length of goaltender's leg pads. Well it looks like those recommendations have become a reality as the Rangers netminder tweeted out a pic of his new, shorter pads.... Here's Lundqvist on the new pads... "Not sure how it will affect my game. Hopefully...
There is little sense in attempting to even try to figure out exactly what the heck was going on during a recent commercial shoot that involved New York Rangers goaltender Henrik Lundqvist and a bottle containing some kind of thick-ish white, creamy substance. Nor does it make much sense to try to figure out how […]The post Facial! This image from a Henrik Lundqvist ad shoot is...
The New York Post's Larry Brooks duly notes that perhaps the biggest signings of the summer of 2013 have in fact involved teams locking up the unrestricted free agent class of 2014, and as such, Brooks urges the New York Rangers to start ponying up to retain their core: The potential free agent class of 2014 is being whittled down one by one — a Joe Pavelski here, a Jay...
Sykora joined Kreider as the double-digit upset winner. As the offseason wears on, us and Matt Josephs of Blue Line Station (Twitter: 11Matt_Josephs8) will be running a tournament for the Best Ranger since the 2005 lockout. Yesterday we saw #13 Petr Sykora upset #4 Sean Avery. Today's matchup is #3 Rick Nash vs. #14 Steve Eminger. You might notice we skipped #6 Petr Prucha vs....
The potential free agent class of 2014 is being whittled down one by one — a Joe Pavelski here a Jay Bouwmeester there contract extensions for essential players everywhere. Except in New York where the Rangers have been curiously reluctant to engage in negotiations with Henrik Lundqvist Ryan Callahan and Dan Girardi all of whom can go free (alternate meaning) next summer. Understand...
The New York Rangers have re-signed Brandon Mashinter to a one year, two way contract worth $605,000. Mashinter signed as a free agent with San Jose on March 3, 2009. Mashinter never got a full season with the club, but he did manage to play 13 games with the Sharks during the 2010-2011 campaign, recording no goals. During the 2011-2012 season, he [...]
In this morning's NY Post, Larry Brooks opines over soon to be un-restricted free agents Henrik Lundqivst, Ryan Callahan and Dan Girardi. In it, he states that negotiations with all three players and their agents have yet to begin, despite the recent news of contract extensions elsewhere around the league (Joe Pavelski, Jay Bouwmeester, etc.) Regarding Lundqvist, Brooks...
NHL News

Delivered to your inbox

You'll also receive Yardbarker's daily Top 10, featuring the best sports stories from around the web. Customize your newsletter to get articles on your favorite sports and teams. And the best part? It's free!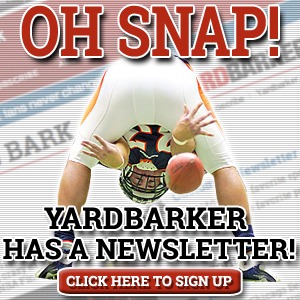 Latest Rumors
Best of Yardbarker

Today's Best Stuff

For Bloggers

Join the Yardbarker Network for more promotion, traffic, and money.

Company Info

Help

What is Yardbarker?

Yardbarker is the largest network of sports blogs and pro athlete blogs on the web. This site is the hub of the Yardbarker Network, where our editors and algorithms curate the best sports content from our network and beyond.