Found March 11, 2014 on Blue Seat Blogs:
PLAYERS:
Anton Stralman
,
Henrik Lundqvist
,
Dan Girardi
,
Keith Ballard
,
Mark Stuart
,
James Wisniewski
,
Victor Hedman
TEAMS:
New York Rangers
,
Minnesota Wild
,
Winnipeg Jets
,
Columbus Blue Jackets
,
Tampa Bay Lightning
Stralman's will be a tough contract to determine. When Anton Stralman rejected a three-year, $9 million offer from the Rangers over the weekend, a lot of fans were outraged. This would be the fourth Ranger this season to "reject a perfectly good offer." Henrik Lundqvist's negotiations took a while before he re-signed, as did Dan Girardi's. Ryan Callahan's never materialized, and he was shipped to Tampa Bay at the trade deadline. Unrestricted free agency is a tricky beast. Market value is generally determined by comparable contracts, but the player has all the leverage. As we saw with Cally, teams will be willing to give him seven years and $6 million, which makes his value higher. It's best to view this objectively, which is tough considering how much we all love the Rangers. When it comes to Stralman, and in particular defensemen who are not relied upon to produce offensively, market value is a little more difficult to determine. Using point production isn't the best indicator of value, so we have to be a little more creative. Capgeek has a comparables tool we can use to find comparable contracts to Stralman. It's pretty good, and the results give us a starting point. I used Keith Ballard, Chris Butler, and Mark Stuart as comparables from a point production standpoint. Their peripherals are all pretty similar to Stralman's as well, but Stralman drives a lot more puck possession than all three here. And therein lies the conundrum. Teams that use Corsi as an indicator of value see where Stralman lies on the spectrum. For those wondering: He's #1 in the league at driving puck possession at 5v5 (based on minimum 48 games played, using relative Corsi to account for team effect). Stralman Now, using relative Corsi on its own is flawed logic. We need to take into account quality of competition faced and zone starts. Stralman still starts over half his shifts (50.7%) in the offensive zone, which certainly helps his possession numbers. His QoC numbers represent top-four minutes, which is consistent with his deployment. I made an attempt to find usage comparables for Stralman by taking those with puck possession above a 4.5% Corsi relative, over 50% zone starts, and over 28% ToTm% QoC. Unfortunately that left us with just a pair of comparables: James Wisniewski and Victor Hedman. Stralman doesn't compare well to these two since they actually put up offensive numbers. Stralman is a really interesting case. He should be producing more based on his ability to control puck possession, but he simply doesn't do that. His 34 point season seems to be a blip on the radar and not consistent with his career production. So how does all of this determine his value? I'd value him higher than where Capgeek has his comparables, but less than his #fancystat comparables. His numbers are nice, but they aren't translating to the score sheet, and that is the bigger problem. It certainly affects his value on the ice and will affect his contract. I don't think Stralman is worth more than the $3 million he rejected, but it wouldn't shock me to see him get more on the open market. Tweet
Original Story:
http://www.blueseatblogs.com/2014/03/...
THE BACKYARD
BEST OF MAXIM
RELATED ARTICLES
(Scott Levy/NHLI/Getty Images) With the regular season coming to an end in a few short weeks speculation will increase as to whether Brian Boyle should be retained or not. For the right price, Glen Sather should absolutely keep Boyle – for the short term. It may be Boyle's demands that scupper any extension with New York, but from a pure skill perspective he still fills multiple...
Per Pat Leonard, Derek Dorsett will be taking Dan Carcillo's spot in the lineup tonight against Carolina. Dorsett's last game was March 5th against Toronto. This move might make some people angry considering Carcillo's strong play with the Rangers, but Dorsett is the more balanced player. His ability to take shifts in the defensive zone late in the game –not to mention his...
Per Larry Brooks, Rangers defenseman Anton Stralman has rejected a contract extension from the Rangers worth $9 million over three years. Stralman, who signed as a free agent during the 2011-2012 season, has a line of 1-7-8 in 63 games this year while playing on the second pairing with Marc Staal. The recent acquisition of Kevin Klein –couple with Stralman's poor play lately–...
The Rangers came home early Sunday afternoon looking to build on their win in Carolina on Friday. With an original six team in the building, the Rangers forgot about the struggle of daylight savings and worked towards a streak. Rangers who have been relatively silent woke up to produce, and we saw yet another goal based off of the hard work of the fourth line. Having been at the...
Talbot's cap hit is just $565,500 next season When Henrik Lundqvist re-signed with the Rangers for seven years, $59.5 million on December 4, one of the possible dominoes was the team trading backup goalie Cam Talbot this summer. Talbot has produced at probably an unsustainable level. With just one season separating the 26-year-old from unrestricted free agency, you have to assume...
from Larry Brooks of the New York Post, The trade deadline-driven contract negotiations with Dan Girardi and Ryan Callahan were instructive to Marc Staal, who could be in the very same position as an impending free agent next year but sure isn't savoring the possibility. "I saw those two guys go through it with the negotiations and all of the rumors that are impossible...
Playing hockey in New York has afforded Carl Hagelin the opportunity to upgrade his style. Along with his New York Rangers teammates, he's attended Fashion Week shows and worked with top designers. When discussing his evolved fashion sense since being in New York, he previously told 5th at 58th: "I'm starting to pay better attention to what I wear, as the shopping in NYC...
He celebrated his 300th career victory and his 49th career shutout all in one night, but New York Rangers goalie Henrik Lundqvist didn't know all that came with being trapped. In last night's game against the Detroit Red Wings and with just under three minutes remaining in the second period, Lundquvist was eyeing play behind his net, which went out to his left. While trailing...
Photo: Star Ledger The Rangers need another two points against Carolina tonight. That much is a given. But there is another story happening here. Henrik Lundqvist notched win #300 against Detroit on Sunday, and he goes for Mike Richter's Ranger-record #301 tonight. Hank and Richter are the only two goaltenders in Rangers history with 300 wins, and it is a lock that Hank will eventually...
Photo by Grant Halverson/Getty Images Boy, if there ever was a trap game, last night was it. The Rangers were coming in with two strong wins in their last two games and an opportunity to head to Minnesota on a three-game win streak. Instead, they played some pretty lazy hockey en route to a 3-1 loss to a Carolina Hurricanes team that is out of the playoff race. The Rangers were doomed...
There are some games where you'll catch a team on an off-night and this was the case with the Hurricanes 3-1 win over the Rangers. After all, this is the same team that wiped the floor with the Hurricanes on Friday night and is much better than them in terms of skill and depth. You wouldn't know that from watching last night's game, though because the Hurricanes controlled...
NHL News

Delivered to your inbox

You'll also receive Yardbarker's daily Top 10, featuring the best sports stories from around the web. Customize your newsletter to get articles on your favorite sports and teams. And the best part? It's free!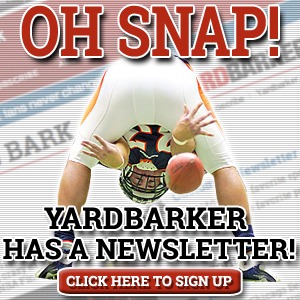 Latest Rumors
Best of Yardbarker

Today's Best Stuff

For Bloggers

Join the Yardbarker Network for more promotion, traffic, and money.

Company Info

Help

What is Yardbarker?

Yardbarker is the largest network of sports blogs and pro athlete blogs on the web. This site is the hub of the Yardbarker Network, where our editors and algorithms curate the best sports content from our network and beyond.