Found July 06, 2012 on isportsweb.com:
First Brad Stuart left Detroit for San Jose, then Jiri Hudler signed a fat contract in Calgary.  Both Zach Parise and Ryan Suter chose Minnesota over Detroit, surprising hockey fans everywhere and leaving the Motor City quite dejected.  With the top two free agents off the board, what now for the Detroit Red Wings? Parise and Suter are fantastic players in the prime of their careers who no doubt would have made instant contributions.  But it is the Red Wings' job to look forward at the talent that still remains instead of moping around about the loss of Suter and Parise. If the season started today, the Wings would have one of the most talented rosters in the league.  Sure, a first line of Pavel Datsyuk, Johan Franzen, and Parise sounds great, but don't forget that Henrik Zetterberg and Valtteri Filppula each had over 65 points and 22 goals last season.  Add Todd Bertuzzi's 38 points to the mix and Detroit has the makings of a very strong top six forwards. The problem is that I only listed five players. As it stands, the Wings would likely be playing winger Danny Cleary on their second line alongside Zetterberg and Filppula.  Cleary has given his heart and soul to the Detroit Red Wings for seven years now, regularly battling through injury, but he doesn't belong on the second line of a team with expectations as high as Detroit's. The Red Wings must add a top six caliber forward if they plan to contend this year, plain and simple.  They have added depth to the third and fourth lines with the addition of Jordin Tootoo and the reacquisition of veteran Mikael Samuelsson.  Add the young and talented group of Gustav Nyquist, Jan Mursak, Cory Emmerton, Darren Helm, and Justin Abdelkader, and Detroit boasts a decent bottom six with some speed. With another quality goal-scorer, the Wings could be a solid offensive team this year despite the loss of Hudler, but the defense concerns me a bit. Even with arguably the best defenseman ever to play the game, the Red Wings were consistently inconsistent last season.  With Nicklas Lidstrom gone, the team's defensive flaws may Ericsson has improved, but needs someone beside him grow even bigger. Ian White will surely be on the team's top defensive pair, but who will accompany him?  If the season started today, it would likely be Niklas Kronwall.  I like a White-Kronwall pair, but White played much of last year alongside Lidstrom, whose game was completely different from Kronwall's bruising style.  There would be a learning curve, but the pair would eventually work nicely. From there, the situation becomes less clear.  The second pair could be Jonathan Ericsson and Kyle Quincey, which concerns me.  Ericsson showed signs of outstanding play last year, and I am beginning to trust him more, but paired with Quincey I'm not sure the duo would do well.  Quincey belongs in the third pair, and Ericsson needs a solid guy next to him to cover his mistakes (which he makes far too regularly for someone of his talent level). Washington's Alexander Semin is now the top free agent left in my book, but rumors have the Red Wings out of the bidding.  Shane Doan is also on the market, but I don't see a Doan-to-Detroit move happening.  For one, Doan flat-out hates Detroit.  All the playoff losses to the Wings have put Detroit low on Doan's list of desired destinations.  Secondly, the Red Wings can get a far younger player with nearly as much talent for cheaper. Nashville winger Andrei Kostitsyn is a free agent, and CBS Sports has reported that he won't be back with the team for the 2012-13 campaign.  I see the Red Wings being serious bidders in the Kostitsyn sweepstakes, but don't be surprised if they go after Doan as well. To fill the hole in the defense, I like Carlo Colaiacovo of the St. Louis Blues.  Colaiacovo has been hampered by injuries for some of his career, but at 29 years old he has several years left in the tank and could be a solid guy alongside Kronwall or Ericsson. No matter who Ken Holland and the Red Wings target, it needs to happen soon.  Time is ticking and a large majority of players have already signed. Time for Mr. Holland to earn his salary. Follow me on twitter @ScottPeceny
Original Story:
http://feedproxy.google.com/~r/isport...
THE BACKYARD
BEST OF MAXIM
RELATED ARTICLES
from Michael Arace of the Columbus Dispatch, Now, can you imagine Nash playing with Pavel Datsyuk or Henrik Zetterberg in Detroit, and drumming the Jackets six times a season? Imagine Red Wings fans scalping off half the house at Nationwide Arena, reveling in the carnage and throwing seafood on the ice? Imagine this going on for six or eight or a dozen years? Please, say it ain't...
According to the Detroit News's Ted Kulfan, Tomas Holmstrom's career with the Red Wings may informally come to an end when he meets with Ken Holland next week: Holland plans on talking with Tomas Holmstrom next week to determine if there is a place on the roster for the 39-year-old forward. With the recent additions of Mikael Samuelsson and Jordin Tootoo , the Red Wings are...
I just got in to Traverse City, so I'll have more on this later, but, via NHL Gossip on Twitter, here is former Red Wings captain Nicklas Lidstrom speaking to Aftonbladet's Angelica Lundberg about the one exception he will make to the, "I just want to be a hockey dad" rule: Question: What will you do to occupy yourself? Nicklas Lidstrom: "I will work for the Red Wings...
Paul here for George who is preparing for Traverse City.. from Ansar Khan of Mlive, By filing for salary arbitration on Thursday, defenseman Kyle Quincey expedited the process toward getting a new contract with the Detroit Red Wings. The sides haven't had much time to talk, with so much else going on for the club. But, now they will. "Today was something that needed to happen...
Via Red Wings Front, Now Brunnstrom, 27, may be running into the wrong end of the numbers game with the Wings. "We haven't written him off, but we've got a couple of things in play," Wings general manager Ken Holland said. The numbers concern is the Wings' 50-man roster limit and the fact they possibly may look to still add a different type of forward or two to Grand...
Before I lay my head down for a few hours and then prepare for that awful 6 AM alarm, here's a brief summary of the Red Wings news I missed over the past 36 hours. Done a little quickly and on a no-particular order source-by-source basis… Well, okay, except for the beginning. ESPN's Scott Burnside and Pierre LeBrun had a chat about the Red Wings as potential suitors for Rick...
Even though the Wings reportedly have concerns about his work ethic, Alexander Semin seems like an obvious choice. Continue reading →
The next couple of weeks aren't going to be comfortable, fellow Red Wings fans, but I didn't realize how incredibly difficult Wednesday's news that the Red Wings lost out to the Minnesota Wild in terms of landing a player they desperately hoped to sign (Ryan Suter) and one they were at least particularly interested in (Zach Parise)... Until I left my computer screen, after...
Wow, awesome signing for the Red Wings on the coaching front, from their official Twitter account: The Red Wings have hired former EDM/NYR/VAN bench boss Tom Renney as an associate coach. Renney, 57, has signed a 3-year deal with the club. ... Renney has a career 260-255-9-68 NHL record. BC native won a Mem Cup with Blazers in '92 and a Silver Medal with Team Canada at '94 Olympics...
The Detroit Red Wings on Thursday named Tom Renney as an associate coach. Renney, 57, signed a three-year contract. He formerly coached the Edmonton Oilers, New York Rangers and Vancouver Canucks, and was not rehired by the Oilers after this past season. He joins Mike Babcock's staff as a replacement for assistant coach Jeff Blashill.
Red Wings GM Ken Holland suggested that his team would step back and reevaluate its plans after being spurned by Zach Parise and Ryan Suter, so I cannot deny that I was more than a bit surprised by all the hubbub about Rick Nash on Thursday. The media very understandably skewered Blue Jackets GM Scott Howson for demanding the sun, moon and stars for Nash's services, but at the...
Zach Parise and Ryan Suter broke Detroit Red Wings fans' hearts on July 4 by signing with the Minnesota Wild. Continue reading →
Red Wings News

Delivered to your inbox

You'll also receive Yardbarker's daily Top 10, featuring the best sports stories from around the web. Customize your newsletter to get articles on your favorite sports and teams. And the best part? It's free!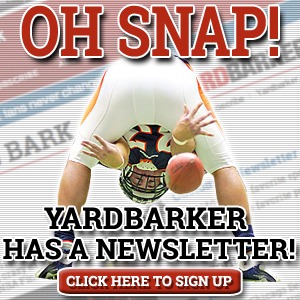 Latest Rumors
Best of Yardbarker

Today's Best Stuff

For Bloggers

Join the Yardbarker Network for more promotion, traffic, and money.

Company Info

Help

What is Yardbarker?

Yardbarker is the largest network of sports blogs and pro athlete blogs on the web. This site is the hub of the Yardbarker Network, where our editors and algorithms curate the best sports content from our network and beyond.