Found February 24, 2013 on Queen City Sports:
PLAYERS:
Michael Grabner
,
Christian Ehrhoff
,
Lindy Ruff
,
Ryan Miller
,
Thomas Vanek
,
Cody Hodgson
,
Tyler Ennis
,
Marcus Foligno
,
Mikhail Grigorenko
,
Tyler Myers
,
T.J. Brennan
TEAMS:
New York Islanders
,
Buffalo Sabres
Last night's home debacle was the kind of loss that gets coaches fired.  Except the Sabres have already made a change behind the bench.  General Manager Darcy Regier may be on thin ice, but the team he has assembled went out and out shot their opponent last night, out hit their opponent last night, won more face-offs, and led in the takeaway department yet not only lost, but lost decisively.  There is no denying the amount of physical talent on this Buffalo roster, but this team is either incredibly stubborn, seriously devoid of even a modicum of hockey IQ, or intentionally tanking to secure their draft position.  That's the only logical explanation for the amount of mental mistakes this Sabres squad makes on a nightly basis. Case in point, look at last night's statistics, and although Buffalo on paper appeared to have been very competitive there is one glaring negative.  No I'm not talking about the 0/6 on the power-play, their PP has been awful, but the chances are there and odds are they'll start lighting the lamp soon.  Instead I'm talking the giveaways, officially credited with 9 versus just 2 for the Islanders.  The goal that really took the wind out of the Sabres sails was Michael Grabner's late 2nd period tally, a marker that was the direct result of a Christian Ehrhoff turnover in the offensive zone. Ron Rolston's first two games at the helm have looked eerily similar to Lindy Ruff's last two games. All resulting in losses. (Amherst Times) That play was a microcosm of Buffalo's season up to this point, even when they're applying pressure to the other team they find a way to gift wrap a goal to their opponent.  Numbers don't tell the whole story, just watch any of the Sabres 19 contests thus far and even in their 6 wins they've either needed a herculean effort by Ryan Miller or an equally as dominant performance from Thomas Vanek to offset the plethora of mental gaffes and notch a victory. The lackadaisical play in their own zone, and errant passes by the Sabres in their opening day victory over Philadelphia were written off as lockout rust and nobody batted an eye to the mind numbingly laissez faire defensive zone coverage.  Looking back it should have been obvious that their poor puck decisions were a portent of things to come.  In that contest the Sabres were credited with 8 giveaways to the Flyers 5, and after re-watching that game I can tell you those official numbers are very kind to Buffalo. Besides the poor decision making with the puck, in all zones, their defensive zone coverage has been the next biggest thorn in the side of this team.  For all of Cody Hodgson's offensive prowess he seems to have an incredibly difficult time picking up the other team's center in the slot and tying him up.  Cody isn't alone, and perhaps the open man in the slot wouldn't be as noticeable if he wasn't always receiving a tape to tape pass from his linemate in the corner after he outworks at least two Sabres players to free himself and make the play. Seth Jones could be a lynchpin on defense for the next decade in Buffalo, but right now this team needs to focus on playing smarter hockey. (Getty Images) The most frustrating thing about these deficiencies, is that they are largely a result of either poor effort, or poor decision making, not a lack of talent.  Lindy Ruff could only drive home these points so many times before it became evident that his message was no longer getting through.  Two games into the Ron Rolston era and there is no improvement in these areas.  The voices have changed, the systems have changed, but the constant is a group of players who, in terms of points percentage, are now ranked dead last in the NHL. It would be easy to say this team is simply lacking the talent to compete, but we've seen too many of these players have success in previous years to buy into that theory.  Perhaps Buffalo was a bit overrated to start the year, but I don't know anyone who would have predicted they'd be in contention for the number one overall draft pick.  The job for this organization is much tougher than just assembling quality players, it's finding a way to get the quality players they have to play a simpler, cleaner, more efficient game and force their opponents to beat them, instead of allowing their opponents to wait around for Buffalo mistakes and beating themselves. Failing to turn things around and landing a top 5 draft pick wouldn't necessarily be the worst thing for this organization. Buffalo could choose to write off this season as a learning experience for the kids, Cody Hodgson, Tyler Ennis, Marcus Foligno, Mikhail Grigorenko, Tyler Myers, and TJ Brennan, while pocketing a top 5 pick and looking forward to next year. That wouldn't be devastating, in fact it could be the best thing that happens to this team, but that's not what you're playing for here and now.  At this moment the goal is to limit the mistakes and get back in the win column as many times as possible before game 48.  Right now that task falls squarely on the shoulders of Ron Rolston and Darcy Regier.  If the next 29 games do not yield better results it may rest on the shoulders of an entirely different regime next year. Feature Image Courtesy of The Buffalo News. Twitter @SabreHess The post Different Voice, Same Results appeared first on Queen City Sports.
Original Story:
http://queencitysports.net/nhl/differ...
THE BACKYARD
BEST OF MAXIM
RELATED ARTICLES
I have wanted to comment upon the Buffalo Sabres firing of Lindy Ruff this week but have yet to find the time.  Ruff was the longest serving NHL coach.  He had been hired in 1997 and has successfully taken the Buffalo Sabres to the Stanley Cup finals.  He finally fell for the "what have you done for me lately?" mindset that often sees good coaches get fired.  Buffalo...
  So the other day Ryan Miller lost his ****... again. Oof. About time for Buffalo to show a little fight but their timing is awful. You throw down when the opposing team cheapshots you, not when your own defenseman pushes a forward into you. Same thing with Weber. He's the one who throws Martin into Miller and then he starts dishing out fisticuffs. Embarrassing...
Mikhail Grigorenko is hoping to see more playing time under Ron Rolston(Photo: Rick Stewart/Getty Images) Buffalo's top prospect is returning to the ice. After sitting that last three games, and four of the last six, Mikhail Grigorenko will be back in the Buffalo lineup when the team takes the ice on Saturday night against the New York Islanders. It'll be his first chance to...
Ryan Miller has made known his anger with the team's performance(Photo by Bill Wippert/NHLI via Getty Images) This past Wednesday, the 2013 season had hit a month old for the the Buffalo Sabres, though it doesn't feel like it's only been a month. The team is 6-12-1 on the year, and is in last place in the Eastern Conference; 29th in the NHL. Needless to say, it hasn't been...
The Sabres have a lot to fix if they want the booing to stop.(Photo by Bill Wippert/NHLI via Getty Images) The players hear it, the coaches hear it, the managers hear it: boos raining down on the ice during a Buffalo Sabres game. It's commonplace for the fans that pack the First Niagara Center every night to boo a team on the ice. However, the team being booed isn't the team...
from John Vogl of the Buffalo News, The Sabres' slide into oblivion continued with a 4-0 loss to the New York Islanders. The disgruntled crowd in First Niagara Center saw the Sabres lose for the fourth game in a row and ninth time in 12 outings. Only 1,000 or so in the sellout crowd of 19,070 stuck around until the end, and based on the noise they did so only to jeer. ...
Following Saturday night's loss I took a few days to think about this Sabres team and all that has gone on so far this season. So much negativity, so much disappointment & so much anger. What a fall from grace not only for this team, but also for a city that only a few years ago rivaled Detroit as "Hockey Town USA". No longer, as the product on the ice has diminished so...
NHL News

Delivered to your inbox

You'll also receive Yardbarker's daily Top 10, featuring the best sports stories from around the web. Customize your newsletter to get articles on your favorite sports and teams. And the best part? It's free!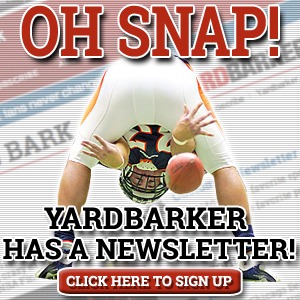 Latest Rumors
Best of Yardbarker

Today's Best Stuff

For Bloggers

Join the Yardbarker Network for more promotion, traffic, and money.

Company Info

Help

What is Yardbarker?

Yardbarker is the largest network of sports blogs and pro athlete blogs on the web. This site is the hub of the Yardbarker Network, where our editors and algorithms curate the best sports content from our network and beyond.