Posted February 02, 2013 on AP on Fox
PLAYERS:
Teemu Selanne
,
Bobby Ryan
,
Kyle Palmieri
,
Viktor Fasth
,
Niklas Backstrom
,
Marco Scandella
,
Zach Parise
,
Bruce Boudreau
,
Jonas Hiller
,
Sami Vatanen
,
Emerson Etem
,
Toni Lydman
,
Rickard Rakell
TEAMS:
Anaheim Ducks
,
Minnesota Wild
,
Los Angeles Kings
Forget the cake and candles. Teemu Selanne and Bobby Ryan got Kyle Palmieri what he really wanted on his 22nd birthday. Two goals, tons of scoring chances and the promise of many more on their potent line for the surging Anaheim Ducks. Palmieri's second goal broke a tie early in the third period, and Ryan's power-play goal with 1:34 left sealed the Ducks' 3-1 victory over the Minnesota Wild on Friday night. Selanne had three assists, and Ryan added two more in the Ducks' fourth win in six games to start the season. Palmieri produced his second multigoal performance in his 34th career NHL game, and the promising youngster is grateful for the chance to skate with two proven NHL scorers. ''I just have to keep working hard with these guys, and all of these opportunities will come,'' Palmieri said. ''I've just got to keep working hard. Me and Bobby had basically tap-in (goals), and they were all caused by Teemu's passing. That vision he has definitely doesn't stop with goal-scoring.'' Anaheim went ahead 4:21 into the third period on a slick setup by Palmieri's veteran linemates. After Ryan won a faceoff, Selanne threaded a beautiful pass between two defenders who got caught moving the wrong way to stop a one-timer by Palmieri. Viktor Fasth made 26 saves for Anaheim, including several tough stops in the waning minutes after giving up a soft early goal in his second career victory. The Ducks still couldn't get comfortable until Selanne backhanded a pass across the crease to Ryan for his second goal of the season with 1:34 to play. ''Teemu and the guys all wanted the ketchup bottle to open,'' said Ryan, the longtime right wing who gets fired up by the chance to play center. ''It felt good and meant a lot to the team. ... Palms adds a different dynamic, and it helps our line. He gets to some difficult pucks, and we get rewarded because of it.'' With his first three-assist game since Feb. 11, 2011, the 42-year-old Selanne tied Doug Gilmour for 17th place on the NHL's career scoring list with 1,414 points. Niklas Backstrom stopped 28 shots for the Wild, who are winless in three road games this season. Defenseman Marco Scandella scored Minnesota's only goal in the first period, and the Wild's top line was largely ineffective against Anaheim's defense. ''They didn't give us a lot of room through the neutral zone, and a lot of it was our fault,'' leading scorer Zach Parise said. ''We didn't make good plays and didn't put each other in good positions for the next guy to make a play. So we kind of played right into their hands and allowed their D to stay up. We were in our own zone all night and didn't do a good job of breaking out.'' Minnesota coach Mike Yeo praised his goaltending, but couldn't say the same about everybody in uniform. ''They played the type of game that we want to play, and they executed a lot better than us,'' Yeo said. ''We were in a position to steal a game because of Backstrom. He played great, but you don't win games when you don't have everybody, and we didn't have everybody tonight. I don't care who we're playing against. You've got to execute. If you have one guy doing it and the next guy's not, then it's not going to work.'' With Ducks coach Bruce Boudreau apparently saving Jonas Hiller for Saturday's Freeway Faceoff against the Stanley Cup champion Los Angeles Kings, Fasth got his second NHL start and remained unbeaten - but the Swedish backup made trouble for himself midway through the first period. Shortly after a lively Anaheim power play ended without a score, the Wild received a gift goal when Fasth couldn't close his pads on a long, innocuous shot by Scandella, who got his first goal of the season. ''I'm supposed to have that one,'' Fasth said. ''The guys played really well in front of me, and it felt good to be able to make some good saves in the third period.'' Early in the second period, Selanne collected Parise's turnover at mid-ice and got it ahead to Ryan, who made a deceptive cross-ice pass to set up Palmieri's tying goal. Sami Vatanen, a 21-year-old puck-moving defenseman, made his NHL debut for the Ducks on the same night Emerson Etem debuted at Honda Center. Etem, a forward from nearby Long Beach, Calif., and the highest-drafted Southern California product in Ducks history, made his NHL debut Tuesday in San Jose. NOTES: Anaheim D Toni Lydman was scratched in favor of Vatanen, his fellow Finn. The Ducks are trying to limit the grind of back-to-back games on the 35-year-old Lydman. ... The Koivu brothers met in an NHL game for the 14th time, with Saku improving to 7-3-4 against younger brother Mikko, the Wild captain. Both brothers are off to outstanding starts to their seasons, scoring more than a point per game. ... Etem and Vatanen are the third and fourth Ducks to make their NHL debuts this season, joining two Swedes: Fasth and Rickard Rakell.
Original Story:
http://msn.foxsports.com/nhl/story/Du...
THE BACKYARD
BEST OF MAXIM
RELATED ARTICLES
ANAHEIM, Calif. -- His work for the night done, the celebration about to begin, Kyle Palmieri could not remember a single meaningful birthday present. He scanned and scanned the deepest recesses of his brain, all for naught. Xbox? Nope. New car? Sorry. Plasma television? Nah. Nothing was bigger than the two gifts he received Friday night. Palmieri celebrated his 22nd birthday...
ANAHEIM, Calif. (AP) -- Kyle Palmieri scored two goals on his 22nd birthday, breaking a tie early in the third period of the Anaheim Ducks' 3-1 victory over the Minnesota Wild on Friday night. Bobby Ryan had a power-play goal and two assists, and linemate Teemu Selanne had three assists in the Ducks' fourth win in six games to start the season. Viktor Fasth made 26 saves...
ANAHEIM, Calif. -- A day after racking up two goals on his 22nd birthday, Kyle Palmieri was not about to let the party die out. More important for the Anaheim Ducks, he continued the celebration with some buddies. Palmieri notched the go-ahead goal late in the second period, and Nick Bonino added his first career hat trick as the Ducks continued their scorching offensive start...
For most of us a good birthday consists of a little cake, some presents and good time with our friends and family. For Anaheim Ducks forward Kyle Palmieri he celebrated his 22nd birthday on Friday night by leading his team to a big 3-1 win over the revamped Minnesota Wild. Anaheim came into the game having played one of their best games in nearly two seasons in a 3-2 shootout...
ANAHEIM, Calif. (AP) -- Nick Bonino scored his third goal on a power play with 11:21 to play, and the surging Anaheim Ducks beat the Los Angeles Kings 7-4 Saturday night in the first Freeway Faceoff of the season. Bonino scored two goals in the first six minutes to chase Jonathan Quick before completing his first career hat trick against Jonathan Bernier. Kyle Palmieri scored the...
Leave it to Ducks Coach Bruce (Gabby) Boudreau to wax poetic about his team's season series against the Kings. "It's a rivalry and it's for Southern California. It's for Southern California bragging rights," Boudreau said. "I mean, I know as a person I don't like to see them on top and then every time you go outside they're flaunting it at...
via Eric Stephens of the Ducks Blog, Ducks coach Bruce Boudreau suggested that the NHL take a long look at a hit by the Kings'Jarret Stoll on Cam Fowler that knocked the defenseman out of the club's 7-4 win and left him with an upper-body injury. Fowler had to be assisted off the ice during the second period and did not return. Stoll drilled him headfirst into the...
Maybe shortened seasons aren't so bad after all.   After defeating the Minnesota Wild 3-1, the Ducks are now 4-1-1 to start the season.  Historically, Anaheim is a slow starter and picks up speed in the second half of the season.  This time, instead of having to play catch up, the Ducks are doing just fine holding their own and improving. Coach Bruce Boudreau is unafraid...
ANAHEIM, Calif. -- The Anaheim Ducks continued its scorching offensive start behind a parade of no-names as the Ducks won a high-scoring matchup with the rival Los Angeles Kings , 7-4, on Saturday night at the Honda Center. On Friday in a 3-1 win over visiting Minnesota, it was Kyle Palmieri who shined, celebrating his 22nd birthday with two key goals. On Saturday, Nick Bonino...
The Ducks have had a relatively relaxed start to their hockey season, getting a couple days off here, a couple days off there.  Welcome to February!    Time to buckle down and start knocking out some games. The Ducks played against the San Jose Sharks on Tuesday night and had a couple days break in between, including the annual Fan Fest for their season ticket holders on...
The lockout helped bring the Kings and Ducks together in Southern California as they figured that it would be far more beneficial to join forces than to practice in two smaller groups. Nine time zones away, the same thing was happening on a much smaller scale. The modest town of Mora, Sweden, was treated to the sight of two talented forwards in their prime, Bobby Ryan of the Ducks...
It's time for Flyers GM Paul Holmgren to make a move for this underachieving, struggling team that he himself is responsible for it's slow start. The Flyers need some veteran scoring help. Someone is not going to cost them their future. The fans want Bobby Ryan but the FLyers could have had him any number of times last summer and chose to look away realizing the price...
NHL News

Delivered to your inbox

You'll also receive Yardbarker's daily Top 10, featuring the best sports stories from around the web. Customize your newsletter to get articles on your favorite sports and teams. And the best part? It's free!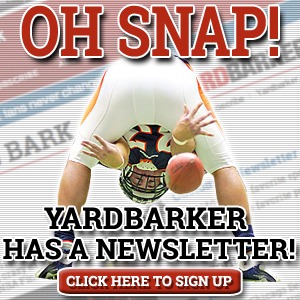 Latest Rumors
The Backyard

Today's Best Stuff

For Bloggers

Join the Yardbarker Network for more promotion, traffic, and money.

Company Info

Help

What is Yardbarker?

Yardbarker is the largest network of sports blogs and pro athlete blogs on the web. This site is the hub of the Yardbarker Network, where our editors and algorithms curate the best sports content from our network and beyond.