Found March 21, 2013 on Fox Sports West:
ANAHEIM, Calif. -- The Anaheim Ducks insisted the game had nothing to do with making a statement, but there was really no other way to look at it. So much attention has been paid to the Chicago Blackhawks this season that maybe this was Anaheim's way of making sure someone took notice. It will happen now. The Ducks still have the second-best record in the NHL, but they left no doubt Wednesday night that there are two exceptional teams at the top of the standings. Their 4-2 win over the Blackhawks in front of a franchise-record crowd of 17,610 at the Honda Center was every bit a statement. They extended their home winning streak to 13 games, improved their overall record 22-3-4 and beat Chicago for the second time this season -- the only times the Blackhawks have lost when leading after two periods. "It means a lot," said winger Bobby Ryan, who scored the tying goal for the Ducks after they trailed 2-1 going into the third period. "Theyve made a statement to run away with it so far, and weve quietly just gone about our business.... To be three points back with a game in hand is huge." The Ducks also have the advantage of playing their next five games on their home ice, where they're 13-1-0 so far. In a lockout-shortened season, every win counts, and so far theyre not wasting their opportunities. Center Ryan Getzlaf pushed the Ducks over the top, assisting on Ryan's equalizer and then setting up Teemu Selanne on the go-ahead score, both coming in a span of 5 minutes. On top of all that, he was fighting off the flu on Wednesday night. Selanne's goal gave him a career total of 1,425 points, moving him into a tie with Bryan Trottier for 15th place in career scoring. It was also the 107th game-winning goal of his career. "It's a big relief," he said, smiling. "Lately I've had some bad luck. Today I had so many chances, but the last couple of games I've felt that luck was not on my side. But it's always good. It gives you a lot of confidence, but the win was the most important." Selanne fired in the decider with just 4 minutes, 23 seconds left in regulation after Getzlaf dropped off a pass in perfect position for the veteran winger to slip it past Blackhawks goaltender Corey Crawford. "If you look at how Getz has played the whole season, he comes through when the time is most critical," Selanne said. "Thats what the best players do. He's playing an MVP season right now, and its fun to watch. You just need a beer and hot dog to watch." The game very much had a playoff atmosphere, with a strong Blackhawks crowd that at times seemed to outnumber and out-shout Ducks fans. But they went silent as soon as Selanne scored, and they were out of their seats and headed to the parking lot when Sheldon Souray dropped in an empty-netter with 20.7 seconds remaining. "It was pretty exciting," Ducks coach Bruce Boudreau said. "My heart rate was up a little bit there for most of the game. It looked to me just like a playoff game. We were lucky to come out on top." But he surely must be getting used to it. The Ducks lead the league with six third-period comebacks and now have 14 come-from-behind wins, the most by any NHL team through 29 games since the 1987-88 season. "We don't expect to come back, but we think we can," Boudreau said. "We have great leadership." Clearly, they have also learned from their mistakes of last season. The Ducks are 12-2-2 when their opponent scores first compared to 1-11-2 through 29 games last season. "We're just a resilient hockey club," Ryan said. "We learned a lot from last year, and its a lot of the same core guys that were here for that and were on the other side of it. "We all had some time to think about it this summer. There's just a belief in the room that the goalies are going to stand tall in the third and you know were going to pepper the net, and when you go to the net, good things are going to happen." They're happening so far. But there's still a long way to go.
Original Story:
http://www.foxsportswest.com/nhl/anah...
THE BACKYARD
BEST OF MAXIM
RELATED ARTICLES
Teemu Selanne is an ageless wonder — and now we may know the secret of his longevity. Even at age 42, The Finnish Flash remains one of the NHL's elite scorers, even while seeing less ice time. Although he has just 19 points in 29 games this season, Selanne has hit an inordinate number of posts, and remains a key cog on an Anaheim (they'll always be "Mighty" to us) Ducks...
from Pierre LeBrun of ESPN, Perry and Getzlaf, both signed, sealed and delivered. The Ducks now have about $53 million committed to 16 players for next season. They've still got about $11 million to play with under next season's $64.3 million salary cap to fill out their roster. People will immediately jump to the conclusion Bobby Ryan and his $5.1 million salary...
A short time ago, the Bruins looked like an unstoppable juggernaut poised to cruise to a Northeast Division crown and a top seed in the Eastern Conference playoffs. Now, fans are getting a little restless. The team's recent play hasn't exactly been sterling, but the Bruins have shown some chinks in the armor. With the NHL's trade deadline looming in the not-so-distant future...
Ryan Getzlaf set up Bobby Ryan's tying goal and Teemu Selanne's tiebreaker 1:04 apart late in the third period, and the Anaheim Ducks rallied for a 4-2 victory over the Chicago Blackhawks on Wednesday night in a meeting of the NHL's top two teams. Jonas Hiller stopped 22 shots, and Peter Holland and Sheldon Souray scored as the Ducks extended their franchise-record home...
Teemu Selanne and Corey Perry vividly remember how it felt six years ago when the Anaheim Ducks went to the rink every day feeling they just couldn't be stopped from raising the Stanley Cup. That feeling hasn't been around Anaheim much in the past few years, but it's all rushing back during the Ducks' spectacular 21-3-4 start to the lockout-shortened season. Deep...
The day card companies exclusively produce cardboard which combines my favorite players, multi-colored minor league memorabilia, a sleek design, and a limited print-run is the day I officially go broke. I can't resist that amalgam of traits.Hence why I couldn't help but acquire the above beauty when it appeared on eBay recently. It's the Gold Version and is thus limited...
Paced by some remarkable home success and the longest-active points streak in the league, the Anaheim Ducks continue to close in on the top spot in the NHL. After rallying to knock off the team atop the league standings, the surging Ducks look to extend their franchise-record home winning streak to 14 games Friday night in the first of two in three days against the Detroit Red Wings...
ANAHEIM, Calif. (AP) -- Ryan Getzlaf set up Bobby Ryan's tying goal and Teemu Selanne's tiebreaker 1:04 apart late in the third period, and the Anaheim Ducks rallied for a 4-2 victory over the Chicago Blackhawks on Wednesday night in a meeting of the NHL's top two teams. Jonas Hiller stopped 22 shots, and Peter Holland and Sheldon Souray scored as the Ducks extended...
There was a lot of hype and expectation coming for the Ducks and Blackhawks game on Wednesday.  Chicago is the number one team in the NHL and Anaheim is close behind at number two.  After another come from behind 4-2 victory over Chicago, the Ducks are looking to take that number one spot.  With the win, Anaheim is only three points back from Chicago and they are the only...
The following phrases were said tonight: "Franzen wins the race" "Power play goal, Detroit" and "Abdelkader with the hat trick!" And they were all true. I'm scared, too. This game was a lot like the won the Wings just lost to the Wild. The home team carried the play, but the road team scored on their few chances. And I'm so thrilled for Abby, I'm not going...
Only a little more than a week removed from the extension of Ryan Getzlaf, the Anahiem Ducks announced on Monday evening that they've agreed to an eight-year extension with forward Corey Perry worth $69 million. Perry was set to become an unrestricted free agent after this season and the Ducks organization felt that they couldn't risk letting him hit the open market. ...
The Anaheim Ducks scored three times in the third period to rally back and knock off the Chicago Blackhawks 4-2. Bobby Ryan and Teemu Selanne scored 64 seconds apart to break a 1-1 deadlock and Sheldon Souray hit an empty-netter with 21 seconds left to seal the win. SPIN: Jonas Hiller made 22 saves and looks like he might be the guy in Anaheim. He's been getting the starts recently...
NHL News

Delivered to your inbox

You'll also receive Yardbarker's daily Top 10, featuring the best sports stories from around the web. Customize your newsletter to get articles on your favorite sports and teams. And the best part? It's free!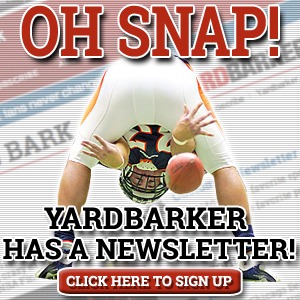 Latest Rumors
The Backyard

Today's Best Stuff

For Bloggers

Join the Yardbarker Network for more promotion, traffic, and money.

Company Info

Help

What is Yardbarker?

Yardbarker is the largest network of sports blogs and pro athlete blogs on the web. This site is the hub of the Yardbarker Network, where our editors and algorithms curate the best sports content from our network and beyond.