Found January 09, 2012 on Deadspin:
The L.A. Kings winger missed Saturday's game, and is questionable for tonight. He's still trying to get over a recent onset of back spasms, triggered by an insidiously hearty breakfast. More »
Original Story:
http://feeds.gawker.com/~r/deadspin/f...
THE BACKYARD
BEST OF MAXIM
RELATED ARTICLES
Los Angeles Kings winger Dustin Penner has revealed he was unable to play over the weekend after suffering back spasms brought on by eating pancakes. Penner, who is no stranger to being knocked for his weight, admitted he was forced to sit out the Kings' 1-0 loss to Columbus Saturday after becoming crippled as he leaned forward to tuck into his breakfast. "Apparently it...
"Pancakes? Why yes I'd love some, thank you..." Delicious pancakes truly are delicious, but rarely does the consuming of said pancakes lead to injury, outside of the usual indigestion suffered when too many delicious pancakes are eaten.  So it's somewhat surprising that L.A. Kings forward Dustin Penner would hurt his back while enjoying some of his wife's delicious...
It seems like there's no safe place to avoid injuries in the NHL -- not even your own kitchen. Los Angeles Kings forward Dustin Penner missed one game after injuring himself eating pancakes at home Saturday morning. He somehow managed to trigger back spasm while sitting down for breakfast. "I just leaned over to dip into some delicious pancakes that my wife made," he...
Straight out of the "WTF!" file comes the latest hiccup of Dustin Penner's less-than-stellar tenure in Los Angeles. According to Rich Hammond at LA Kings Insider, Penner injured his back reaching to indulge in some pancakes over the weekend. Penner missed Saturday's 1-0 loss to the Blue Jackets with back spasms but was apparently healthy enough to take the ice...
LA Kings player Dustin Penner recently hurt his back while eating pancakes made by his hot ass wife Jessica Welsh, who happens to be Richard Zednik's ex-(gold digging) wife.   When asked about the injury, this is what he said…  "Not bad. Better than yesterday. I woke up fine, sat down to eat and it locked right up. It never happened to me before. I couldn't stand up. I...
Look... if I had a wife was as hot as Dustin Penner's wife... I'd eat whatever she'd put in front of me, not matter how much pain it caused. Mmmmm. Pancakes. Dustin Penner and Jessica Welch were married during the All-Star Break in 2011. (Good thing Penner knew he'd have a couple days down and wouldn't be selected to the All-Star Team, right? RIGHT?!?...
Things an NHL player should do when his weight and conditioning are constant points of contention and ridicule: Hit the exercise bike; hire a personal trainer; impose some dietary restrictions. Things an NHL player shouldn't do when his weight and conditioning are constant points of contention and ridicule: Suffer an injury while eating a stack of "delicious pancakes.&quot...
This is a completely non-Red Wings related bit of news...but I just had to share it - especially since we're all down in the dumps today.Let me preface this story with the fact that I had heard about this a few days ago on the NHL Home Ice XM station in my car and was laughing hysterically.  But, like many things in life...I completely forgot about it by the time I got home...
If there is one thing we can all agree that we love about sports, it is when players get hurt in bizarre and unbelievable ways. For some reason, athletes just seem to be magnets for injuries induced by seemingly mundane activity. Take for example the case of Dustin Penner of the LA Kings hockey team who recently hurt his back, wait for it, eating pancakes. Yep, you read that correctly...
Apparently, breakfast is not just the most important meal of the day but also the most dangerous. Los Angeles Kings forward Dustin Penner triggered back spasms while eating pancakes. "It's one of those mysterious things, where you can throw it out (from) sneezing. I just leaned over to dip into some delicious pancakes that my wife made," Penner told the LA Times. The injury...
Here are your Puck Headlines: a glorious collection of news and views collected from the greatest blogosphere in sports and the few, the proud, the mainstream hockey media. • This was tweeted by George Richards of the Miami Herald last night with the message: "Watch those #NHL record books! #Canucks coach/staffer rips #Bruins Chara covers in #FlaPanthers press box.&quot...
Game #43 LA Kings (20-15-5, 16th in NHL)vsWashington Capitals(21-16-2, 21st (!) in NHL) 7:30pm, Staples CenterLos Angeles, CA BEST PLAYER TO WEAR BOTH COLORS: There is something so deliciously ironic about Anson Carter callingout the Columbus Blue Jackets for not doing their job right.  BEST OPPOSITION BLOGS:Japers RinkOn Frozen BlogRock the Red Sometimes... you can&...
Kings News

Delivered to your inbox

You'll also receive Yardbarker's daily Top 10, featuring the best sports stories from around the web. Customize your newsletter to get articles on your favorite sports and teams. And the best part? It's free!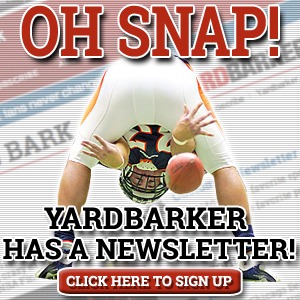 Latest Rumors
Best of Yardbarker

Today's Best Stuff

For Bloggers

Join the Yardbarker Network for more promotion, traffic, and money.

Company Info

Help

What is Yardbarker?

Yardbarker is the largest network of sports blogs and pro athlete blogs on the web. This site is the hub of the Yardbarker Network, where our editors and algorithms curate the best sports content from our network and beyond.