Found May 07, 2012 on Blue Seat Blogs:
PLAYERS:
Brad Richards
,
Alexander Ovechkin
,
Henrik Lundqvist
,
Braden Holtby
,
Marian Gaborik
,
Artem Anisimov
,
Brandon Prust
,
Dan Girardi
,
Anton Stralman
,
Stu Bickel
,
Brandon Dubinsky
,
Jeff Woywitka
,
John Scott
,
Steve Eminger
TEAMS:
New York Rangers
,
Washington Capitals
Series: Tied 2-2
NYR Leading Scorer: Brad Richards (4-5-9)
WSH Leading Scorer: Alex Ovechkin (4-3-7)
NYR Goaltender: Henrik Lundqvist (11 GS, 1.68 GAA, .940 SV%)
WSH Goaltender: Braden Holtby (11 GS, 1.94 GAA, .930 SV%)
Rangers Lines:
Carl Hagelin-Brad Richards-Marian Gaborik
Chris Kreider-Derek Stepan-Artem Anisimov
Ruslan Fedotenko-Brian Boyle-Ryab Callahan
Mike Rupp-John Mitchell-Brandon Prust
Ryan McDonagh-Dan Girardi
Marc Staal-Anton Stralman
Michael Del Zotto-Stu Bickel
Henrik Lundqvist gets the start.
Probable Scratches/Injuries: Mike Sauer (concussion), Mats Zuccarello (wrist), Brandon Dubinsky (lower body), Jeff Woywitka (healthy), John Scott (healthy), Steve Eminger (healthy)
Preview: The Caps beat the Rangers at their own game on Saturday. This is a must win for the Rangers. Heading back to Washington down 3-2 is not an option. Time to put up or shut up.
Crazy Thought: Hagelin gets a goal.
Original Story:
http://www.blueseatblogs.com/2012/05/...
THE BACKYARD
BEST OF MAXIM
RELATED ARTICLES
The old book on Henrik Lundqvist was always to shoot high glove side. It was Hank's biggest weakness, and was exploited a few years ago by Sergei Fedorov when the Capitals completed their comeback in the playoffs after being down 3-1 in the series. Fedorov's goal was high glove side from a decent angle, and was a shot that a lot of people would have liked to see stopped. It seems...
John Tortorella wanted him, Glen Sather wanted him and the vast majority of the Rangers universe (media and fans) acknowledged he was exactly what this team needed last summer. Now, Brad Richards is proving the supporters right and the few (misinformed) doubters very much wrong. Richards has been far from perfect in his first year on Broadway and hell, Scott Gomez outscored him when...
Here's video taken by a Rangers fan of the Brad Richards tying goal live...To watch on YouTube, click here.While TheNYRBlog reader Brandon S. sends me this video his dad took of the Garden Faithful in full pandemonium after Marc Staal's overtime winner...To watch on YouTube, click here.Remember to follow me on Twitter & Facebook or e-mail me at ...
The New York Rangers  already have one dramatic victory over the Washington Capitals and last night the Blue Shirts continued to keep Rangers fans clutching their chests. Brad Richards— the Rangers alternate captain— scored an amazing game-tying goal with 6.6 seconds in regulation to send the game into overtime.  Marc Staal— the Rangers defenseman— scored the game winner...
Series: Rangers lead 3-2 NYR Leading Scorer: Brad Richards (5-5-10) WSH Leading Scorer: Alex Ovechkin (4-4-8) NYR Goaltender: Henrik Lundqvist (12 GS, 1.70 GAA, .940 SV%) WSH Goaltender: Braden Holtby (12 GS, 2.02 GAA, .930 SV%) Rangers Lines: Carl Hagelin-Brad Richards-Marian Gaborik Artem Anisimov-Brian Boyle-Ryan Callahan Ruslan Fedotenko-Derek Stepan-Brandon Prust Mike Rupp-John...
Last time the Rangers had a chance to put an underdog on the ropes in a crucial Game 5 at home, New York dropped the ball, allowing the upset-minded Ottawa Senators to steal a win and force the East's No. 1 seed to stage a furious comeback over the final two games of the series to advance to the second round. When given an opportunity to right that wrong in Round 2 against the...
player.render('fileUrl=http://www.podtrac.com/pts/redirect.mp3/nyc.podcast.play.it/media/d0/d0/d1/d0/dG/dE/dK/10GEK_3.MP3?authtok=5561767676525579997_fP0TiKY0Jxyb38JLMZjF0RONDI&name=Brad Richards - With Mike Francesa&artist=Mike Francesa&stationID=62&configFile=config.xml&buttonColor=grey&buttonOverColor=blue&backgroundColor=#FFFFFF&guid=31C3E487CD89...
John Tortorella met with the media and fielded a string of questions about Monday's dramatic Game 5 win, Brad Richards, Marc Staal, and more... To watch at MSG.com, click here.To watch the players discuss mindset going into tonight's Game 6, click the "Read More" tab below. Michael Del Zotto, Brian Boyle, Brad Richards, Brandon Prust, and Mike Rupp discussed...
Alex Ovechkin and Henrik Lundqvist have never made it to the Eastern Conference Finals. One of them will this spring. But it's getting awfully hard to tell which one. Ovechkin scored his second goal of the series and Lundqvist allowed three goals for just the fourth time in the postseason as the Washington Capitals squeaked out a 3-2 win Saturday over the New York Rangers to...
1-0 Caps The Capitals dominated the Rangers for the entire first period and to no surprise the score was reflective of that. Washington's first goal was one that should have been stopped by Henrik Lundqvist. I think it is the first time we have said that in this series. Anyway, the Caps were doing a good job pressuring us in our zone prior to the goal. The puck kicked out along...
Well another game in the books in this series, and another thriller. It wasn't triple overtime, but this game had everything. The Rangers dominated from start to finish, but found themselves down 2-1 with less than ten seconds left in the game. Then the magic happened. Brad Richards scored on a powerplay. Marc Staal scored on the same extended powerplay. The Rangers prevented Braden...
  This is the really fast fast edition of the Fantasy Hockey Playoff ONE.  Yesterday had only one game on the schedule and honestly it was not a good day for fantasy owners.  Did you have Henrik Lundqvist?  Sadly, he gave up three goals on 26 shots despite all the really spectacular saves.  Did you want Artem Anisimov?  Sure he had two points but was on the ice...
NHL News

Delivered to your inbox

You'll also receive Yardbarker's daily Top 10, featuring the best sports stories from around the web. Customize your newsletter to get articles on your favorite sports and teams. And the best part? It's free!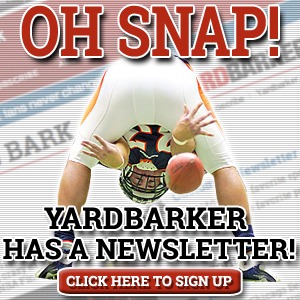 Latest Rumors
Best of Yardbarker

Today's Best Stuff

For Bloggers

Join the Yardbarker Network for more promotion, traffic, and money.

Company Info

Help

What is Yardbarker?

Yardbarker is the largest network of sports blogs and pro athlete blogs on the web. This site is the hub of the Yardbarker Network, where our editors and algorithms curate the best sports content from our network and beyond.