Found July 05, 2012 on Philly Sports World:
PLAYERS:
Ruslan Fedotenko
,
Bruno Gervais
,
Jaromir Jagr
,
Luke Schenn
,
Paul Holmgren
,
Rick Nash
,
Bobby Ryan
TEAMS:
Philadelphia Flyers
,
New York Rangers
,
Tampa Bay Lightning
,
Dallas Stars
,
Columbus Blue Jackets
,
Anaheim Ducks
The Philadelphia Flyers saved themselves a bunch of money by signing Ruslan Fedotenko and Bruno Gervais today. Obviously, losing out in the sweepstakes to land bigger names forced the Flyers to make some smaller moves.
Between the two deals, it would appear the Flyers spend about $2.5 million. That still puts the team in foreign territory – well UNDER the salary cap.
In the past two weeks, the Flyers have lost great size and scoring ability on their wing in losing Jaromir Jagr to the Dallas Stars and JVR to Toronto in the trade for Luke Schenn. I honestly don't believe that Ruslan Fedotenko is the answer in replacing those two players, just like I don't believe Bruno Gervais is to replace Matt Carle. But maybe they're not supposed to be the replacements.
The fact that the Flyers still have so much money under the salary cap indicates to me that there must still some moves for the Flyers to make. A lot of fans are pressing the panic button today, seeing that the team has taken a bit of a step back. I've been a Philadelphia fan for a long time, and there's one thing you can always count on – the Flyers WILL be competitive.
The Flyers may not have won a Stanley Cup for 37 years, but that doesn't mean it's for lack of trying. The organization consistently does right by its players and its fans. They may not have the rings, but there aren't too many years where you can say this team has sucked (yes, I remember 2006 too).
Paul Holmgren, whether you like him or not, (I do) is not shy. Homer will make moves that he believes will help the team. So if you want to panic, than go ahead! It's all yours. I'm not going to.
First off, this team of young players wound up putting 103 points on the board this season. They'll only be better with a year of NHL experience under their belts. I, for one, am excited to see what we've got. Everyone knows that no other Philadelphia franchise will let the kids play (Dom Brown, Evan Turner come to mind). If by chance it's a clunker of a year, at least you know what you've got, and you can fix it from there. There will be a better free agent class by far next year.
Secondly, there are still trade avenues to explore.  The Flyers have been consistently linked to Rick Nash and Bobby Ryan.  There's always the chance that Holmgren will pull the trigger on one of those deals and improve his team that way.  If they do, the Flyers will likely have to give up some of the young talent that they've tried so hard to hold on to.
I really can't believe that Homer is done with this offseason. But even if he is, I'm ok with it. Time to see what these kids are made of.
Similar Posts:
Original Story:
http://phillysportsworld.com/flyers-s...
THE BACKYARD
BEST OF MAXIM
RELATED ARTICLES
The Flyers on Thursday signed a pair of free agents, forward Ruslan Fedotenko and defenseman Bruno Gervais. Fedotenko, a veteran who will enter his 12th season in the NHL, won the Stanley Cup with the Tampa Bay Lightning in 2004 and the Pittsburgh Penguins in 2009. This is his second stint with Flyers, having played in Philadelphia from 2000-02. Last season, he helped the New York...
The #Flyers have signed D Bruno Gervais (2 years, $825,000 avg per season) and F Ruslan Fedotenko (1 year, $1.75 M) — Pierre LeBrun (@Real_ESPNLeBrun) July 5, 2012 Say it ain't so, Feds. Philly?
The #Flyers have signed D Bruno Gervais (2 years, $825,000 avg per season) and F Ruslan Fedotenko (1 year, $1.75 M)— Pierre LeBrun (@Real_ESPNLeBrun) July 5, 2012 ...as soon as I saw the Rangers sign Pyatt, I knew Fedotenko wasn't coming back. I'll only be worried about losing Fedotenko to the Flyers if the two teams meet-up in the playoffs.Meanwhile the Rangers signed...
from PhiladelphiaFlyers.com, Flyers GM Paul Holmgren announced that the club has signed forward Ruslan Fedotenko and defenseman Bruno Gervais to contracts today. Fedotenko returns for his second stint with the Flyers after beginning his NHL career with Philadelphia in 2000-01 through the 2001-02 season. "Ruslan is a good two-way forward that can play either wing and will bring...
According to Sam Carchidi of the Philadelphia Inquirer, the Flyers are close to coming to terms with defenseman Bruno Gervais. Gervais spent six years with the New York Islanders and was traded last season to the Tampa Bay Lightning. Once the Flyers were scorned by Ryan Suter earlier today, the Flyers found themselves scrambling for defensive help and turned their sites on Gervais...
The #Flyers have signed D Bruno Gervais (2 years, $825,000 avg per season) and F Ruslan Fedotenko (1 year, $1.75 M) — Pierre LeBrun (@Real_ESPNLeBrun) July 5, 2012 Say it ain't so, Feds. Philly?
The Philadelphia Flyers signed two free-agent players on Thursday -- forward Ruslan Fedotenko and defenseman Bruno Gervais. According to ESPN, Gervais' contract is for two years at $825,000 per season, and Fedotenko signed a one-year contract worth $1.75 million. Fedotenko, 33, had nine goals and 11 assists in 73 regular-season games with the New York Rangerslast season...
The Flyers have announced today that they have signed forward Ruslan Fedotenko and defenseman Bruno Gervais. Contract details to follow.
Over the past few days, we have seen some fairly significant roster turnover for the Rangers. While the majority of the core remains intact, the Rangers saw Arron Asham and Taylor Pyatt come in to –for all intents and purposes– replace Brandon Prust, Ruslan Fedotenko, and John Mitchell. We've analyzed Asham versus Prust and Pyatt versus Fedotenko individually. But to be fair...
Photo Courtesy of Bruce Bennett/Getty Images By Charlie O'Connor (@THG_Charlie) Hours after the front office received word that neither Zach Parise nor Ryan Suter would be joining the Philadelphia Flyers, Sam Carchidi of the Philadelphia Inquirer reported that the team was close to signing Bruno Gervais, a 27-year old defenseman formerly of the Tampa Bay Lightning and New York...
After missing out on Zach Parise and Ryan Suter, the Flyers have moved on to Plan B.  That Plan B apparently involves picking up much lesser talent as the team announced today that they have signed defenseman Bruno Gervais and forward Ruslan Fedotenko.Gervais signed a two year deal worth $825,000 per season to be the Flyers 6th defenseman.  While he certainly won't replace...
When the Rangers inked Taylor Pyatt to a two-year deal last night, there were more quizzical expressions than when the Rangers signed Arron Asham. The signing of Pyatt likely means that Ruslan Fedotenko is done in New York, like the way Asham's signing meant Brandon Prust was done in New York. The swapping of bottom-six players isn't all that uncommon, as players bolt for paydays...
NHL News

Delivered to your inbox

You'll also receive Yardbarker's daily Top 10, featuring the best sports stories from around the web. Customize your newsletter to get articles on your favorite sports and teams. And the best part? It's free!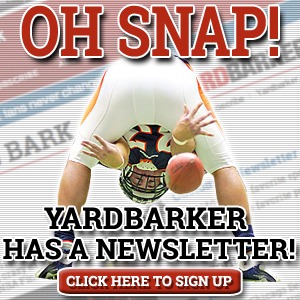 Latest Rumors
The Backyard

Today's Best Stuff

For Bloggers

Join the Yardbarker Network for more promotion, traffic, and money.

Company Info

Help

What is Yardbarker?

Yardbarker is the largest network of sports blogs and pro athlete blogs on the web. This site is the hub of the Yardbarker Network, where our editors and algorithms curate the best sports content from our network and beyond.